Home > Sports > Football > Reuters > Report


Ballack glad to have chosen Chelsea

May 16, 2006 11:49 IST



Germany midfielder Michael Ballack says he chose to sign for Chelsea instead of Manchester United because the English champions are a better team.

The 29-year-old was unveiled by Chelsea on Monday after arriving from Bayern Munich on a free transfer. He signed a three-year contract with the club owned by Russian billionaire Roman Abramovich, winners of the last two Premier League titles.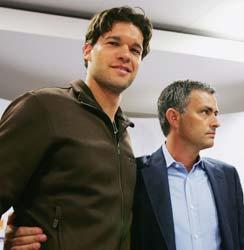 "Manchester United came in quite early for me but really I saw the possibilities of Chelsea as being much greater," the playmaker and Germany captain told a news conference.
"They are a stronger team and also London has its attractions, particularly as a family man. And in the final analysis it was Chelsea's aims that attracted me.
"Just look at the achievements of the club in the last two years, winning the title twice, and you can see what a super team they are.
"Also you have to consider the competition they are playing in. Liverpool won the Champions League last year and Arsenal are in the final again this week. This shows the strength of the league in England.
"And it's also a challenge for me, because the sort of play here suits my style." Ballack is expected to be rotated in Chelsea's teams on domestic and European duty with Ghana's Michael Essien in a three-man midfield featuring top goalscorer Frank Lampard and Frenchman Claude Makelele in the holding role. 
"As for my position, I'm quite flexible," he said. "I can play at the back or the front of midfield and that flexibility is in the side as well."
He will start his career in English football after helping Bayern win consecutive German league and cup doubles, part of a six-trophy haul during four years at the club.
GREAT TIME
"I had a great time at Bayern Munich. The fans have always been behind me. The last few weeks have seen a number of provocative statements which have obviously had an effect on the fans of Bayern Munich.
"And if a few of them react with whistles and boos that's understandable."
Ballack took advice from Germany coach and former Tottenham Hotspur striker Juergen Klinsmann, along with other German players in London's Premier League clubs before making his decision.
"I asked some players about English football - Juergen Klinsmann, Robert Huth [Chelsea] and Jens Lehmann [Arsenal]. They told me good things about this country."
Ballack denied that Chelsea's new-found wealth under Abramovich's ownership was behind his move.
"That's not the case," he said. "It's more about a dream of playing abroad, which I had from the age of 22 or 23.
"In those days it was a question of where and when would I go. But then I had my moves to Kaiserslautern, Leverkusen and finally to Bayern and so I never went. But now is the right time.
"Money I can earn in any league, I earned well in Germany. That's not the main reason. The main challenge for me was to come and play in England."
© Copyright 2006 Reuters Limited. All rights reserved. Republication or redistribution of Reuters content, including by framing or similar means, is expressly prohibited without the prior written consent of Reuters. Reuters shall not be liable for any errors or delays in the content, or for any actions taken in reliance thereon.