Home > Sports > News > Report


Kunjarani fetches India first gold

March 16, 2006 11:38 IST
Last Updated: March 16, 2006 15:44 IST



Veteran N Kunjarani Devi lifted the hopes of the nation on her broad shoulders and earned the distinction of winning India's first gold medal of the 18th Commonwealth Games in the women's 48 kg weightlifting in Melbourne on Thursday.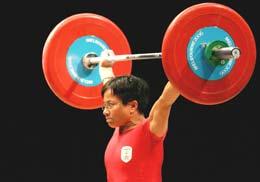 The 38-year old bespectacled Manipuri, the most decorated lifter of the country, retained her title as she lifted a total of 166 kg.
Kunjarani lifted 72kg in snatch and 94 kg in clean-and-jerk for the gold, even though she could not rewrite the Games record of 167 kg -- 75 kg in snatch and 92 kg in clean-and-jerk -- that stands in her name.
It was clearly not her best performance but Kunjarani did enough to give the Indian campaign a golden kick start in the Games.
The Indian, a Deputy Superintendent with the Central Reserve Force, was pre-tournament favourite and she justified her billing in a field of 11 lifters.
''I am very happy that I have the honour to win the first gold of the Games for my country,'' a beaming Kunjarani said later.
''I was confident of winning and was not worried when I muffed my first attempt in snatch,'' said the modest gold medal winner.
''I am thankful to all who had faith in me,'' she added.
The Indian never looked threatened though there was a sort of false alarm as she slipped and failed in her first attempt to lift 70 kg in snatch.
But the triple gold medal winner at Manchester Games never lost her composure and effortlessly lifted 70 kg in her second attempt before improving it with a lift of 72 kg in the third attempt. She, however, could not improve upon her Games record of 75 kg in snatch.
The Indian was given a good fight by Canada's Marilou Prevost Dozois who had lifts of 69 kg, then 71 kg and ended the snatch with 73 kg.
Australian Erika Yamasaki was third with 69 kg.
The Indian who had opted for 85 kg in clean-and-jerk, raised the first attempt to 88 kg when she saw the Canadian raising the bar from 84 kg to 86 kg.
The Canadian then responded, raising the weight from 86 to 89 kg.
Kunjarani cleared 88 kg, while Marilou failed with 89 in her first attempt but clread it in the second.
The Indian then went ahead with 91 kg in her second attempt and clinched the issue as she easily lifted the weight in the last attempt to set up a new games record in clean-and-jerk, improving upon her 2002 record by two kgs.
Kunjarani thus pipped the Canadian by a kg to win the gold at 166 while Marilou had to be satisfied with silver with 165 and Australian Yamasaki was a distant third with 153.
''The field was good,'' the gold medal winner said and praised her 18-year younger Canadian rival.
''She (Marilou) lifted well and it was a good to see her perform so well. But I was focused and my aim was to win the gold and I am happy that I have fullfiled it'' she added.
Kunjarani was also confident that other Indian lifters will also have a good time in the Games.
''It is a a great feeling to stand on the podium to see your country's flag going up and the National Anthem being played. The feeling is heightened when you realise that you have won the first gold of such a big Games for your country,'' she explained.
UNI


What do you think about the story?








Read what others have to say:





Number of User Comments: 42








Sub: Proud of being an Indian

Heartly congratulations to Kunjarani on her feat in common wealth games. The first gold medal in the games and first gold medal for India, it ...


Posted by rajkumar









Sub: Good Going

Good Going...Kunjarani.... Keep it up and best of luck for the future Best Reagrds Sumit Goyal


Posted by Sumit Goyal









Sub: good going

wonderful kunjurani. Hope india will do better than previous game


Posted by deepak









Sub: great news

its great to hear that kunjarani has won the first gold medal for india in the commonwealth games.my wishes to her.hail kunjarani!


Posted by ramya









Sub: Congratulations to Kunjarani

Congratulations to Kunjarani. We are thankful to her for making whole country proud. We pray for her well being and champion performance in future also. ...


Posted by Maneesh Nene






Disclaimer