| | |
| --- | --- |
| Ana Ivanovic | |
| | |
| | |
| | |
| | |
| | |
| | |
Advertisement
June 26, 2006


Ana Ivanovic decided to start playing tennis at the age of five after watching Monica Seles [Images] on television. Eleven years later, in 2004, she was a finalist at the junior Wimbledon Championships. Since then the Serbia & Montenegro teenager she has made rapid progress. A fantastic run in the last two years has seen her jump nearly 700 places and rank among the top-20 players.

Growing up as a tennis player in the war-ravaged Belgrade was not easy. But Ana took it all in her stride and focused on the game. Today, the hard work is paying off.

Her family is her source of inspiration. Her mother, Dragana, is a lawyer who travels with her. Her father, Miroslav, is an economist, based in Zurich, while her younger brother Milos is four years her junior.

In an e-mail interview with Special Correspondent Harish Kotian, the 18-year-old talks about her rise and chances at Wimbledon this year.

How are you preparing for Wimbledon? Last year you went down in the third round, to Mary Pierce?

Last year was last year; this year I intend to reach at least the second week of the tournament.

As a junior, you reached the Wimbledon final in 2004. Do you think you can repeat the showing in the seniors' event this year?

I will do my best to go as far as possible this year at Wimbledon. I will focus on every match, and if I end up in the final I will be very happy. But, as I said, one step after the other.

Were you disappointed after losing in the third round of the French Open? In the previous tournament you had made it to the quarter-finals and had even beaten Amelie Mauresmo?

Losing is never easy, and, of course, I was disappointed. But I had my learning and I am sure the next time it will be my turn.

You had convincing victories in the first two rounds of the French Open, but failed to find that form against Anastasia Myskina [Images], to whom you lost? What do you think went wrong?

I felt very confident during the first two rounds and I was persuaded to take my chance while playing Anastasia Myskina. Probably, I expected too much from myself. Instead of focussing more on the game I was thinking too much on the result. The pressure I have is always from myself and not from anyone else.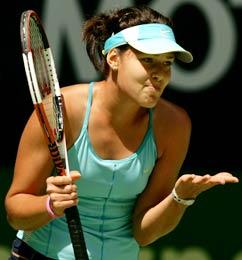 2005 was a great year for you, as you finished ranked at 16 after starting the year at 97. You also won the 'Most Improved Player' award. What made it possible?
I am constantly trying to improve my playing and hope to get more and more mental strength. I think these are two of the success keys. And, of course, my powerful way of playing is kind of the base.
How difficult is it to maintain the ranking once you enter the top-20 or top-30?
Climbing up a ranking seems to be easier than stabilizing a position in the top-20. But it is a process of developing. One can get used to it. My goal is to stabilise my game and develop more. A better ranking will come automatically.
Is it true that you started playing tennis after watching Monica Seles on television?
Yes. Watching her play started my fire for tennis. When I was a little girl I saw one of her matches. I convinced my parents to buy me a tennis racket and permit me to get tennis lessons.
Do your parents travel with you all the time?
My mother travels with me a lot. My father and my brother join me from time to time. On big tournaments, such as Wimbledon, my whole family tries to come along with me.
Who is your favorite tennis player -- men's and women's?
I admire Roger Federer [Images], not only for his tennis but also for his personality. And my role models are Monica Seles and Martina Navratilova. Nowadays, I like Kim Clijsters [Images], and I am impressed by the comeback of Martina Hingis [Images]. By the way, I would like to play her in the future.
You seem to follow certain superstitions on court. What are those? Is there a set pattern by which you prepare for a match the day before?
I do not follow superstitions on court. I do have my ritual; this is different. Before a match I need to be alone. I need to reach concentration and focus on the game ahead of me. The same after a match; I need some quite moments to handle the result, be it positive or negative.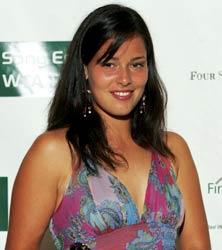 What are your targets this season?
My goal is top ten at the end of this year. Before that I hope to play more and more high quality matches.
Have you interacted with India's tennis sensation Sania Mirza [Images], who also rose a lot in the rankings last year?
Sania and I know each other from our junior days. We like to have a chat whenever it is possible during tournaments. We had fun playing doubles together in Miami [Images], and I am sure we will have opportunities to play doubles again in future.
When will the Indian fans get to see Ana Ivanovic play? India hosts a WTA tournament; any chance of you taking part in it next year?
India interests me a lot. I can't say right now how my schedule for next year will be planned.
Nick Bollettieri, the coaching guru, has predicted a very bright future for you. What was his advice when you trained under him?
As a junior, I played a tournament in his academy in Bradenton. That was the first tournament I won and I remember his support. He kept saying that the key is to enjoy the game.
You could also pursue a career in fashion if you choose to. Sarah Leon, head of New Faces, Select Model Management, said this about you: 'A slightly exotic look - and quite a strong face. She's also a little bit on the curvier side.' Your thoughts on it?
My first priority is tennis. But being on the catwalk might be an interesting experience. Let's see what the future brings.
Do you use make-up or try to look glamorous on the court?
I never use make-up on the court. I like it the natural way.