Home > Sports > FIFA World Cup > Reuters > Report


Essien the breadwinner for his family

Orla Ryan in Accra | June 07, 2006 12:15 IST



For years, Michael Essien's mother Aba baked and sold bread in a market outside Accra, Ghana to help raise her five children.

Michael, though, took over as the family breadwinner when he signed for French club Bastia in 2000.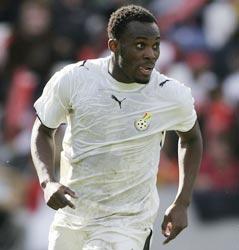 The combative midfielder then had a spell with Olympique Lyon before becoming Africa's most expensive footballer when he joined English champions Chelsea for $48.92 million last August.
Essien, 23, who is preparing for Ghana's World Cup challenge in Germany, has become an inspiration for thousands of youngsters in his homeland.
"I was a very good breadmaker...all the time I was providing for him," his mother Aba Gyanode said from her large family home in Mallam, Accra she shares with seven relatives, including her own mother.
"After he signed for Bastia, Michael said I was to stop baking bread and he was going to take care of me.
"He bought this house, a car. He is also providing things for the house. He has given all his sisters money," she said in local Gan language, translated by a family friend.
Aba watches all her son's games and will be glued to the television when Ghana, appearing in their first World Cup, play their opening Group E match against Italy in Hanover on Monday.
Footballing talent runs in Essien's family.
His father, James, was a professional but separated from Aba when Michael was young.
His elder brother, Alex Ackon, drew crowds when he played football at school. But, when Michael was only two, 15-year-old Alex died.
From the age of six, Michael was kicking a ball with other barefooted local boys in Awutu Senya, the small, poor town on the west side of the capital city where the footballer spent his early years and where his mother baked her bread.
By the age of 10, he was in a national junior team and it was then Aba realised football could be more than simply a hobby.
Essien was catapulted into the world spotlight when he joined Chelsea.
Aba said her son's fame and riches have created pressure for the family from people asking for money.
"Because of Michael, a lot of people come with their problems. Everybody is looking for assistance," she said.
This may be the reason why the Ghana midfielder keeps a low profile when he goes back to Accra.
"He is still normal. He likes to hide. He plays with the kids, he plays football," his mother said.
While fame and fortune have distanced him from childhood friends, they remember him with admiration.
"He was fantastic, he knew how to play, even then. He was fun, we would all joke together, he likes teasing, he likes everybody," said Anthony Annan, who played with Essien in the Cape Coast junior league team Super Rainbow.
For Annan, now a player at Accra Hearts of Oak, the country's oldest football team, Essien is an inspiration.
"We would like him to do more, I don't have to envy him. We pray so we can also move to where he is," he said.
"When he came to Ghana last, we spoke and he said he would like us to follow him."

© Copyright 2006 Reuters Limited. All rights reserved. Republication or redistribution of Reuters content, including by framing or similar means, is expressly prohibited without the prior written consent of Reuters. Reuters shall not be liable for any errors or delays in the content, or for any actions taken in reliance thereon.