Home > Sports > Doha Asian Games > Report


Paes-Bhupathi win men's doubles

December 13, 2006 20:43 IST



Leander Paes and Mahesh Bhupathi are back on the marquee. After doing their best to keep a low-profile and advance through the doubles draw in a business-like manner, the former world No 1 pair called on their lost chemistry to come through a dramatic final at the Asian Games and retain the men's doubles crown they won at the last Games in Busan, South Korea.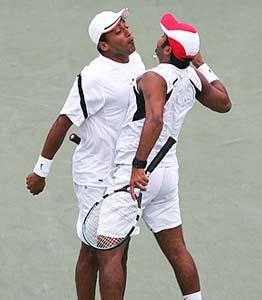 In what could be their last match for India together, the ace Indian duo saved seven match-points in the second set before beating the Ratiwatana brothers, Sanchai and Sonchat, of Thailand 4-6, 7-6 (7), 6-3 for the gold medal in thrilling two-hour 43 minute battle on Wednesday.
Earlier, Indian ace Sania Mirza, ranked 66th, was outplayed by world number 33 Jie Zheng of China in the women's singles final and went down 6-4, 1-6, 6-1 in an hour and 49 minutes.
Paes and Bhupathi, the defending champions began on a high, breaking the Thai twins in the first game to go 2-0 up. But they failed to serve out the set at 5-4, as the Ratiwatanas kept their nerve to break Paes's serve. Matching the veteran Indians stroke for stroke, even at the net, the Thais went on to win the first set 7-5 in 44 minutes.
After the second set went on serve till 6-5, India were in deep trouble and looked set for a shock defeat at 0-40 down. But Paes lifted the team with a superb showing as the pair defended six match-points in the game. He conjured intelligent lobs and drop volleys at deciding points to leave the Thais guessing. The chest bumps returned as the Indians picked themselves from an almost losing cause to take the set into the tie-break.
Paes-Bhupathi again found themselves in trouble at 5-3 down in the tie-break, but their experience and Paes's touch was difficult to overcome. Sanchai served a double fault at 7-8 to bring a tame end to the high-quality set.
The Indians came out charging for the third set, but the game was interrupted due to a steady drizzle. However, they never let the advantage slip, breaking the Thai duo in the first game and were quickly off the blocks.
There was a stutter in India's progress, when Bhupathi dropped serve in the third game. But India broke back immediately to shoot into the lead and coasted through the set thereafter.
Wednesday's final brought back memories of the bronze medal match at the Athens Olympics when Paes and Bhupathi battled for over four hours but failed to get the better of the Croatian pair of Mario Ancic and Ivan Ljubicic.
Doha Asian Games 2006: The Complete Coverage


What do you think about the story?








Read what others have to say:





Number of User Comments: 4








Sub: Paes-Bhupathi win men's doubles !

Congratulations to Lee and Hesh.


Posted by Dr.Cajetan Coelho









Sub: Congrats to LEE-HESH

Congradulations to PAES and BHUPATHI for winning men's doubles and adding one more GOLD medal to India's medal list. Even though they had some EGO ...


Posted by lakshman









Sub: Congratulations to Indian Express

Once again Peas-Bhupati have made India proud. They overcome their individual differences in the interest of the game and country. Something we all should learn ...


Posted by Shrinivas Hegde









Sub: Power of Unity

Congrats to the duo. wish they play in future together to create wonders.


Posted by Ram






Disclaimer