Advertisement
September 01, 2005 17:16 IST
Last Updated: September 02, 2005 15:20 IST


While America is still recovering from Hurricane Katrina, its financial capital New York is reeling under the rush of Sania Mirza [Images].

Eight months back at the Australian Open [Images], she was hardly heard about. At the US Open [Images], the year's last tennis major, she is the most talked about. The 18-year old has taken the tennis world by storm.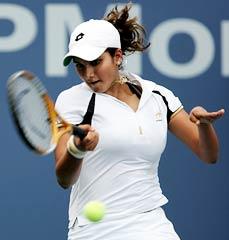 "It's very nice when you have people from your own country and the country you don't belong to cheering you on, so much crowd support, especially where you don't belong. I am 30 hours away [from homeland]," the Indian sensation said on the fast spreading 'Sania Mania' after beating Maria Elena Camerin of Italy [Images] 6-4, 1-6, 6-4 in the second round on Wednesday.
It started with her reaching the Australian Open third round where she lost to former world number one Serena Williams [Images].
Williams said before the match then that she had heard very little about her opponent who was only entered via a borrowed wild card.
Now, however, the Hyderabadi girl, the first Indian to win a WTA Tour title, is the most talked about name in tennis.
Her peers have started mentioning her in the locker rooms. Seasoned journalists have written about the nose-ringed, skirt-clad, God-fearing racquet wielder from that most conservative of countries.
Yet it is her game that has truly been the rage. Same time last year, Sania was ranked 326th. That's a leap of 284 places to her current ranking of 42.
On the way, Sania has toppled two top-10 victims: last year's Open champion Svetlana Kuznetsova [Images] in Dubai this May, and Nadia Petrova three weeks ago at San Diego.
The win over Petrova, world number eight, pushed Sania's ranking into top-50, the first Indian in 17 years to be ranked that high.
"I am feeling the ball good, I guess I am just playing the best tennis I have ever played. Just feels like I am improving on a daily basis, whether that's physically or mentally," she said of her amazing run at the US hard courts season.
The Americans are happy that she has succeeded in turning the attention of Indians for whom all along cricket has been the only sport.
"It's great to have so many people, especially since Indians weren't so much into tennis. Now that you see so many people coming out, cheering you on, it's great," she said.
Sania was irked that her way of dressing, given her being a Muslim, should be seen as a political statement or otherwise.
"I am not making a statement. I am not doing anything. I can say what I want to, I think I like to be 18 sometimes and I just like to wear some fun T-shirts once in a while," she said about a dress she wore at Wimbledon [Images] this year.
Her next opponent in the third round would be world number 43 Marion Bartoli of France [Images]. Should she go past, Sania faces the prospects of a clash against top seed Russian Maria Sharapova [Images].
"I do know who I play if I beat Bartoli, but I am not looking at that yet. US Open or not, you take it one match at a time. You can't just jump ahead," said Sania.
© Copyright 2008 PTI. All rights reserved. Republication or redistribution of PTI content, including by framing or similar means, is expressly prohibited without the prior written consent.