Advertisement
June 17, 2005 19:20 IST


The world's best known referee, Italian Pierluigi Collina, could blow the whistle on his illustrious career in his home town of Bologna on Saturday.

Collina has reached the age limit of 45 and under Italian soccer rules he should stand down after Saturday's relegation playoff between Bologna and Parma.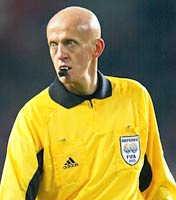 Italian officials have been tight-lipped about whether or not an exception will be made for Collina who is still regarded as the best referee in Italy [Images] and one of the top match officials in the world and who continues to be in great physical shape.
The daily Gazzetta dello Sport reported on Friday that "within a few weeks he could be given an extension to his career of another year".
For the moment though Saturday's game is officially his last task as a top flight referee.
It would be an appropriate match in which Collina can bid farewell to his profession -- the derby is sure to be tense with Serie A survival at stake for the two clubs.
Throughout his career Collina, instantly recognisable with his bald head and staring eyes, has been the referee turned to for high-pressure occasions.
He refereed the final of the 1996 Olympic [Images] Games between Nigeria and Argentina and then at the 1998 World Cup he was chosen to officiate a highly charged fixture -- the Netherlands game against neighbours Belgium.
He was in charge of the dramatic Champions League final between Bayern Munich and Manchester United [Images] in 1999 and then the Euro 2000 qualification playoff between old rivals England [Images] and Scotland.
CAREER CROWNED
At Euro 2000 itself he was in charge of the match between Germany [Images] and England and then two years later he crowned his career when he refereed the World Cup final between Germany and Brazil [Images] after being the man FIFA turned to for the potentially volatile England- Argentina game.
His firm display in the final, at the end of tournament which had produced plenty of controversy over refereeing standards, showed exactly why he is so widely respected among players as well as officials.
Collina is renowned for some fearsome expressions captured on film but he has always had time for a quick pat on the back, a smile or a quiet word - even in the World Cup final.
When midway through the second half Brazilian defender Edmilson twice put a fresh shirt on the wrong way round, rather than point at his watch to remind the player of time being lost, Collina laughed and smiled, sharing in a comical moment witnessed by tens of millions on television globally.
But the ability to build relationships on the field has not stopped Collina from taking decisions which are bound to provoke reaction -- especially in the heated contests of Serie A.
In 1997 he disallowed an Inter Milan goal against bitter rivals Juventus at the San Siro and then ran to the Inter dugout to explain animatedly his reasoning to then Inter coach Roy Hodgson -- a move which prompted huge debate in Italy.
Bologna and Parma players thinking of congratulating Collina for one last time at the end of Saturday's game should be careful though.
In 1998 Argentine defender Jose Chamot was suspended for one match after Collina reported that the player, then with Lazio, shook his hand too firmly after the game.
© Copyright 2008 Reuters Limited. All rights reserved. Republication or redistribution of Reuters content, including by framing or similar means, is expressly prohibited without the prior written consent of Reuters. Reuters shall not be liable for any errors or delays in the content, or for any actions taken in reliance thereon.