Home > Sports > News > Reuters > Report


Interview - Yelena Isinbayeva

Gennady Fyodorov in Moscow | September 16, 2004 14:32 IST



Olympic pole vault champion Yelena Isinbayeva thinks she could raise the world record to five metres at next year's world athletics championships.

"You could say it's a good bet I'll break that record some time next year," the Russian told Reuters.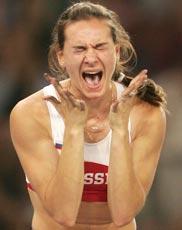 "I've added 10 cm in just over 12 months, so I think it's a good bet I might do it, maybe next August in Helsinki," said the bubbly 22-year-old, referring to the 2005 world championships and her extraordinary ability to set records in big meetings.
"I don't want to sound overconfident, but I don't think this five-metre barrier is something out of reach since I went over five metres in training a couple of times already and I think it's just a matter of time before I do it in competition."
Isinbayeva has dominated the women's pole vault for the last 12 months after setting her first world record of 4.82 in Gateshead, England, last July.
She has since chalked up seven more indoor and outdoor records, each time raising the bar by a centimetre as she followed the example of great Ukrainian pole vaulter Sergei Bubka.
She set her latest mark of 4.92 at this month's Golden League meeting in Brussels, a week after winning the Olympic gold medal in Athens with yet another world-record performance.
Isinbayeva also set a world record while winning this year's world indoor title in Budapest.
"I've had a phenomenal year but it has been a long one as well and I'm a bit tired now, but I've got one more competition remaining, then I can rest," said Isinbayeva, who will finish her season at the IAAF final in Monaco this weekend.
$50,000 BONUS
Isinbayeva, who gets $50,000 for each new mark, admitted that money played a role but said it was not her only motive.
"Money is always nice and the more the better, but it's not the reason why I compete and try to break records," she said.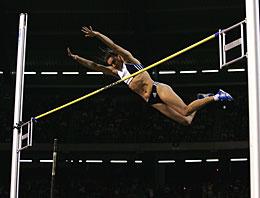 "Yes, I think I could have raised the bar higher and tried to clear five metres this summer but I chose to do it step by step. This way you have some suspense and it's more exciting for the audience, I think," she added.
Isinbayeva, dubbed "Bubka in a skirt" by the Russian media, says she could easily add another 20 to 25 cm to her existing mark.
"Yes, I think I'm capable of going 5.15-5.20 or even higher," she said. "My coach Yevgeny Trofimov keeps telling me that I have so many areas where I can improve. Besides, I need lofty goals to keep myself motivated."
Trofimov said: "Despite all her world records Yelena is still developing as an athlete. She is young and still needs to mature to become a complete performer.
"She has only scratched the surface of her true potential and will only get better with time. Technique, conditioning, raw speed -- there's plenty of room for improvement in every area."
EXPLOSIVE MIX
The coach also pointed to Isinbayeva's ancestry as a key to his pupil's ability.
"People say upbringing has great influence on a person's behaviour. Well, that might be true but I think genetics also plays a huge role," he said.
"In Yelena's case, her father is from the Caucasus region of Dagestan. He is very quiet and her mother is descended from Russian Cossacks, who settled centuries ago on the Don River.
"Most of them have a very quick temper and are also known for their fighting spirit. So Yelena has what you might call a special combination in terms of genes. It's a very explosive mix but a good one for sports," he added.
Isinbayeva also credits her parents for her feisty character.
"Since childhood I've learnt that you don't get anything in life without hard work and dedication," she said. "These are not hollow words for me, I know what it takes to be successful."
Isinbayeva, who has said on several occasions that her only rival is herself, has mellowed a bit since winning the Olympic gold and sees compatriot Svetlana Feofanova as a worthy opponent.
Feofanova had two brief spells as world-record holder earlier this year and the two Russians have a frosty relationship at best.
"She won a silver medal in Athens and proved that she is capable of vaulting high on a regular basis," Isinbayeva said.
"She is also a tough competitor and I admire her for that."
The Volgograd native, who has moved to a new three-room apartment given to her for winning the Olympic gold, says she could use extra cash for her wardrobe or a new car.
"I'm a young girl, I like nice cars and fancy clothes. There are so many things in life that you could spend your money on. But I'm not going overboard. Private jets and luxury yachts can wait," she added with a smile.
© Copyright 2005 Reuters Limited. All rights reserved. Republication or redistribution of Reuters content, including by framing or similar means, is expressly prohibited without the prior written consent of Reuters. Reuters shall not be liable for any errors or delays in the content, or for any actions taken in reliance thereon.