Home > Sports > Football > Reuters > Report


Bad boy Garrincha remembered

Angus MacSwan | October 04, 2004 10:35 IST



The grave is in a country cemetery about an hour's drive from Rio de Janeiro, a simple slab of grimy concrete squeezed between fancier tombs.

The epitaph says only: "Here rests in peace the one who was the Joy of the People -- Mane Garrincha."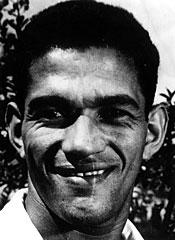 It is a humble resting place for one of the great soccer players of all time but then Garrincha was always true to his roots. He was also one of soccer's original bad boys and his life is a cautionary tale for today's misbehaving celebrities.
Garrincha fathered at least 14 children by several women, had a scandalous affair with a pop singer, killed his mother-in-law in a car crash, squandered his money and drank himself into an alcoholic's grave in 1983 at the age of 49.
He also delighted fans from South America to Scandinavia and played a crucial role in Brazil's 1958 and 1962 World Cup victories. Brazil never lost when he and Pele played together.
"The club, Botafogo, really should build something better here," said cemetery worker Jorge da Souza, who remembers that the funeral crowd was so great that gravestones were smashed.
Garrincha's story is back in the public eye just now.
A movie "Garrincha -- Estrela Solitaria" (Solitary Star), is set to go on release in Brazil. In Britain, Ruy Castro's book "Garrincha -- the Triumph and Tragedy of Brazil's Forgotten Footballing Hero" has just been published in English.
"The people talk about King Pele. No, the king is Garrincha," said his old friend Malvina, now aged 71 and still living in Pau Grande.
LITTLE BIRD
Garrincha was born Manuel dos Santos in this factory town nestled among lush mountains. He had crooked legs, one shorter than the other, and the world came to know him by his childhood nickname, which means "Little Bird."
He played for the factory team before Botafogo spotted him. He left behind his wife and young family but took a girlfriend with him to Rio. Barely literate, he signed a blank contract.
His life was then the proverbial game of two halves -- the glory years then a sad decline as personal problems, drink and injury brought him to ruin.
The fans adored him from the start as he waltzed past defenders with his dribbles down the right wing.
"He played for the joy, he played for love," Malvina said, sitting outside his cabin in shorts and vest. "Garrincha could drink the night before and go and play the next day in the Maracana stadium. After the match, back here for a drink.
"Can you see David Beckham going back to his hometown on Saturday night to play with his mates?" said Andrew Downie, a journalist who translated Castro's book. "You went to see him play because you knew he would entertain you."
His greatest triumphs were in the 1958 World Cup in Sweden and the 1962 tournament in Chile. In 1958, the Brazilians met the mighty Soviet Union in the group stage. In what some writers have called the greatest three minutes of soccer ever, Brazil attacked from the start with Garrincha leading the charge.
They scored after three minutes, won 2-0, and went on to beat Sweden in the final to become world champions.
STORMY AFFAIR
Four years later, with Pele sidelined by injury, Garrincha was again the star of the show as Brazil won a second World Cup.
As the naked players celebrated in the dressing room, a sultry Brazilian singer named Elza Soares walked in and embraced Garrincha in the shower, thus beginning a stormy affair that lasted for more than 15 years.
While the couple lived in Rio, Garrincha's wife and growing family were back in Pau Grande. It turned many Brazilians against him and over the next few years, the rot set in.
Botafogo insisted on playing him even as injuries began to take a toll. His consumption of cachaca -- a sugarcane liquor -- became constant. Money troubles added up as he failed to secure lucrative terms.
Neighbours in Rio's posh Urca area harassed him and Elza. The pair were attacked when they visited Pau Grande. When a military dictatorship took over Brazil, the couple moved to Rome after a vigilante squad visited their house.
In 1980, Rio's Mangueira samba school put him on its carnival parade float. In an episode that features in the film, a shocked nation watched on television as an alcohol-numbed figure in a yellow Brazil shirt sat there oblivious to all around him.
A few years later he was dead.
Garrincha, though, will always remain a people's player.
"He never forgot where he came from. They love Pele but they don't identify with him," Downie told Reuters.
Pau Grande seems to have forgiven Garrincha his transgressions. A bust sits in the square and the soccer field bears his name, with a few old photographs of him hanging inside the scruffy bar.
"He was a simple guy, he didn't have a nasty thought," said local carpenter Zaza. "Another Garrincha has never been born."
© Copyright 2005 Reuters Limited. All rights reserved. Republication or redistribution of Reuters content, including by framing or similar means, is expressly prohibited without the prior written consent of Reuters. Reuters shall not be liable for any errors or delays in the content, or for any actions taken in reliance thereon.



What do you think about the story?








Read what others have to say:





Number of User Comments: 1








Sub: A Class by Himself

His skill was sublime. Watch out Garrincha and his superlative wizardy in first couples of minutes in the match against USSR in 1958 world Cup ...


Posted by Shuvadeep Lahiri






Disclaimer