Home > Sports > Football > Reuters > Report


Higuita tests positive for cocaine

November 24, 2004 19:17 IST



Colombia's eccentric former national goalkeeper Rene Higuita tested positive for cocaine for the second time in two years and has been sacked by his club Aucus, the Ecuadorean Football Federation said.

"In a match in October between Aucas and Olmedo, Rene Higuita tested positive for the use of cocaine," the president of the Ecuadorean Football Federation Medical Commission Romulo Aguilar told Reuters.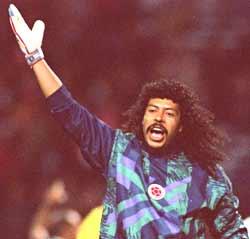 "I still don't have the breakdown of the details but it is a metabolite of cocaine and that is enough for us."
The crowd-pleasing 38-year-old, nicknamed 'El Loco' (The Madman), joined Aucus in January but the club said he would no longer play for them.
"Higuita said it was possibly residue from some time ago but I cannot confirm that," Jaime Perez, chairman of Aucas told Reuters. "We have terminated his contract."
The goalkeeper was banned for six matches for a similar offence in October 2002 after testing positive in his first match for Colombian provincial club Pereira.
Before that he was sidelined for more than a year following his dismissal by Barranquilla-based Atletico Junior for repeatedly missing training.
SCORPION KICK
Famed for his "scorpion" kick clearance in a match against England in a friendly at Wembley in 1995, when he dived forward and cleared with his heels, Higuita had a reputation for eye-catching stunts.
In the second round of the 1990 World Cup, he lost the ball while attempting to dribble past Cameroon's Roger Milla -- who went on to score the winning goal.
He repeated the calamity just two weeks ago against El Nacional, dribbling past several opponents and reaching the halfway line before passing the ball straight to opponent Erik de Jesus who scored from 45 metres into the empty net.
In 1993 Higuita spent more than six months in jail on charges of breaking Colombia's anti-kidnapping laws by attempting to negotiate the release of a kidnap victim.
The charges were later dropped but Higuita missed the 1994 World Cup in the United States.
Although he returned for the 1995 Copa America, he was kept out of the team by the more orthodox Farid Mondragon and later Oscar Cordoba.
© Copyright 2005 Reuters Limited. All rights reserved. Republication or redistribution of Reuters content, including by framing or similar means, is expressly prohibited without the prior written consent of Reuters. Reuters shall not be liable for any errors or delays in the content, or for any actions taken in reliance thereon.