Home > Sports > Football > Reuters > Report


New Roteiro ball makes waves

Rex Gowar | June 11, 2004 11:24 IST

The Euro 2004 match ball has been named in honour of Portuguese explorer Vasco da Gama who sailed on his voyages of discovery some 500 years ago.

The world that Da Gama sailed was not flat but creased by contours, like the leather balls of football's early days.

The roteiro ball, named after Da Gama's log book, is almost smooth. To its manufacturer Adidas, it is a thing of beauty.

For many players, however, it is more suited to Copacabana than the European Championship.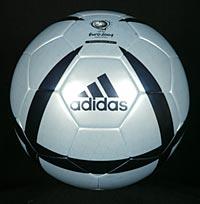 "It's like a beach ball, I don't like it at all. To send it where you want you really have to hit it hard," said Spain's Ivan Helguera.
Manufacturers of modern balls appear bent on ironing out the surface. They started last century by eliminating the laces where the old bladder was inserted and modern technology, in particular waterproof coatings, continued the smoothing process.
Roteiro is described by the makers as seamless. It retains the hexagonal and pentagonal sections on the surface but these are far less pronounced than normal balls, giving the appearance of a smooth finish all the way round.
England captain David Beckham raved about the ball when it was introduced in February, but noted its exaggerated movement through the air.
"I think it's great to kick and it's going to be a great ball to play with. Keepers are going to have a very rough time," Beckham, who is sponsored by adidas, said.
"It moves a lot, the players have remarked on that... it's very light, very different."
France's Zinedine Zidane, who is Beckham's Real Madrid team mate and also sponsored by adidas, believes the ball will improve the game.
At first sight the roteiro looks like a beach ball, with its metallic silver colour and long, thin black streaks.
Reuters reporters almost to a man found the ball light, even though it has adhered to fixed weight specifications. A lot of players and coaches are unhappy about the innovation.
Spain's coach Inaki Saez said: "As it has no seams it behaves very strangely. It's horrible, difficult to control and to pass."
Midfielder Joaquin said: "It's hard to believe they can call this a ball. It lifts a lot and doesn't follow a true line."
The sensation is of holding a volleyball. Kicking it along the ground a short distance feels no different from any of its predecessors.
But it feels different when you try to make a weighted, longer delivery, presumably because of the limited resistance of its surface area.
The Czech Republic players are particularly unhappy about this.
"It's almost impossible to play a pass behind the defensive line with it. We lost the ball many times and almost all by being unable to time passes behind the defence. And we play those a lot," coach Karel Brueckner said.
The roteiro was used in the second half of the Bundesliga season in Germany.
"Awful," was the verdict of Bayer Leverkusen director Jurgen Kohler, the former Germany international. "It looks like a flying saucer, moves around a lot and has a strange flight path."
But many players think that like having to deal with heavy rain during a match, top professionals should be able to adapt.
"Every tournament brings a new ball and there's always a discussion on how the thing flies but at the end of the day, it's not a decisive factor. The best team win," Germany defender Christian Ziege said.
© Copyright 2005 Reuters Limited. All rights reserved. Republication or redistribution of Reuters content, including by framing or similar means, is expressly prohibited without the prior written consent of Reuters. Reuters shall not be liable for any errors or delays in the content, or for any actions taken in reliance thereon.