Home > Sports > Football > Reuters > Report


Chelsea dismisses coach Ranieri

June 01, 2004 10:49 IST
Last Updated: June 01, 2004 11:17 IST

Chelsea have dismissed manager Claudio Ranieri, the English premier league side said on Monday.

"Chelsea Football Club today announce that Claudio Ranieri is to leave the club. Claudio has done a first-class job for the club and has paved the way for future success," a Chelsea spokesman said.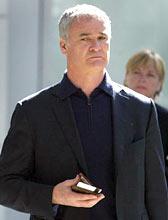 "We would like to wish Claudio all the best for the future. We are discussing the exact terms of his departure with him and his representatives."
The spokesman said no immediate announcement would be made on Ranieri's successor, but added the club expected to say something within the next 48 hours.
Ranieri's job has been under threat since Chelsea were taken over by Russian billionaire Roman Abramovich in July. The Italian is expected to be replaced by Porto coach Jose Mourinho.
Abramovich spent more than 100 million pounds ($183.6 million) on new players and Ranieri piloted his new-look squad to the semi-finals of the Champions League and second place in the premier league.
Ranieri, 52, replaced compatriot Gianluca Vialli at Chelsea in September 2000. He has also coached Valencia, Fiorentina and Atletico Madrid.
Earlier this month, the Italian bade farewell to the club, saying he would love to stay and finish the team building job started at Stamford Bridge.
"I don't know what is going to happen to me but it was important to do my best this season," he said after his side beat Leeds United 1-0 in the last game of the season.
"I think my plan was right, the foundation of the team is good, the spirit of the group is also good and the football has been good," Ranieri said, adding his one regret was the loss of the semi-final Champions League tie to Monaco.
"Now I can only pass the ball to Roman."
© Copyright 2005 Reuters Limited. All rights reserved. Republication or redistribution of Reuters content, including by framing or similar means, is expressly prohibited without the prior written consent of Reuters. Reuters shall not be liable for any errors or delays in the content, or for any actions taken in reliance thereon.



What do you think about the story?








Read what others have to say:





Number of User Comments: 1








Sub: Roman should have kept Ranieri

It was the dedication and vision of Ranieri that built Chelsea as one of the best teams in the world.Also in the coming season Roman ...


Posted by Juno Vazhappilly






Disclaimer