Home > Sports > Tennis > Report


Paes-Bhupathi back with a bang

rediff.com sportsdesk | July 30, 2004 15:27 IST
Last Updated: July 30, 2004 19:27 IST



The former world No.1 doubles pair of Leander Paes and Mahesh Bhupathi began their Olympics preparations on a victorious note, getting the better of Gaston Etlis and Martin Rodriques of Argentina in the second round of the $2.5 million ATP Masters Series in Toronto, Canada, on Thursday night.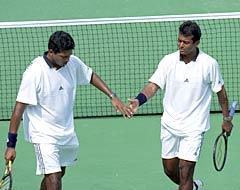 The eight seeds won 6-3, 6-2 and will meet the winners of the Jared Palmer (United States) - Pavel Vizner (Czech Republic) and the Bryan brothers, Bob and Mike, match next.
Paes and Bhupathi are teaming up in a Tour event after more than two years. They last paired at Mallorca, Spain, in April, 2002.
The duo had taken the tennis world by storm in 1997, winning their first major title together on the ATP tour at the 1997 Gold Flake Open. They won 12 titles thereafter leading up to a sensational 1999, which saw them become the first pair since 1952 to reach all four Grand Slam finals and win the Wimbledon and French Open titles.
Facing the No. 9 ranked team in the world, the Indians struggled to strike up a rhythm initially and faced triple break-points in the first two games but did well to wriggle out on both occasions.
They got the all-important break in the eighth game. A double fault by Etlis/Rodriguez was followed by the first winner from Paes and Bhupathi on their first serve. That gave the them a break point at 30-40. They were unable to capitalize on it and went on to waste another break-point before converting the third to go up 5-3.
The Argentines came back strongly in the next game and had a break-point which the Indians did well to save. Paes and Bhupathi then converted their second break point to take the first set.
From then on the Indians were in full cry as they attacked their opponents to race to a 4-0 lead before wrapping up the set and match in an hour and one minunte.
The Indians extended their winning run to 14 matches, having not lost a match together since April 2002 . That stretch includes five ATP matches, five Davis Cup matches and four Asian Games matches.


What do you think about the story?








Read what others have to say:





Number of User Comments: 2








Sub: Congrats to Paes and Bhupathi !

Great start indeed. Good Luck.


Posted by Dr. Cajetan Coelho









Sub: We want Gold This time.

We hope that this time Mahesh and Leander win a Gold in Athens Olympic.


Posted by Ejaz Ebrahim






Disclaimer