Home > Sports > Message Board


August 17, 2004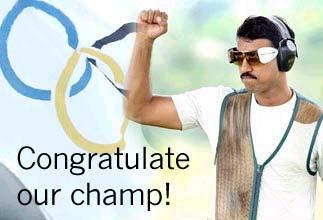 Major Rajyavardhan S Rathore provided a silver lining to India's challenge at the Olympics by winning India's first ever individual silver at the Summer Games.
The only athletes to win individual medals for India at the Olympics thus far were wrestler Khashaba Jhadhav at the 1952 Helsinki Games, tennis player Leander Paes at Atlanta in 1996, and weightlifter Karnam Malleshwari at Sydney 2000. All won bronze medals.
Rathore, 34, earned a quota berth in the double trap event at the Olympics by finishing third in the World Championships in Nicosia, Cyprus, last year.
Just before the Olympics he won a gold at a Masters meet in the Czech Republic and before that another at the Asian Championships in Kuala Lumpur.
Join us in congratulating India's silver medal-winner.
-- Post your comments --
Complete coverage of the Olympics


What do you think about the story?








Read what others have to say:





Number of User Comments: 2714








Sub: congratulations

hello rathore, Its been owesome that you have achieved lot in recent days and have been favourite in many houses for many people just as ...


Posted by Neethu









Sub: congrats

you made an address for 107 crores..many many congrats


Posted by jishith









Sub: dravid

congrats on the award that you now hold, but as a very ardent indian cricket fan i must say that though your superiority on test ...


Posted by floyd









Sub: congrats

your achivement makes all indians proud. with blessings purnima iit-b mumbai


Posted by poornima









Sub: congrats

maj rathore You have made us proud. We do understand the limitations experinenced by other sports compared to cricket. In spite of that what you ...


Posted by aman virk






Disclaimer