Home > Sports > Tennis > PTI > Report


Paes-Bhupathi win Toronto Masters

August 02, 2004 15:45 IST
Last Updated: August 02, 2004 18:02 IST



India's Leander Paes and Mahesh Bhupathi marked their reunion after a gap of more than two years by winning the doubles title at the US $2.5 million ATP Masters tournament in Toronto, Canada, on Sunday night.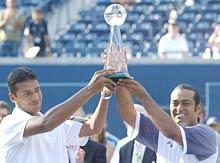 Paes and Bhupathi, world number one pair at their peak in 1999, when they won the French Open and Wimbledon titles, defeated Jonas Bjorkman of Sweden andáMax Mirnyi of Belarus 6-4, 6-2 in the final.
After going down a break in the second game, the 'Indian Express' bounced back with a double break in the third and seventh games to take the first set. The pair gained a break in the very first game of the second set before extending the lead to 5-2 with another break in the seventh to wrap up the title.
It was the 23rd title for Paes and Bhupathi together and their fifth Masters title. Interestingly, their first title came at the same venue seven years ago.
Individually, it was Bhupathi's 36th career title and Paes's 30th. Bhupathi was also the defending champion, having won the titleálast year with Mirnyi.
The duo ran into fine form in the tournament that saw them gobble up three top-10 pairs -- including Mark Knowles of Bahamas and Canadian Daniel Nestor -- on their way to the title and the win should make them a strong contender for the Olympics gold at Athens in a fortnight's time.
The Toronto win gives the duo 500 ATP points each and will push Paes up to Number 20 on the Doubles Entry ranking. Bhupathi's ranking will stay at his current Number 5.
Paes and Bhupathi are teaming after more than two years to prepare for the Olympics, beginning on August 13. The former world No.1 doubles pair had taken the tennis world by storm in 1997, winning their first major title together on the ATP tour at the 1997 Gold Flake Open.
They won 12 titles thereafter leading up to a sensational 1999, which saw them become the first pair since 1952 to reach all four Grand Slam finals and win the Wimbledon and French Open.
Mirnyi, who won the US Open doubles crown with Bhupathi in 2002, caused a flutter when he said at the presentation ceremony, "Congratulations to the dark boys over there!"
But Paes diffused a potentially explosive situation with his sense of humour, saying: "Max, this is North America. I can probably sue you for discrimination."
The Indian duo will now proceed to Cincinatti in the United States where they play another Masters event before flying to Athens for the Olympics beginning on August 13.
© Copyright 2005 PTI. All rights reserved. Republication or redistribution of PTI content, including by framing or similar means, is expressly prohibited without the prior written consent.



What do you think about the story?








Read what others have to say:





Number of User Comments: 1








Sub: paes-bhupathi win master's

totally stupid comments from mr. max mirnyi without even a basic sense.


Posted by senthil kumar






Disclaimer