Home > Sports > News > Report


Anand wins Rapid title

April 02, 2004 10:39 IST



Viswanathan Anand ensured that the race for the title went right to the wire, but in the end had to be content with the third place behind joint winners, Vladimir Kramnik and Alexander Morozevich in the Amber Blindfold and Rapid chess tournament. But the Indian ace did win the rapid competition with 7.5 points, while Evegeny Bareev was half a point behind. Anand finished fifth in blindfold and third overall.

In the final set of matches, Anand set the ball rolling with a win over Boris Gelfand in the blindfold game and with Kramnik drawing Veselin Topalov and Morozevich drawing with Peter Svidler, the gap between the leaders and Anand came down to just half a point.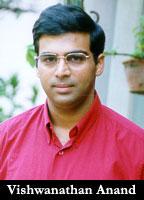 However in the final rapid game, Anand was held to a draw by Gelfand, while Kramnik and Moro won against their respective opponents to stay a point ahead of Anand and snatch away the title he won last year. The two leaders had a one point advantage when the final round of two games started.
Anand opened the day with a good win in the blindfold, where Gelfand was inaccurate in the opening in the Petroff defence. Anand described his advantage as "a very, very slight edge that never got neutralised" and also pointed at the structural advantages he had. Gelfand fought back with a will, but on the 55th move his inevitable resignation followed.
In the rapid Anand, as Black, did not manage a position of advantage at any stage. In fact when queried whether he should have fought till the end for a win, the logical Anand asked, "Should I play for a win in this position?" referring to the tiny advantage Gelfand had. So, when Gelfand proposed a draw on move 29 there was no reason for Anand not to take it.
Anand's overall showing in the event was once again of a very high order, though the slight slump against Alexander Morozevich, when he was shocked into two defeats may have cost him the title, which he lost by one point.
Morozevich unleashed another opening surprise with black against Svidler. After a long interesting battle in the Burn variation of the French, they drew and that helped Morozevich take the blindfold title.
In the rapid game Morozevich's position didn't look too impressive and after he had lost a pawn on h3 he even seemed to be in trouble. But the tenacious Morozevich stuck it out and with some miraculous moves managed to beat his rival for a full point.
Meanwhile, Kramnik got away with a draw in blindfold, where the fighter, Veselin Topalov got an advantage but could not convert it into a win in a Queen's Indian which was ultimately drawn in 41 moves. In the rapid, Topalov ran into a stunning home-preparation by Kramnik in Ruy Lopez and lost in 38 moves.
In the other clashes, Vassily Ivanchuk slammed Paco Vallejo 2-0, while Evegeny Bareev and Peter Leo played two draws and Alexei Shirov and Loek Van Wely traded one win each.
The Ivanchuk-Vallejo clash was dramatic. First, Ivanchuk came almost 15 minutes late for the blindfold game, forgetting that the games began an hour early on final day. The ritual is the same each year and Ivanchuk has played all 13 editions of Melody Amber. But once he arrived he shot his moves in double quick time and even caught up on time. In the complicated game in Ruy Lopez, Ivanchuk went on to win in 42 moves.
In the rapid, the position was highly drawish, but Ivanchuk for reasons best known to him continued to play. Ivanchuk played 40 moves without making progress and then Paco Vallejo's resistance broke down and he lost on time.
It was one of the hardest fought Melody Amber events, as 50 per cent of the blindfold and just over 71 per cent of the rapid games were decisive. Overall 60.6 per cent of the games produced decisive results.
Results of 11th and final round (Blindfold):  Bareev drew with Leko;  Vallejo lost to Ivanchuk;  Van Wely lost to Shirov;  Anand beat Gelfand;  Svidler drew with Morozevich;  Topalov drew with Kramnik.
Final standings (Blindfold): 1. Morozevich 8.5; 2. Kramnik 8.0; 3. Ivanchuk 7.0; 4. Leko 6.5; 5. Anand and Shirov 6.0; 7. Svidler and Bareev 5.5; 9. Topalov 4.5; 10. Van Wely 3.5; 11. Gelfand 3.0; 12. Vallejo Pons 2.0.
Results of the 11th and final round (Rapid):  Leko drew Bareev; Ivanchuk beat Vallejo; Shirov lost to Van Wely; Gelfand drew with Anand;  Morozevich beat Svidler;  Kramnik beat Topalov.
Final Standings (Rapid): 1. Anand 7.5; 2. Bareev 7.0; 3. Kramnik 6.5; 4. Svidler, Morozevich, Leko and Ivanchuk 6.0; 8. Topalov and Gelfand 5.5; 10. Shirov 4.5; 11. Van Wely 4.0; 12. Vallejo Pons 1.5.
Final Standings (Combined): 1. Morozevich and Kramnik 14.5; 3. Anand 13.5; 4. Ivanchuk 13.0; 5. Leko and Bareev 12.5; 7. Svidler 11.5; 8. Shirov 10.5; 9. Topalov 10.0; 10. Gelfand 8.5; 11. Van Wely 7.5; 12. Vallejo Pons 3.5.
Round 11: Anand v Gelfand (Blindfold)
1. e4 e5 2. Nf3 Nf6 3. Nxe5 d6 4. Nf3 Nxe4 5. d4 d5 6. Bd3 Nc6 7. O-O Be7 8. Nbd2 Nxd2 9. Bxd2 Bg4 10. c3 O-O 11. Bf4 h6 12. Bb1 Bh5 13. Qd3 Bg6 14. Qb5 Rb8 15. Bxg6 fxg6 16. Bg3 Qd7 17. Rae1 a6 18. Qb3 Rf5 19. Re2 g5 20. h3 b5 21. Rfe1 Rbf8 22. a4 b4 23. Qc2 bxc3 24. bxc3 Bd6 25. Bxd6 cxd6 26. Nh2 R5f7 27. Qd3 Ne7 28. Qxa6 Ng6 29. g3 Qxh3 30. Qxd6 Qf5 31. Qe6 Qxe6 32. Rxe6 Kh7 33. Ng4 Ra7 34. Ra1 Rc8 35. Ra3 Rac7 36. a5 Rxc3 37. Rxc3 Rxc3 38. a6 Ra3 39. Ne3 Ra5 40. Kg2 h5 41. Rb6 Ne7 42. Rd6 g4 43. Rd7 Nc6 44. Rxd5 Rxa6 45. Rxh5 Kg8 46. d5 Nb4 47. Nxg4 Ra2 48. d6 Rd2 49. Rb5 Nc2 50. Rb8 Kh7 51. Rd8 Ne1 52. Kf1 Nd3 53. d7 Nc5 54. Ne5 Rd5 55. f4 1-0
Round 11: Gelfand v Anand (Rapid)
1. d4 Nf6 2. c4 e6 3. g3 d5 4. Bg2 Be7 5. Nf3 O-O 6. O-O dxc4 7. Qc2 a6 8. Qxc4 b5 9. Qc2 Bb7 10. Bd2 Be4 11. Qc1 Bb7 12. Bf4 Bd6 13. Nbd2 Nbd7 14. Nb3 Bd5 15. Rd1 Qb8 16. Ne5 Bxg2 17. Kxg2 Qb6 18. Qc6 Bxe5 19. Qxb6 cxb6 20. dxe5 Nd5 21. Rac1 Rfc8 22. Rxc8 Rxc8 23. e4 Nxf4 24. gxf4 Rc7 25. f5 g5 26. fxe6 fxe6 27. Rd6 Nxe5 28. Rxe6 Nc4 29. Nd4 1/2-1/2