Home > Sports > Hockey > Report


Hockey star Jugraj Singh hurt in accident

rediff.com sports bureau | September 03, 2003 09:21 IST
Last Updated: September 03, 2003 12:31 IST



Hockey star Jugraj Singh was hurt in a road accident at Dakoha near Jalandhar on Tuesday night.

The 20-year-old player was driving the car, which also had two of his friends along with him, when it hit banged into an electric post while trying to avoid a cycle-rickshaw, a friend of Jugraj said.

Jugraj and six of his friends were returning to their houses in Dakoha in two cars, after having dinner in a local restaurant, when the mishap occurred.

Senior police officials reached the spot and took Jugraj and two of his injured friends to the Guru Nanak Mission Hospital in Jalandhar.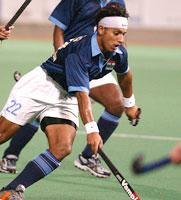 Later on his family members moved him to the Dayanand Medical College, Ludhiana.

Doctors said the hockey star is out of danger and is stable. He is being operated upon and is expected to be out of action for three months.

Jugraj's friend and ace hockey player Gagan Ajit Singh said he learnt about the accident on Wednesday morning and said he was rushing to the hospital.
"I have learnt that he has suffered serious injuries on his elbow, on the thigh and bruises elsewhere," Gagan said.

Dr R S Cheena, Medical Superintendent at the Dayanand Medical College in Ludhiana, said Jugraj suffered multiple fractures on his right elbow, right hand and a foot.
"He is being operated upon and it will take four hours for the surgery to complete. After that it will take minimum two weeks for him to recover in the hospital. He won't be able to play for at least three months," Dr Cheena said.


What do you think about the story?








Read what others have to say:





Number of User Comments: 28








Sub: Get well soon, JUGRAJ!

I pray to God for Jugraj's speedy recovery. I want to see him back in action. Its the most terrible thing to happen to any ...


Posted by beboduggu









Sub: I am appaled by the news

Hi , It took me sometime for the news to sink. I was very impressed by Jug's perforamnce in that match with Pakistan. Not only ...


Posted by Pradipta









Sub: Unfortunate incident

I am really shocked to know that hockey ace Jugraj is injured. A brilliant penalty corner striker and defender , India is going to miss ...


Posted by Karthikeyan









Sub: Best wishes to Jugraj

I love to Jugrag as a younger brother because he play very well. I Love India , he play for India and he is such ...


Posted by Shailesh Baghela









Sub: Very bad

IT is very bad for Jugraj and India ,as he is a class player . I pray to GOD that he is back on the ...


Posted by sharad singh






Disclaimer