England captain Martin Johnson praised his team for a mighty collective effort after their 20-17 win over Australia in the rugby World Cup final today.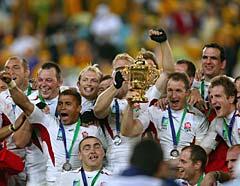 Jonny Wilkinson drop-kicked a goal in the second half of extra time to win the William Webb Ellis trophy for his country for the first time since it was instituted in 1987.
"It was a huge effort by the entire squad of players, coaches, and backroom staff, everybody. Thanks to the fans, they were incredible," Johnson said.
"I can't say enough about the team, because we had the lead and we lost it, but we came back and Wilko at the end, I can't say enough about it."
| | |
| --- | --- |
| | An Epic Final |
| | |
"You have got to give credit to Australia, they are a very good team and they made it very difficult for us.

"I'm just for happy for the players, they have put their heart and soul into it.

"It couldn't have been any closer and I'm just happy I'm on the right side."