Home > Sports > News > Reuters > Report


Wilkinson fulfils his destiny

Mitch Phillips in Sydney | November 22, 2003 23:41 IST



It was the perfect end to a perfect piece of sporting theatre -- and it was always going to be Jonny Wilkinson providing it.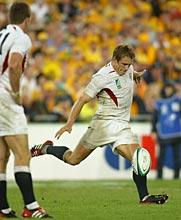 Every barb that flew his way during the past seven weeks helped propel the incomparable England flyhalf to his destiny.
So it was almost written in the stars when his drop goal in the last minute of extra time in Saturday's final won England the rugby World Cup.
"I missed three and the fourth went over," he said in a typically hard self-analysis of his momentous contribution to rugby history.
"Daws [scrumhalf Matt Dawson] made a fabulous break and what would have been a long shot turned into a shorter one.
"With the earlier kicks it was more a case of hit and hope, but I had a bit more time on the last one.
| | |
| --- | --- |
| | An Epic Clash |
| | |
"In my dreams last night it wasn't that long."

Asked about his emotions when the whistle sounded seconds later to give England the trophy, Wilkinson said it had been the culmination of much more than 100 minutes of hard work on Saturday.

"The emotions come from five, eight years, 24 years if you like, of just constantly battling to make that moment happen and to take it when it came up," he said.

"It's massive, but I hope to play this game for a long time and I hope to still be doing this in 10 years," the 24 year-old said. "Today is a big day, but tomorrow will come."

With the thousands of England fans who had roared his kick between the posts still singing in the rain after the team's lap of honour, Wilkinson eventually retreated to the safety of the changing room.
| | |
| --- | --- |
| | Buildup to the Final |
| | |
Never a man to enjoy the spotlight, which will be cranked up to a blinding full beam upon his return to England, Wilkinson said his first action upon getting inside was to "find a quiet corner".

"There's been some highs and lows through the tournament and it was just a chance to think about the support and help I've had from people who were important to me when I needed them," he said.

Wilkinson has admitted that he was not at his absolute best earlier in the tournament, but tried to stick to his now perfectly honed routine before, during, and after every game despite the increasing levels of concern from the media.

Even in the quarter-final win over Wales, when he kicked 23 of England's 28 points, he was criticised for his general play, while coach Clive Woodward's decision to introduce Mike Catt to ease some of the pressure was seen as recognition by the coach that Wilkinson needed help.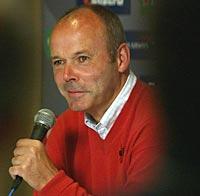 Woodward laughed off the comments, maintaining that his number 10 was the best in the world, and Wilkinson repaid his faith with all 24 points in the semi-final win over France.
Into the final and it was Wilkinson's boot that kept England edging clear as his penalties rewarded their first-half dominance.
He tried and failed with three drop goal attempts, but with seconds remaining of extra time he finally got it right.
"It was about the only thing that went to plan after the first half," said captain Martin Johnson of the lineout and drive that set up the opportunity.
The kick, off his less favoured right boot, secured the title and also left Wilkinson as the tournament's leading scorer with 113 points.
After England's victory over South Africa in the group stages, The Australian newspaper published a picture of Wilkinson under the headline: 'Is that all you've got?'
It wasn't -- Jason Robinson's try and a supreme defence also came in handy on Saturday -- but it was the difference.
As Johnson said after the match: "Thirty seconds to go, Wilko in front of the sticks to win the World Cup, you wouldn't want anyone else there, would you?"
© Copyright 2005 Reuters Limited. All rights reserved. Republication or redistribution of Reuters content, including by framing or similar means, is expressly prohibited without the prior written consent of Reuters. Reuters shall not be liable for any errors or delays in the content, or for any actions taken in reliance thereon.