Home > Sports > News > Reuters > Report


Wilkinson's skill excites some, irritates others

Julian Linden in Sydney | November 19, 2003 21:38 IST



When Jonny Wilkinson kicked his third drop goal in less than an hour during England's World Cup semi-final win over France, Prince Harry started throwing high-fives and English fans began dancing in the rain.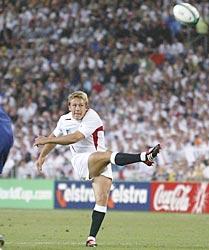 Wilkinson is a master of drop goals. He can kick them with his left foot or his right, from long range or acute angles, and his hat-trick against France took his total for the tournament to a World Cup record seven.
But not everyone was impressed by Wilkinson's tactics. Large sections of the huge crowd groaned in frustration every time he instinctively dropped the ball on to his foot.
While field goals have provided some of the most dramatic moments in rugby history, many players and spectators still regard them as a nuisance that goes against the spirit of the game.
Some consider them to be a cheap way of collecting points for teams that are not talented enough to score tries. No one wants to see them eliminated from the game, but many believe their value should be reduced from three points to one.
Former New Zealand winger Grant Batty is among the many critics who want the points system changed to place the emphasis on scoring tries, which are currently worth five points, just two more than a drop goal.
"If it was meant to be a kicking game," Batty said, "William Webb Ellis would never have picked up the ball and ran with it in the first place -- that was the idea."
| | |
| --- | --- |
| | Rugby World Cup 2003 SFs |
| | |
There were widespread calls for the International Rugby Board to reduce the value of drop goals after South African flyhalf Jannie de Beer knocked England out of the 1999 World Cup with five field goals, but the board left them unchanged.

Rod McCall, a member of the Australian team which won the 1991 World Cup, said he would at least like to see them reduced to two points, the same as a conversion.

"An attempt at drop goal is something you do if you couldn't be bothered [attacking] or you want to take cheap points," he said. "I'd probably knock it down to at least two points and bring the value of a try up.

"They will eventually do it. They will bring something into line that the try is the main option when a side is in the attacking 22."

Australia's current coach Eddie Jones said he was a great admirer of drop goals, but wants the value of tries increased to better reflect the importance of crossing the opponent's line.

"It's a great skill, field goals," Jones said. "Rather than reduce the number of points, maybe increasing the number of points for tries might be the way to go."

© Copyright 2005 Reuters Limited. All rights reserved. Republication or redistribution of Reuters content, including by framing or similar means, is expressly prohibited without the prior written consent of Reuters. Reuters shall not be liable for any errors or delays in the content, or for any actions taken in reliance thereon.