Home > Sports > News > Reuters > Report


Federer wins Masters Cup

Steve Keating | November 17, 2003 09:36 IST
Last Updated: November 17, 2003 10:24 IST



Wimbledon champion Roger Federer closed out the season with a 6-3, 6-0, 6-4 demolition of Andre Agassi on Sunday claiming the ATP Masters Cup, the $1.52 million winner's purse, a sports car and the number two world ranking.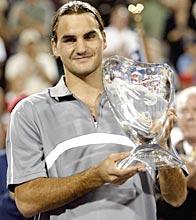 While Andy Roddick departed the Westside Tennis Club with the coveted year-end number one honour, Federer's brilliant 5-0 unbeaten run through the season finale, culminating with an 88 minute dismantling of the eight-time Grand Slam champion, left many hailing the 22 year-old Swiss as the best men's player.
Certainly there could be no argument about who was the better on this night.
Federer never faced a break point, had 39 winners to just 13 for Agassi and out-aced his opponent 11-1, the last to close out the match.
Federer's victory earned him a Tour season high seventh title and ended Agassi's bid to capture his first Masters since his debut at the year-end finale 13 years ago.
"What a great finish," said Federer, who had claimed his first career win over Agassi on Monday in his opening round-robin match.
"I really over-achieved everything I set for myself.
"Seven titles on four different surfaces, my first Grand Slam, number two in the world ... it's really been an unbelievable year for me.
"And this was just been an unbelievable match for me.
"It's definitely one of the best of my season ... of my career."
Coming off a two-set demolition of Roddick in the semi-finals, Federer carried that momentum into the final getting the contest off to a blinding start.
On superb form right from the opening serve, Federer earned the first and only break point of the first set in the fourth game and immediately made Agassi pay, finishing the rally with an easy forehand winner to surge in front 3-1.
Not even the urging's of pro-American crowd could inspire Agassi, as he struggled for answers against the clockwork precision of his stylish Swiss opponent.
FALTERING OPPONENT
Brimming with confidence, Federer stepped up his assault and broke his faltering opponent to open the second set when the American double faulted.
With Federer dominating every aspect of the match Agassi could only look to the dark clouds hovering overhead and pray for rain.
Trailing 6-3, 2-0 (0-30), Agassi's prayers were answered as a torrential downpour drove spectators for cover and the players to the locker rooms.
But there would be no help from above when play resumed two and a half hours later, as Federer quickly reaffirmed his authority breaking Agassi then swept through the next four games to take a two-set lead.
Having battled through four gruelling three-set matches to reach the final, a weary Agassi attempted to mount one final stand in the third set, fighting off a break point to hold serve and end Federer's run of seven successive games.
But the 33-year-old could never exert enough pressure on Federer's serve, the Swiss dealing the decisive blow with a break at to go up 5-4 then finishing off the Australian Open champion with a thundering ace.
"I think he's proven that he can play great in big situations, today he played really well," conceded Agassi.
"I didn't pull up the way I would have hoped after yesterday's match, and it was just enough edge off my game where he could just run with it.
"He did what any great player would do, which is just take care of business.
"He's as good as it gets out there."
© Copyright 2005 Reuters Limited. All rights reserved. Republication or redistribution of Reuters content, including by framing or similar means, is expressly prohibited without the prior written consent of Reuters. Reuters shall not be liable for any errors or delays in the content, or for any actions taken in reliance thereon.