Home > Sports > News > Reuters > Report


Write the Wallabies off at your own risk

John Mehaffey in Sydney | November 15, 2003 20:01 IST
Last Updated: November 16, 2003 00:48 IST



As exultant choruses of Waltzing Matilda swept around the Sydney Olympic Stadium, the Wallabies demonstrated yet again on Saturday night how dangerous it is to write them off.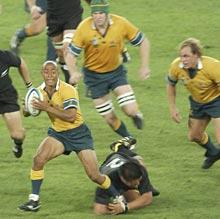 Playing with passion, power, and the acute intelligence that marks their rugby, Australia defeated World Cup favourites New Zealand 22-10 to become the first team to qualify for consecutive finals.
The victory in a match of unrelenting pace and brutal intensity confirmed that the power base of southern hemisphere rugby has crossed the Tasman Sea.
New Zealand have not won the World Cup since the first tournament in 1987 while Australia have the chance next Saturday to win it for a third time. They will meet the winners of Sunday's northern hemisphere semi-final between Six Nations champions England and France.
Australia's buildup for Saturday's semi-final had been unconvincing. The All Blacks, apart from a hiccup against Wales in the final pool match, had played with often staggering brilliance and pace.
But while Australia managed to reinvent themselves in the space of a week after beating Scotland in last weekend's quarter-final, New Zealand's flaws were cruelly exposed.
Australia captain George Gregan's contention on Friday that his team would unveil a new game plan on Saturday had been meet with scepticism at best and scorn at worst.
The Wallabies had appeared off the pace during the tournament, their game based on defence and pick-up-and-drive seemed stuck in a time warp, successful, maybe, four years ago, but hopelessly outdated in the 21st century.
| | |
| --- | --- |
| | More from the semi-final |
| | |
On a balmy spring evening, Australia did not come up with any startling new tactics. What they did was to execute the basics of the game far better than the All Blacks.

Elton Flatley kicked his goals, failing with only one attempt out of seven. His counterpart Leon MacDonald failed with two kickable penalties in the first half, which would have levelled the score 13-13 at the break.

New Zealand number eight Jerry Collins, so influential in the quarter-final against South Africa, twice conceded silly penalties in his own half. Twice Flatley made him pay the price.

Australian flyhalf Stephen Larkham, close to the form he showed in the 1999 tournament, was increasingly dangerous with the ball in hand. But more importantly he kicked with great intelligence, forcing All Blacks winger Joe Rokocoko to continually turn and run. Rokocoko, scorer of 16 tries in his first year of international rugby, accordingly looked no more certain on defence than the legendary Jonah Lomu in the 1999 semi-final loss to France and his general play was inevitably affected.

An intercept try in the 10th minute by centre Stirling Mortlock, who seized on a floated pass by Carlos Spencer, gave Australia the impetus they needed as they launched wave after wave of attack.

Spencer partially atoned with a lightning break five minutes before the interval to set up captain Reuben Thorne for a try and keep his team in the game.
| | |
| --- | --- |
| | More from the World Cup |
| | |
That proved to be the extent of the try-scoring as New Zealand tried everything they knew, from a series of forward drives up the middle to the swift passing out wide that has marked their play in this tournament.

It was all to no avail. Australia's defence held firm and they also pinched crucial lineouts to keep New Zealand back-pedalling while Flatley continued to kick goals.

"They didn't allow us to play our game, they pushed us to make us a lot of faults, and they took their chances when they came," said Thorne. "They didn't allow us to execute our game plan."

Coach John Mitchell agreed. "Our execution was poor," he said. "We didn't deserve victory."

Gregan summed up the night's rugby best. "Semi-finals are about pressure," he said. "We handled that well."

© Copyright 2005 Reuters Limited. All rights reserved. Republication or redistribution of Reuters content, including by framing or similar means, is expressly prohibited without the prior written consent of Reuters. Reuters shall not be liable for any errors or delays in the content, or for any actions taken in reliance thereon.