Home > Sports > News > Reuters > Report


French await England 'with respect'

Jean-Paul Couret in Sydney | November 11, 2003 11:57 IST



France will face England with respect but without fear in their rugby World Cup semi-final next Sunday, team manager Jo Maso said yesterday.

"We are playing the favourites in the semi-finals, they are the team who progressed the best over the last three years, they [were] number one in the rankings, but we shall cross the white line without fear," he told a news conference.

"We have a lot of respect for the England team, but we have also showed we have been capable of raising our game since the start of the World Cup.

"[France's coach] Bernard Laporte and I, we think it will be a great game because the two teams respect each other."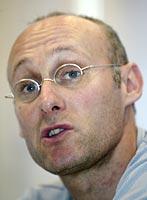 Laporte said he was pleased that France had been labelled the team to beat after they destroyed Ireland 43-21 in the quarter-finals while England struggled to overcome Wales 28-17. "Of course we are happy to be considered, but it doesn't mean much," he said. "Frankly, I think England still are the team to beat.
"A lot of the press have been saying they were a fairly laborious side, but nobody has beaten them yet. I was not expecting England to score 50 points against Wales. They only scored one try and the Welsh scored three, but who won the game? England once again."
Laporte said the England versus Wales quarter-final had been typical of the game England has developed over the last three years.
"They play a hard-pressure game, sticking first to the tight passing and kicking to win territorial advantage and then, when their opponents' defence starts to break down, they widen their game, make more passes," he said.
"They are a physical side and are very good on the turnovers and counterattacks with players like Ben Cohen and Jason Robinson."
But Laporte also said that England were beatable.
"That's lucky because otherwise, nobody would go and face them," he added.
The French coach's tone had been different on Sunday immediately after the quarter-finals.
"You like or you don't like the English," he had said. "Most of the people hate them. Personally I don't have much love, but one has to accept that they often are the best in sport or in business, so one has to respect them."
Yesterday's press conference was a different occasion, with a lot of English-speaking journalists in attendance for the first time since the start of the World Cup.
Laporte adopted a more diplomatic approach.
"We shall go into the game full of enthusiasm and dying to do well," he said. "We will face England with confidence too, because over the last two years, they won once and we won once in the Six Nations.
"Sunday's game will be a kind of decider. We wanted to face England in the semi-final and here we are. It's very exciting."
© Copyright 2005 Reuters Limited. All rights reserved. Republication or redistribution of Reuters content, including by framing or similar means, is expressly prohibited without the prior written consent of Reuters. Reuters shall not be liable for any errors or delays in the content, or for any actions taken in reliance thereon.