June 27, 2003

Hantuchova a victim of stress


II was a painful sight to see Slovakia's Daniela Hantuchova break down in tears quite a few times as she lost to Shinobu Asagoe in the second round of The Championships.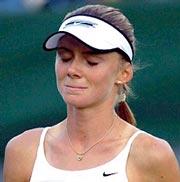 Today, women's tennis has changed leaps and bounds. I can tell you for sure, the pressure on them is so huge that survival on the road is not easy at all. It's not like the earlier times, when performance alone mattered. Apart from the game changing, the whole dynamics have been altered to such an extent that for every Hantuchova competing out there, tennis is no longer a job where one simply worried about performance. Each one has to think of not just the pure skills, fitness and form, but several other factors like athleticism, mental strength, beauty, market value and fashion, which, in the end, leads to high stress levels.
Take Hantuchova. You know, it was not just the pressure of having to beat a doubles specialist, which got her. She was a victim of high stress, where focussing on the game became so difficult simply because she may have gone into things like a weight loss programme. The Slovakian is quite tall and weighed only 56 kg this January. To me, her decision to go on a weight loss programme was baffling. Mind you, by no standard was Hantuchova overweight. It was perhaps the fad of looking trim and being more marketable which led her to taking such steps where she did not know how to handle her tennis on court and collapsed like a house of cards.
I would not hesitate in admitting women's tennis is something which has huge glamour today and greater viewership. The depth has also increased manifold and there are as many as 10 players in the field who can win a Grand Slam and not just the Williams sisters.
I do feel it is a very positive sign for women's tennis to have the Belgian girls, Justin Henin and Kim Clijsters, challenging the Williams sisters. But if you ask me whether each one of them trying to become a champion needs to go in for crash diets and worry about appearance and so on is necessary, I beg to differ.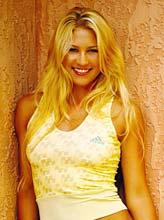 A couple of years back, when Anna Kournikova featured on the cover of Sports Illustrated as the highest paid women's athlete, it took me by surprise. Women's tennis has become such a commercial proposition; you have to see it to believe it that even the ones not in the top bracket are striving to do what Kournikova does. Let me put it this way: Kournikova has made loads of money through commercial endorsements, but is she really happy with what she has achieved as a pure tennis pro? I would not think so, since she still has not got the results which several other girls have.
In the days gone by, when people spoke of Steffi Graf, it was always about her forehand, or whether she would ever come to the net to volley or complete the Golden Slam as she did in 1988. Today, when you talk of the star players like the Williams sisters, it has much more to do than just the game. Handling so many things is just not easy.
And yes, how can I not share with my readers what I thought of the match between Greg Rusedski and Andy Roddick the same day Hantuchova lost. Having watched replays of the match a dozen times, I am convinced there were a couple of calls in that match which were surprising. For sure, Greg blew the match on a call made by someone from the stands. But I felt, at another point of time, one of the questionable calls was from a line umpire.
Whichever way, I still think Greg had no reason to throw away the match since it was Roddick leading on his serve in the third set when all the drama took place. I would say it was sheer lack of professionalism on Greg's part to lose his cool in a match like this.
(Professional Management Group)
Tell us what you think about this article | E mail this Article
Design: Imran Shaikh