Home > Sports > News > Reuters > Report


No quarter given in world's highest polo match

July 25, 2003 12:16 IST

Once a year, when snow has melted on all but the tallest peaks, caravans from east and west converge on a pass high in the Hindu Raj mountain range to play "The King of Games and the Game of Kings".

Driving long hours on precipitous roads or plodding for days on horseback, they head for Shandur, a pass midway between the northern Pakistani towns of Gilgit and Chitral, and at over 12,000 feet (3,700 metres), the world's highest polo ground.

Locals believe polo was born in their land and it remains an obsession today. Indeed, it is Gilgit that is home to the famous polo inscription: "Let other people play at other things, the King of Games is still the Game of Kings".

They say the rivalry between players from Gilgit and Chitral dates back centuries though the Shandur match was first organised by the colonial British in the 1920s and became an annual spectacle only about 20 years ago.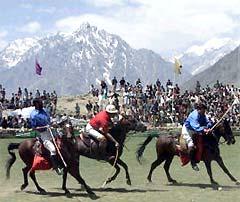 The big game is the culmination of a three-day tournament. The night before, thousands camp out in the chill night beneath stars and snow-capped peaks, like rival armies awaiting battle.
Hundreds of lanterns twinkle in the gloom of a half-moon, drums beat, dancers twirl and the sound of reed pipes echoes off the surrounding mountains.
As the day dawns and the teams take the field, the outfits might look familiar to those who have watched the international version of polo played by tycoons and princes in such genteel environs as England's Cowdray Park or Ascot.
NO QUARTER
But polo Shandur-style is an altogether different affair.
Without written rules, it is played at a blistering pace and without quarter, suggesting more a clash of cavalry than a sport, and threatening man, beast and fan alike.
"All is fair that's allowed," explains commentator Captain Siraj Ulmulk, as two riders thunder after a ball, heads low and mallets extended like sabres or lances.
"If you can't get the ball, then get the man, get his horse, get something!"
Some 15,000 spectators roar on their teams, as scything mallets splinter and helpers risk all rushing out and weaving among thrashing hooves and dust to hand over replacements.
Spectators are not spared the fray: when the ball crosses the sidelines, they are forced to scatter as horses and riders plunge into the crowd in pursuit, or duck when it cannons like a fully charged shot into their midst.
Today's players appear to have lost none of the dash, ferocity and astonishing horsemanship of their tribal ancestors who harried successive invaders from their rugged land.
Bearded forward Maqbool, a star with the frenzied crowd, leapt from his saddle roaring with indignation as Chitral ended the first chukka behind. His face as blood red as his shirt, he had to be restrained as he advanced on a blue-shirted rival.
For locals this is not just any old game, but one of consuming honour and pride that will be talked over and over in the mountain valleys throughout the coming year.
"It's more than a game," explained Captain Siraj, adding perhaps only half in jest: "The people of Chitral and Gilgit are constantly eloping with each other's women and stealing each other's land and horses. There are court cases going on for decades and all the rage comes out on the field."
POLO HOOLIGANS
This goes for the spectators too. While polo is not a sport normally associated with hooliganism, as Gilgit ran off winners 6-3 and prepared to receive their trophy, dozens of Chitralis waded into a line of riot police, polo mallets flailing. There appeared to be no serious injuries.
The horses at Shandur originate in Afghanistan's Badakhshan province and Pakistan's Punjab and are the toughest around, but each year it is too much for some of them.
Stray mallets bloody both riders and mounts and one horse died on the field on the second day of play this year. Veterinarians explained the eight-year-old's heart had ruptured, or literally "burst", through the extreme exertion at altitude.
A young spectator had to be taken for medical treatment after horses charged into the crowd. Several riders had heavy falls.
It is not surprising then that some at Shandur are a little disdainful of their pukka cousins overseas, who use up to four horses a game and break every seven-and-a-half minutes, not 25.
"We have to finish both chukkas on one horse, whereas they can change whenever they want," said Chitral captain Sikander Ulmulk. "It's very tough for the horse and the player."
Sikander said rules codified by the British meant only the rich could afford to play, whereas in the mountains polo it was still accessible to the common man with only one horse.
Even so, Shandur will wait expectantly to see if Britain's Prince Charles, perhaps the most famous aficionado of the international game, takes up an invitation to visit next year.
For all the excitement and some of the world's most spectacular mountain scenery, only a tiny number of spectators this year were foreigners -- mostly diplomats or aid workers.
A visit by Prince Charles, organisers say, would not only put their extraordinary tournament on the map but also help boost a local tourism sector badly battered by Pakistan's image as a dangerous haunt of Islamic extremists.
"There's potential here that needs to be tapped," Siraj said. "I feel it has the potential of growing into something big."
© Copyright 2005 Reuters Limited. All rights reserved. Republication or redistribution of Reuters content, including by framing or similar means, is expressly prohibited without the prior written consent of Reuters. Reuters shall not be liable for any errors or delays in the content, or for any actions taken in reliance thereon.