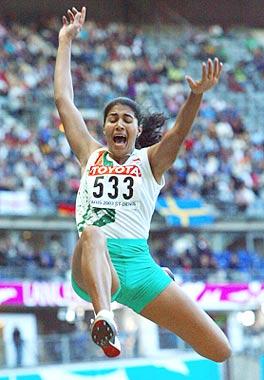 Image: Clive Rose/Getty Images
World Athletics Championships 2003
Day 8
Anju Bobby George of India competing in the women's long jump final on August 30, 2003, at the 9th IAAF World Athletics Championships at the Stade de France in Saint-Denis, outside Paris.

"This is the first medal for my country and I am very happy for it, it is like a gift for India," Anju George said later.

"It was a tight competition. I got the rhythm after the first round, but I didn't think I was jumping well. Even with my best jump I had problems on taking off. I didn't realise it was so long."