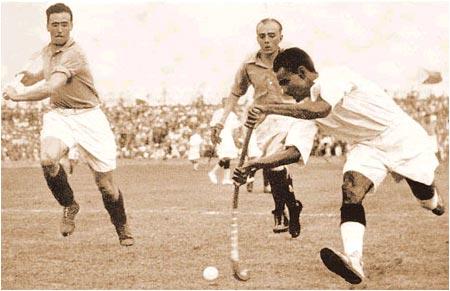 Image: Bharatiyahockey.org

Dhyan Chand in action against France in the 1936 Berlin Olympics semi-final. India won 10-0.
August 29, 2003
Days of Genius
'You are doubtless aware that I am a common man.'
The opening sentence of Dhyan Chand's autobiography.
But he was anything but common.
He has been described as a wizard, a magician, a juggler, even a God.
In a cricket-dominated era, hockey is still India's national sport. It is an honour the sport singularly owes to the legend.
His feats have defied time. Indeed, they have taken on the kernel of myth and are spoken of with awe by those who knew him, watched his wizardry on the hockey field. From father to son, from one generation to another, the word has gone down -- there never will be another like him.
On August 29, we celebrate his 98th birth anniversary, a day a grateful nation calls National Sports Day.