Home > Sports > News > PTI > Report


Anjali slams Arjuna Awards committee

Abhaya Srivastava | August 10, 2003 17:01 IST



Ace shooter Anjali Bhagwat slammed the Arjuna Awards committee for nominating athlete K M Beenamol for this year's Rajiv Gandhi Khel Ratna award ahead of her, saying its decision showed that performance alone is not the criteria for the award.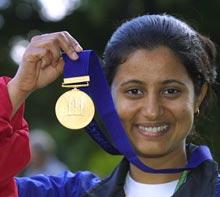 "I had a wonderful 2002. I was ranked number one in the world and bagged four Commonwealth gold medals, a silver in the World Cup and in the Asian Games. If this performance is not enough then I cannot say (what determines the winner)," Anjali said.
Anjali said she was disappointed initially but now she had realised that winning the Khel Ratna was not her "ultimate goal".
"I have also become used to such disappointments now," said Anjali, who is the only woman shooter to have qualified for the Athens Olympics next year.
"Last year too I was recommended for the Khel Ratna by my association. But the award went to (shooter) Abhinav Bindra who made an individual application.
"They (Bindras) are rich and influential people. No one has the guts to speak against them," the firebrand shooter charged.
Asked if her preparations for Olympics will be affected by this controversy, Anjali said, "I am not bothered. I do not give importance to petty things". 
On reports that the committee had decided to award Beenamol because Anjali could always bag the honour next year, she said, "I don't know. Shayad agle saal koi aur Beenamol paida ho jaaye (maybe another Beenamol will crop up next year)."
Even as speculation abounded with contradictory reports in the papers and television channels, the committee reconvened at New Delhi on Saturday to prune the list as per the government guidelines.
After a marathon discussion the committee decided to nominate Beenamol for the country's highest sports award though there was no official word on it.
Beenamol was chosen because she was the original choice, was one of the justifications given by a member of a committee.
The middle-distance runner won a gold each in 800m and 400m relay besides a silver in 400m in the Busan Asian Games last year.
© Copyright 2005 PTI. All rights reserved. Republication or redistribution of PTI content, including by framing or similar means, is expressly prohibited without the prior written consent.



What do you think about the story?








Read what others have to say:





Number of User Comments: 17








Sub: letter to the editor

A letter was posted on the 10th between 7.40_8 pm, please review. i want others opinion too. B L lyntee


Posted by Banlam Lyntee









Sub: beenamol deserves it!!!

sour grapes miss bhagwat!!! the country knows tht u r good...but u failed where it mattered the most...the asian games...where the competition was good....and also....ma'm...dont ...


Posted by jenny









Sub: Shame on u anjali

Anjali give importance to "petty" things..!! Thats why your are "crying".. Concentrate on ur work.. Awards will come...


Posted by Manoj









Sub: This is really Shameful

This is really shameful and disgusting act.In this way we are not motivating our Sports persons. We are spending crores of Rupees on some foolish ...


Posted by Deepak pathania









Sub: Politics in sports

Hey Anjai, I am surprised that you have not got used to such things... haven't you heard "jiski laathi uski bhains" , so the one ...


Posted by Nitesh






Disclaimer