Home > Sports > News > Reuters > Report


Khorkina out to reconquer Worlds

August 08, 2003 11:06 IST

With her bewitching smile and alluring personality, Svetlana Khorkina has made a seamless transition from Olympic champion to Playboy centrefold.

Never one to adhere to the norm, Khorkina loves being in the spotlight -- be it with her gymnastics, modelling exploits or acting credentials.

Nine months ago, though, the willowy Russian -- who at 1.64 metres is considered a towering presence in the sport -- grabbed the headlines for all the wrong reasons.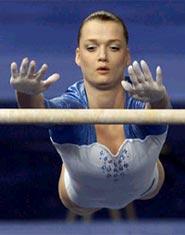 After being undisputed queen of the asymmetric bars for eight years, Khorkina suffered a spectacular failure at the world championships in Debrecen, Hungary, last November.
Unbeaten in a major competition on the apparatus since 1994, she was expected to float through her complex routine and leave the rest of the field to battle it out for the silver medal.
But such is the nature of gymnastics that Khorkina's crown slipped in an instant when she uncharacteristically fell off the bars twice in the middle of her daring release and catch moves.
The elegant Russian even lost her grip while performing a move invented and named after her to finish a lowly seventh out of eight competitors in the final.
Although her loss stunned the gymnastics world, especially as she had easily outclassed the pretenders to her throne in the two qualifying rounds, the 24-year-old Khorkina had a simple explanation.
"The loss was not a shock and it didn't really affect my confidence. It was not unexpected for me because I was not in good form in Debrecen," said Khorkina in an interview ahead of this month's world championships in Anaheim, California.
"Nobody is standing at one place, everybody is trying to improve. Therefore it is not easy to constantly maintain the best form at this level of gymnastics."
But ominously for her rivals, an out-of-form Khorkina still managed to score the highest mark on the apparatus in any of the three rounds.
Her mark of 9.762 in the semi-finals was well above surprise champion Courtney Kupets's gold-winning performance of 9.550 in the final.
Having come away empty-handed at the last outing, Khorkina is determined to make amends in California, where the world championships open on August 16, especially as Olympic qualification is at stake this time.
"I love new challenges. I don't like to be traditional," said Khorkina, who raised eyebrows with her 1997 topless photoshoot in a Russian edition of Playboy magazine.
"My strongest rival is myself. If I am capable of defeating myself, I shouldn't bother with the others."
While such a statement might sound arrogant, 12 golds in Olympic, world and European competitions prove Khorkina's superiority in her signature event.
Despite her dominance on the bars, the Russian remains hungry for even more success.
"I thought about quitting after Atlanta (in 1996) and then also after Sydney (in 2000)," said Khorkina, who combines her gymnastics commitments with an acting career.
"As you can see though, I have thought about it but obviously not seriously enough to quit."
"In Athens I will be 25. Most probably I will retire after the Games but I will keep taking part in displays and demonstrations."
Determined to capture her third successive asymmetric bars Olympic gold medal in Athens next year, Khorkina has been busy devising new routines to impress the judges and the fans.
"It is always much more interesting to work on something new in gymnastics," she said.
"Boris Pilkin, my personal coach, is the one who gives me ideas first. The programmes are not easy and I have to work hard to make it happen."
With the spectre of defeat still lingering on from last year, it is unlikely Khorkina will allow anyone else to upstage her when the action begins in Anaheim.
© Copyright 2005 Reuters Limited. All rights reserved. Republication or redistribution of Reuters content, including by framing or similar means, is expressly prohibited without the prior written consent of Reuters. Reuters shall not be liable for any errors or delays in the content, or for any actions taken in reliance thereon.