The Rediff Interview /Bjorn Borg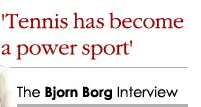 He offers me his hand, wrapped in veins.
They say ice ran through his veins, they joked that he had no pulse -- but the handshake is warm.
My own response is tentative. A touch awed. For this is the man who conquered the killing clay courts of Roland Garros a record six times (1974, 1975, 1978, 1979, 1980, 1981) and Wimbledon five times (1976-'80).
This is Bjorn Borg, the unflappable, immensely gifted, golden-haired Swede who holds 62 singles titles, who never played the Australian Open on a matter of principle, and who lost the US Open final on four occasions.
We are seated in a makeshift players' 'lounge' on the Cricket Club of India lawns. It's four in the afternoon, and it is hot. A table away from us, sits Anand Amritraj, fluently cursing the weather.
'Yes it is hot,' Borg says. To look at him, you wouldn't know -- there isn't a bead of sweat on his visage, and the only concession he makes to the elements is the mineral water he gulps down by the gallon.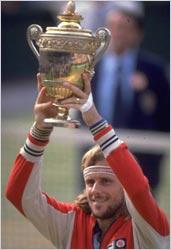 Our conversation is interrupted by a PR type who rushes in and attempts to rush me out. Apparently Vijay Amritraj, for reasons best known to him, has instructed the PR gent to tell me that Bjorn Borg will not give exclusive interviews, he will not talk one on one to any pressperson.
Strange -- when I asked Borg for a chat, he named a time -- and met me at the appointed hour, to the minute, without any fuss.
While the PR man is doing his stuff on me, Borg is busy scribbling autographs. He interrupts himself, waves a hand at the PR type, and says, 'Leave the boy alone, let him ask me a few more questions.'
The PR man backs off. And the legendary Swede settles himself back into the conversation. Excerpts, from his chat with Faisal Shariff:
How would you say the game has changed, down the years?
It has changed, quite a lot. It is very different now, there are quicker men, they are taller, stronger, have great stamina. The balls have also become faster. Tennis has now become a power sport. There is more depth in the game, as well, there are many more players than there used to be. The entire character of the game has changed.
There are people who believe that the power game has eroded the real skills, and that tennis is no longer as delightful to watch. What is your take on that?
In a way, yes, the real skills have disappeared. Personally when I watch tennis I like to see players with different styles. Nowadays, all you see is a serve at 125 mph; a return of serve, and the point is over.
That is the way the game is played today. I really don't know what the average time for a single point is nowadays is. I don't enjoy watching the game anymore.
How would you assess your own contribution to the game?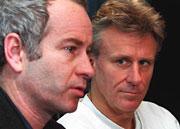 I think it was rather unfortunate that McEnroe, Connors and I played at the same time, that was bad. It would have been fantastic to have had the three of us play during different periods. We lifted tennis to another level. The way tennis changed after that was solely because of us. We had a lot to do with it.
Would you say tennis, today, needs to change in order to regenerate interest?
Tennis is a traditional game. A big sport like tennis does not need too many changes. The game has become too fast, there are hardly any long, interesting rallies these days. So maybe slowing down the courts could help. But you can't really stop a sport from evolving.
You have six French titles, five Wimbledons. In retrospect, do you regret not playing the Australian, giving yourself a shot at that title as well?
I have no reason for any regrets. When I boycotted the Australian, I was trying to make a statement. I had made my mind up. My point was that a player requires some time to himself, he can't keep rushing from one court to another all the time without a break.
They all heard me say that, but no one did anything about it. So I did it myself, I skipped the Australian and gave myself the time I needed. That was the only way I could think of, to do it. I have always played my tennis and lived my life on my own terms, I have no regrets.
Claycourt greats have tripped up on the Wimbledon grass, and vice versa. Yet you regularly won both, year after year? Was it that easy for you to adapt?
You are a complete tennis player only if you can handle all surfaces. It was not easy, no, but the fact that I played a lot in Sweden which has lots of indoor clay courts, and also great grass courts outdoors, was an advantage, that did help me. I used to play for long periods on both surfaces. I would think though that grass is my surface, I love playing on grass and I think I play very well on that surface.
From that perspective, what advice would you give a Pete Sampras, who is still struggling to win a French?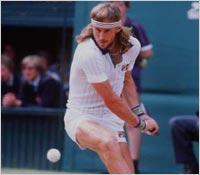 I think I would tell him that it is toughest to win on clay. It is easily the most draining, the toughest Slam. I would advice him to concentrate on mental strength, to build it up, to hold that strength over the course of the fortnight. Along with that, you also need a great deal of physical strength. And most important, you have to believe that you can win on clay.
Who in your rating is the best player you played against and why?
Without doubt, it would have to be (John) McEnroe. I have tremendous respect for him, and for Jimmy Connors. McEnroe was more aggressive than any other player I have ever played, the greatest fighter on a tennis court. He never ever gave you a free point, you had to earn every point, squeeze it out of him.
There was a time when Sweden ruled tennis. And today?
We still have many players in the top hundred, though I don't know them or their rankings. There was Wilander who followed me, along with Stefan Edberg. We actually spoilt the future of Swedish tennis. Because we were there, there was complacency.
But now there is more of an effort being made to nurture fresh talent. A lot of youngsters are taking to other sports as well, but we do have some good young ones coming up. I think I can promise you that Swedish tennis will go back up where it belongs, soon.
How do you personally contribute to the cause?
I have my own little team of budding players. I have 6-10 young kids in the age group of 14-17 years, and I hope to have some of them playing next year. That is my goal for next year. I hope to give Swedish tennis some good players.
Also read: Right arm over the net