Kournikova back in the limelight
Gennady Fyodorov
Anna Kournikova has done it again -- without even hitting a single tennis ball.
The glamorous Russian tennis player has had the media in a spin following a report in British tabloid The Sun that she had married her long-time boyfriend, ice hockey player Sergei Fedorov, in a secret ceremony in Moscow during Wimbledon.
But a prominent Russian public relations expert was quick to call the latest Kournikova story nothing but a clever PR campaign by her marketing agents while her tennis career was on hold.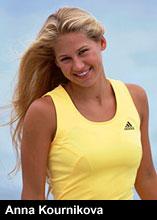 Kournikova was due back in action on Monday at the San Diego classic, her first tournament since a stress fracture in her left foot in February.
During her long absence the Florida-based Russian has been in danger of dropping out of the world's top 20 for the first time since March 1998.
News of her "marriage" emerged last week at the same time as an announcement by a Los Angeles-based entertainment company of the release of Kournikova's new fitness video.
The producers called the timing "pure coincidence".
"The best way for her to stay in the public eye would be to play tennis or, even better, to start winning some tournaments," Igor Pisarsky, a professor in political science who also heads one of Moscow's top marketing and information agencies, told Reuters.
Kournikova has yet to win a singles title in more than six years on the tour.
"When you don't have that, you start looking for other means to keep the media attention flow but you have to be careful about some moral and ethical aspects," Pisarsky said.
"As in any honest political campaign you shouldn't refer to your opponent's family, children, race or religion. And how many times can a person get married: once, twice, three times?"
"I think the media has already married Kournikova off once before. If these stories continue to pop up, soon they will not have the desired effect."
SICK AND TIRED
The new marriage report was promptly denied by Kournikova's agent and her father.
"The rumours are untrue and we will not justify them with any further comment," said Phil de Picciotto, Kournikova's agent.
Sergei Kournikov, Anna's father, expressed his irritation with continuing rumours about his daughter's marital status.
"To be honest with you I am sick and tired with the calls about her marriage. Last year it was (Pavel) Bure, now it's Fedorov," he told Reuters in Moscow last week.
"Anna is in Florida at the moment and has begun training. I spoke with her on the phone and I think she would be very surprised to hear about this latest rumour.
"She hasn't been in Moscow since last year's Kremlin Cup (tennis tournament) in November."
Last year, The Mirror, another British tabloid, said Kournikova was engaged to another Russian hockey player, Pavel Bure, twice the NHL scoring leader who plays for the Florida Panthers. Both denied the report.
Pisarsky said Kournikova, 20, was by far Russia's most followed personality in the media and on the worldwide web.
"The second most popular Russian (on the internet) is President (Vladimir) Putin but he is way behind Kournikova so I'm not surprised at all by what has been reported," he said.
HORDES OF FANS
It is hard to describe the Kournikova phenomenon. The Russian blonde attracts hordes of followers wherever she goes, especially at Wimbledon where in 1997 she became only the second women in the Open Era to reach the semifinals on her debut.
Her relationship with the Russian media and fellow players can be rather chilly.
She has been scolded repeatedly by the Russians for refusing to represent her native country in the Fed Cup or the Olympics.
"It's either her foot, wrist, shoulder or something else when it comes to playing for her country," Alexander Kalivod, vice-president of the Russian Tennis Federation, once said. "I think she must have broken every bone in her body by now."
Lina Krasnoroutskaya, who has been touted as a future leading light of Russian tennis, said of Kournikova: "She lives in America, she doesn't really like to speak with other Russian girls. We always say 'hi' to each other but never speak like friends."
French player Nathalie Tauziat stirred controversy with her book, "Women's Tennis Stripped Bare", when she wrote that tour officials promoted Kournikova because of her beauty, rewarding her financially more than she deserved based on her performance on court.
Despite her lack of tournament success, Kournikova has millions of dollars in the bank.
She earned a staggering $28,370 a day last year, most of it from sponsorship deals, making her the world's second richest female athlete behind world tennis number one Martina Hingis.
She was also listed among the 50 most beautiful people by People Magazine in 1998.
Pisarsky said those behind the story of Kournikova's "marriage" could have done a better job.
"If indeed the marriage was a marketing ploy by her agents I must say they could've done a much better job, so it wouldn't be exposed the next day," he said. "If they were my students, I'd only give them a C minus."
Back to top
(c) Copyright 2000 Reuters Limited. All rights reserved. Republication or redistribution of Reuters content, including by framing or similar means, is expressly prohibited without the prior written consent of Reuters. Reuters shall not be liable for any errors or delays in the content, or for any actions taken in reliance thereon.