'Those who say the Indian Army is persecuting Kashmiris... I will tell them the reality is that the Kashmiri loves the fauj and what all the Indian Army has done.'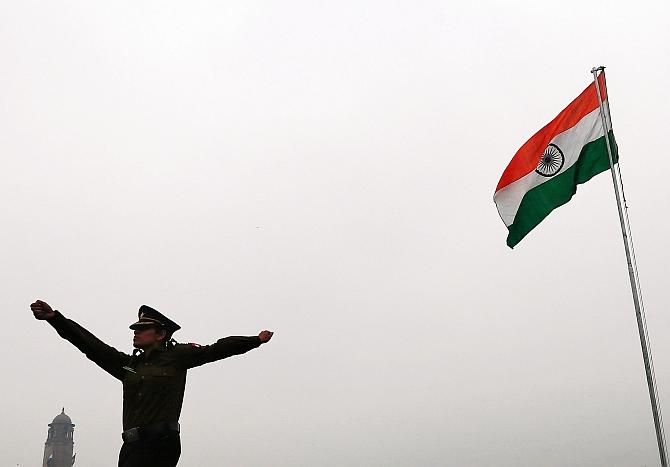 IMAGE: A soldier marches past the national flag in New Delhi. Photograph: Adnan Abidi/Reuters
"Jai Hind! Let's start with a good Jai Hind!" Lieutenant General Syed Ata Hasnain (retd) says energetically as he takes the lectern on a pleasant afternoon in Kasauli.
With him on stage is former JNU students union president Kanhaiya Kumar, actress-activist Gul Panag (her father Lieutenant General H S Panag is in the audience) and academic-activist Madhu Kishwar.
As expected, it turns out to be a crackling debate on nationalism conducted mostly in Hindi, a nice departure from English language dominated lit fests.
Kanhaiya Kumar, the first speaker, stresses that India's nationalism must be based on multiculturalism and ultra nationalism should be confronted and defeated.
"We should be careful about a particular kind of nationalism," he says, "being generated based on hatred towards a particular community -- being manifested in the form of cricket nationalism, cinema nationalism and army nationalism."
"You can say that you will not allow Fawad Khan to work in India, but when you don't allow Nawazuddin Siddiqui to act in a Ramleela that means your nationalism is not based on the identity of this country, but hatred towards a community," Kanhaiya Kumar says to a round of applause.
"There is another nationalism -- army nationalism. 16 men from my family are in the paramilitary. A debate is being portrayed that you cannot say anything against the army," he adds. "We are not against the army, but against the misuse of the army for political goals."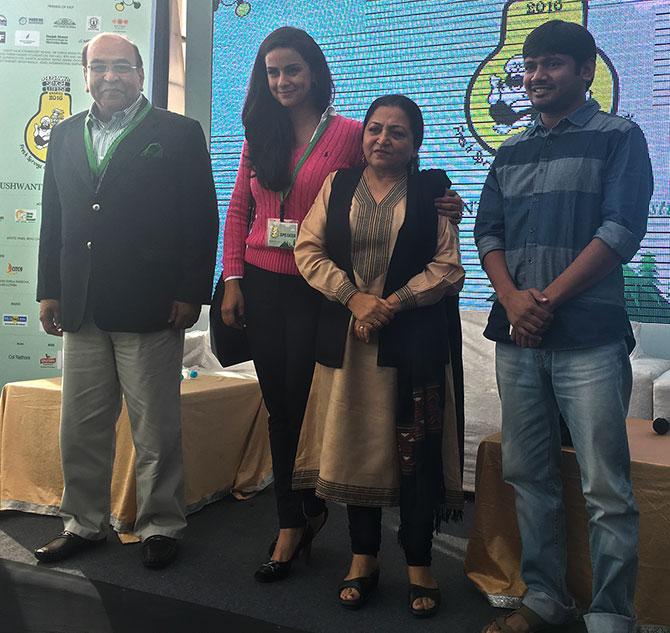 IMAGE: General Hasnain, Gul Panag, Madhu Kishwar and Kanhaiya Kumar.
Sitting beside him is a general and a general's daughter, a testament to the free flow of thoughts unfolding on stage on day two of the Khushwant Singh Literary Festival.
Doffing a hat to the army man sitting beside her, Gul warmly acknowledges her father, the former Army commander in charge of Jammu and Kashmir and the entire Line of Control, in the audience when it is her time to speak.
She says she had wanted to join the infantry, but the Indian Army had not started recruiting women at that time.
"I am a nationalist, but that doesn't mean I am blind to India's faults. There is a tendency to narrow the definition of nationalism to almost mean pro-government. Being anti-government does not mean anti-national," she says to a round of applause.
"All of us have the right to speak for what we think will make a better India and not be cowed down because we believe our opinion will be the only one."
General Hasnain comes to the podium with the robust Jai Hind! and picks up with a point that Kanhaiya Kumar has made to begin his spirited talk on nationalism, most debated in India these days.
The general takes on Kanhaiya Kumar's critique of the army and gives us an assessments of the Indian Army based on his experiences. One that is best understood in his own words. Rediff.com's Archana Masih reports: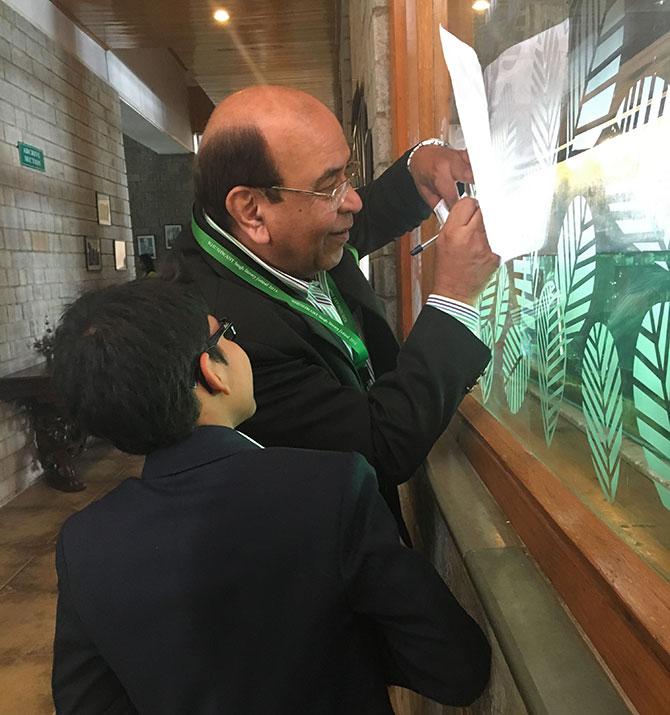 IMAGE: General Hasnain signs an autograph for a school boy at the Kasauli Lit Fest.
"I reacted to what happened to Nawazuddin Siddiqui in a Times of India middle.
In the army, in my unit mandir, the prayer was led by my wife and me and as you know I am a Muslim (Applause).
That is what motivated me to write that article (on Nawazuddin).
Anywhere you go to in the Indian Army you will find a sarv dharm sthal.
If your idea of nationalism is multiculturalism, then you just have to go to the Indian Army.
In the J&K Light Infantry, the MMG gun has been transformed to 'Mandir, Masjid, Gurdwara' (Applause).
On the day of Eid, if the maulvi is not there, the granthi can lead the namaaz.
Yeh Hai Indian Army!
Kanhaiyaji, on the misuse of the Indian Army for ultra nationalism -- I want to say stop defining nationalism and patriotism because a lot of time will pass and you won't find that definition.
It is better to come to demonstrative nationalism.
I am a second generation officer. In 1947 when Partition happened, my father was with his unit in Peshawar. He was the only Muslim in an all Hindu unit. We are both from the Garhwal Rifles which is a purely Hindu regiment.
My father's commanding officer asked him that Partition has happened and as the only Muslim officer what had he decided.
My father said: 'Jo mulk mazhab ke naam pe banega who shuru mein celebrate karega par zyada din nahi chalega.'
'Par woh mulk jo har mazhab ke saath banega, shuruat mein mushkiliat aayengi, par woh mulk har samay ke liye celebrate karega.' (Applause).
(A nation which is constructed on the basis of religion will celebrate, but will not exist for a long time.)
(But a nation that takes all religions along will experience difficulties no doubt, but will celebrate for all times to come.)
I too joined that regiment and we both became general officer commanding of the Indian Army. That is demonstrative nationalism.
On social media when I said I will be with Kanhaiya Kumar on a panel, people started asking me, 'Why?' 'You are nationalist,' they said.
I said Kanhiaya is also a nationalist, but I want to say some things to you (the general says, looking at Kanhaiya)...
I invite you to come with for seven days with the Indian Army to the Kashmir valley. I'll take you to some areas in the valley that will change your mind.
I will take all 16 members of your family that serve in the military because they have not been made to understand what patriotism and nationalism is (Applause).
Those who say the Indian Army is persecuting Kashmiris... I was called the People's General. I will tell them that the reality is that the Kashmiri loves the fauj and what all the Indian Army has done, but if you listen to propaganda by Pakistan and other extranational forces, then you will speak with such thoughts.
India is only 70 years old -- for the next 170 years these issues will continue because this country is evolving.
Attempts will be made to take this nation off its track, but this nation will always remain on the correct track.
It will be what its destiny is meant to be -- it will be a great nation. Jai Hind!