'How can anyone ask me to stop what I have been doing since I was 6?'

Vaikom Vijayalakshmi tells Shobha Warrier/Rediff.com why she called off her engagement.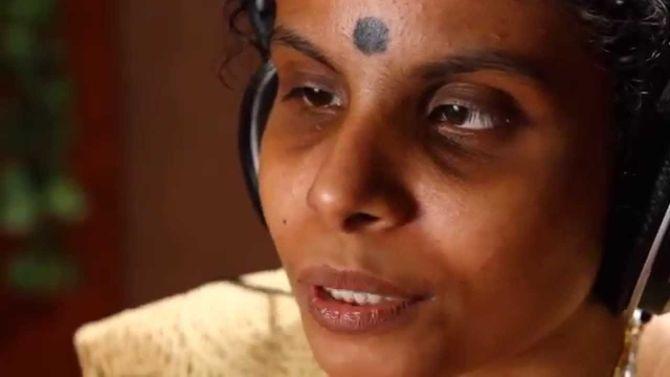 IMAGE: Vaikom Vijayalakshmi recording a song.
She started singing even before she began to speak.
The little girl was soon mesmerising both classical musicians and music lovers alike.
At 6 years of age, she was performing at temple kacheris (concerts).
Hardly two decades later, she became a playback singer for various south Indian language films.
In 2012 she won a special jury award from the Kerala government for Katte Katte.
Then came the first jarring note in her life. In December 2016 she got engaged, and her fiancé agreed to not disturb her musical journey or goals, and after marriage to move into her home in Vaikom, in Kottayam district, central Kerala.
But 10 days after their engagement, he asked her to stop singing at kacheris. Or in films.
She broke off the engagement.
Music is her life. And her god. And she would not give it up for anyone.
She is Vaikom Vijayalakshmi. This is her story.
---
Born blind
I am destiny's child. It was perhaps god's will I was born on the Vijayadasami day 35 years ago.
I was an only child. Till five, we lived in Chennai. As I couldn't see, my life revolved around sounds.
What mesmerised me always was music.
Even before I started talking, I was singing.
I am told the first song I sang was Chitra chechi's Njanoru Sindhu (the National award winning song from Sindhu Bhairavi). I was one and a half. It was so well-etched in my mind. I can still visualise myself singing (that) song.
My life companion was the radio. It continues to be my best friend.
The realisation that I was different came to me when I was around five or six. People close to me, including my grandmother, made very caustic comments.
Perhaps I was angry, perhaps I was bitter, perhaps I was a rebel. I answered back, which irritated my grandmother.
She would say, if blind she can talk like this, what would it have been if she could see.
Comments like these made me even more angry. And rebellious, which infuriated others.
There were many who were unfair and not empathetic to my situation.
Classical music calmed me down. It was like a balm, wiping away the pain I felt inside.
It transported me to another world where there was only peace and calmness.
Yesudas, the maanasa guru
When I was five, my parents moved back to Vaikom, our hometown (in Kottayam district, central Kerala).
I was exposed to the world of classical music and the songs of Dasettan (famous singer KJ Yesudas).
My grandfather, a great lover of Carnatic music, had a huge collection of music of MS (Subbulakshmi) Amma, Semmangudi (Sreenivasa Iyer) Swami, Balamuralikrishna, Dasettan... My world revolved around their music.
Listening to them my (education in) classical music started. That's why I call Dasettan my maanasa guru. I was so captivated by Dasettan's voice, the only ambition I had then was to spend time with him, give him guru dakshina.
My dream was fulfilled at 6. Dasettan came to sing at the Vaikom kshetram (temple). He not only accepted my guru dakshina, but blessed me, spent two hours with me, though I was only a child of 6. We sang various ragas and keerthanas.
I am fortunate to have been blessed by not only Dasettan but by (respected Carnatic singer) V Dakshinamoorthy Swamigal too.
At 7, I started learning from a guru, so I could sing correctly. The learning still continues.
Though many people treated me badly, I am blessed to have met (the likes of) Dasettan, Kavalam Srikumar Sir, music director M Jayachandran, who take time to guide me, teach me and advise me over the phone.
I am truly blessed to have met legends like Balamuralikrishna, Dasettan, Janaki Amma and Chitra Chechi.
My first kacheri was at 7 the Udayanapuram kshetram (near Vaikom). Then on, it has been an amazing musical journey for me.
The turning point, I think, as a Carnatic musician, was my kacheri in Mumbai's Shanmukhananda hall. I was noticed.
I have travelled within and outside India, performing kacheris. After I participated in the Soorya festival, Thiruvananthapuram, I started going outside India.
The Gayatri Veena (that has only one string) is also my companion. I learnt (to play) it on my own and at kacheris.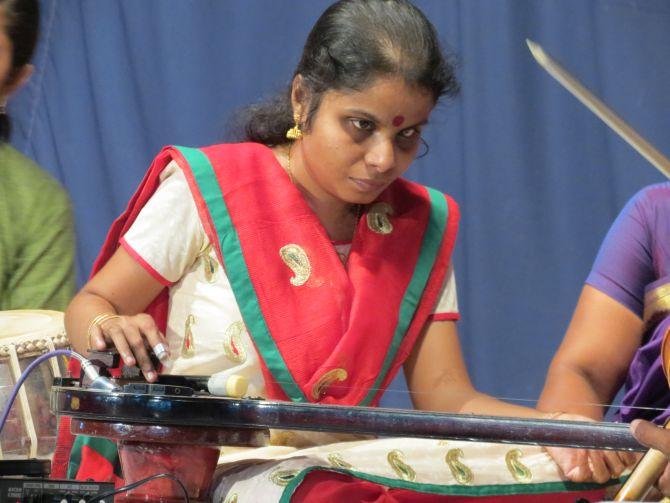 IMAGE: Vaikom Vijayalakshmi playing the Gayatri Veena.
On an average, I have kacheris at least 20 days a month.
I breathe, sing and live music.
A film playback singer is born
In 2012, M Jayachandran Sir remembered me when they (needed) a raw voice to sing a song for a period (Malayalam) film Celluloid, by (director) Kamal Sir.
It was another turning point in my life. I won the special jury award (for Katte Katte from Celluloid) at the Kerala State Film Awards (organised by the Kerala State Chalachitra Academy, on behalf of the Kerala government's department of cultural affairs) that year.
Many more offers to sing in films (subsequently came along).
Later, in 2014, I won the Kerala State Film Award for Best Singer (for Ottaykku Padunna from the Malayalam film Nadan) too. From then on, I have been singing in all the south Indian languages. I feel truly blessed.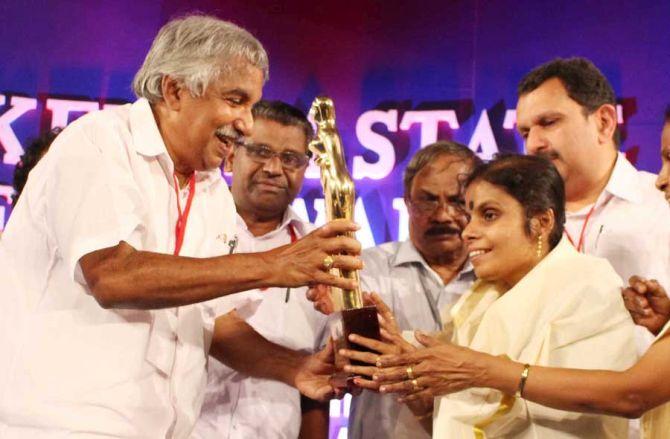 IMAGE: Vaikom Vijayalakshmi receiving the 2014 Kerala State Film Award for Best Singer from then chief minister Oommen Chandy.
Though I enjoy playback singing, classical music gives me true happiness. Because of playback singing you become more popular. Hence more people come to my kacheris.
If (it wasn't) for the love and encouragement of my parents, who are also singers, I don't think I would have reached this level. They have dedicated their entire life to me. Not only as my music teachers. But as my companions on my musical (voyage).
Wherever I go, they are with me -- literally holding my hands -- as I walk in a world full of darkness.
They are the guiding light in my life.
I see the outside world through them. That's why I can't go anywhere without them. I feel confident only with them near me.
Singing is like meditation
Singing is a spiritual journey for me. I see the presence of god when I sing.
I will not be able to live without (it) as this is what sustains me, gives me the air to breathe.
When I sing, I forget everything, the world around me, people around me. I only feel the peace and presence of God.
Nothing or nobody can take this away from me. I exist because of music. My salvation is derived only from music. Singing is like meditation.
That's why I decided to break off my engagement.
I hadn't even thought about marriage till now. I was never against marrying someone who would understand me totally.
After our astrologer guru advised my parents to put a matrimonial ad in a (newspaper), we got around 600 proposals.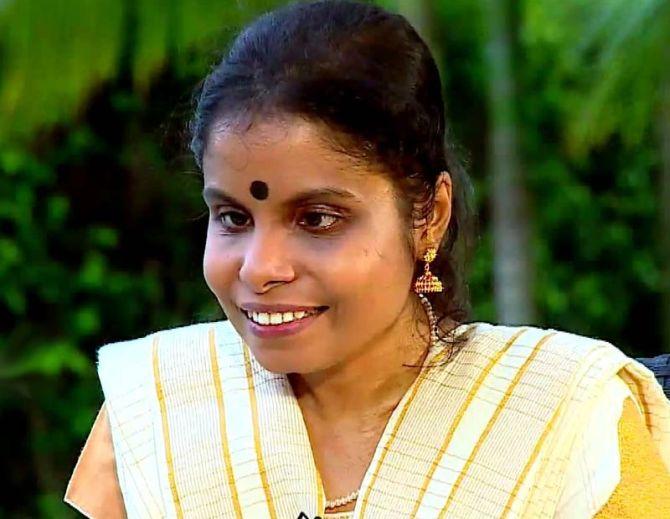 IMAGE: Singing is like meditation, says singer Vaikom Viyalakshmi.
It was very important for me to find a person who would stay at my place. I have to be familiar and comfortable in the place (where) I live.
Since Santhosh did not have parents, he agreed to stay with us.
He also promised there wouldn't be any hindrance in my musical journey. And that he would help me reach greater heights.
That's the reason we went ahead with the engagement in December last year.
In no time the chameleon changed its colours. I saw his true (hue) 10 days after the engagement.
I judge people by their voice. I sensed only anger in his voice. I could feel absolutely no love.
I even told my parents what I felt. They thought he would be more considerate once we start living together.
Then, one day he asked me to stop giving kacheris and playback singing. He wanted me to work as a music teacher in a school, so I would get pension later. He said kacheris and playback singing would not last long, so I should (teach).
I told him, there was no way I was going to stop singing.
How can anyone ask me to stop what I have been doing since I was 6?
Without music, I can't even breathe. And this man was asking me stop singing?
He even taunted me for being blind. He said, whatever I had achieved was nothing (compared) to the disability I have. He wanted me to behave like a blind person. He (felt) he was doing me a favour marrying me.
As the days went by, we had more and more bitter arguments over the phone. I can also be harsh with words. I (can't) take anything lying down.
When I couldn't take these insults and (his) dominance anymore, I decided to break off the engagement.
After I told him I didn't want to live with him, I felt so relieved and happy.
That night, I had a kacheri. I have not sung with so much passion in the recent times.
I felt liberated, as if I had broken the chains that were strangling me.
I slept peacefully that night.
As told to Shobha Warrier