2020 has dimmed the animated bulbs that create magical images and transform Kolkata into a mesmerising fairyland during Durga Puja, notes Payal Singh Mohanka.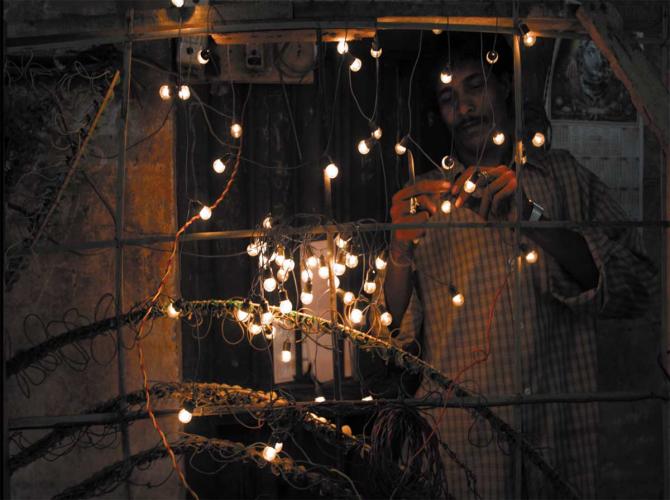 Tucked away in Chandernagor in West Bengal, India, a community of craftsmen has been delivered twin blows: Coronavirus and China.
As geopolitical tensions escalate and the face-off between China and India continues, the lives of this large cluster feel the reverberations.
Chandernagor, a former French colony, is the abode of these light-makers who breathe life into the festive season.
This craft has spawned an almost Rs 100 crore industry.
Today, uncertainty envelopes their world.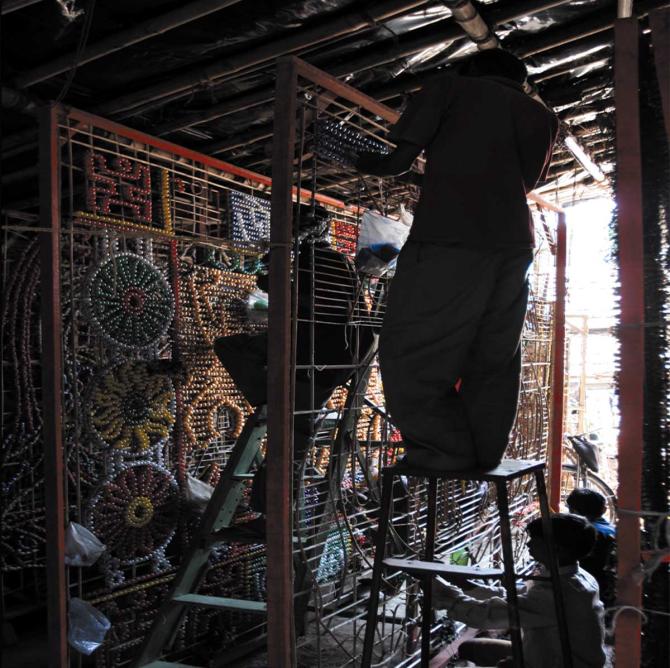 In jeopardy is the world's largest public art installation festival: Durga Puja, Bengal's most significant religious and cultural celebration, which will begin this year on October 22.
During this festival, the state pays obeisance to Goddess Durga, who symbolises the triumph of good over evil, as she makes her annual five-day visit to her maternal home.
Bedecked with dazzling lights, the state welcomes the deity with close to eight million revellers thronging the streets each day of the festival.
The capital of the state, Kolkata, alone witnesses close to 4 million people in a day, soaking in the festive spirit.
This sea of humanity wades through the illuminated streets of the city, queuing up to visit the intricately crafted installations and paying homage to the goddess.
Design and devotion coalesce in this display of pomp and pageantry which is more than a Rs 10,000 crore industry in West Bengal.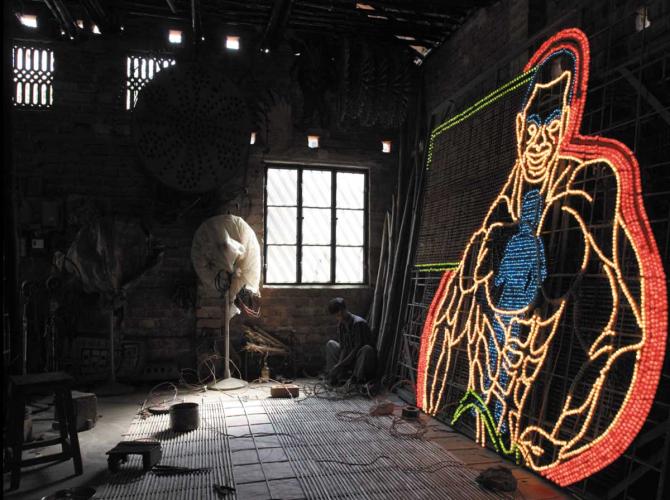 Sadly, 2020 has dimmed the animated bulbs that create magical images and transform Kolkata into a mesmerising fairyland.
The Covid-induced lockdown at the end of March clamped down on workshops.
Social distancing was a luxury that rural craftsmen, who huddle close to each other, could ill-afford.
And, this year, they had a tiny fraction of the orders they normally receive from not just West Bengal but several states like Maharashtra and Gujarat too.
The deadly virus ensured that celebrations would be extremely muted this year and brought activity to a grinding halt, affecting the lives of 30,000 artisans and traders who are dependent on this cottage industry for sustenance.
Even before they could come to terms with this 'new normal', they received another massive blow.
China's aggression on the Line of Actual Control in Ladakh created tensions with India, prompting the Indian government to ban certain Chinese imports into the country.
This will grievously impact their fortunes post-Corona as well.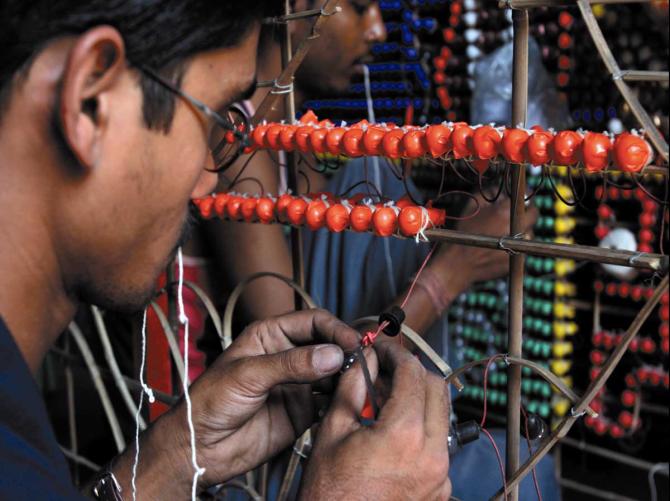 This sleepy town received a rude awakening.
Over the last 10 years, a steady supply of cheap raw material from China had lulled them into a state of complacency.
Ever so stealthily, China had cornered the raw material market.
Few realised the impact of the economic changes that were quietly sweeping across the town of Chandernagor.
The lights business was thriving.
Within a three square kilometre radius, there were over 200 factories crafting decorative lights.
Chinese raw material had its advantages.
The indigenous bulbs, which cost four times as much, made way for cheaper Chinese LED bulbs which not only consumed much less power but were safer and environment-friendly too.
The merits of the Chinese bulbs far outweighed the fact that the Indian bulbs lasted longer.
Besides bulbs, the Chinese also unleashed an avalanche of allied equipment like condensers, circuits, sockets and caps.
It was easy to establish a monopoly and capture a Rs 50 crore market.
As a result, those who were in the business of supplying local raw material had been forced to shut shop and explore new avenues for livelihood.
Today, over 90 per cent of their raw material is imported from China.
The ban has created a jolt.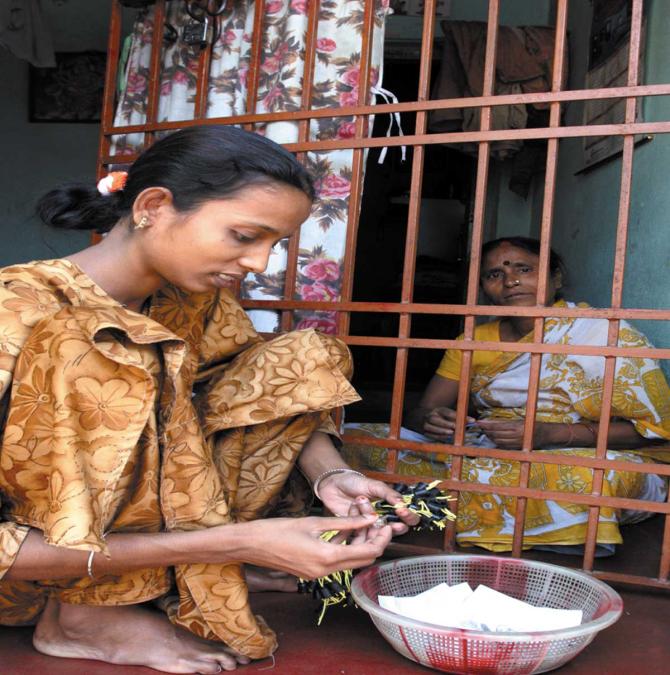 A decade ago this community relied solely on indigenous raw material to craft lights for the festive season.
Seventy-eight-year-old Sridhar Das is the founding father of this over 60-year old cottage industry in Chandernagor.
As a 12-year-old school boy, he had an unbridled obsession with bulbs and wires.
For a school function he volunteered to illuminate an idol of Saraswati, the Goddess of Learning.
His effortless handiwork mesmerised his teachers and his inherent skill got its first taste of recognition.
His parents, however, were not ready to accept his chosen profession, prompting him to leave home as a 17 yearold.
Armed with his dreams and an overwhelming passion, he carved a niche for himself.
His fame spread to Kolkata, 45 kilometres away, and there was no looking back.
The bustling metropolitan city realised that a craftsman from Chandernagor had transformed the way celebratory illuminations were created.
As the years rolled by, Das was felicitated at the Festivals of India in Moscow and London.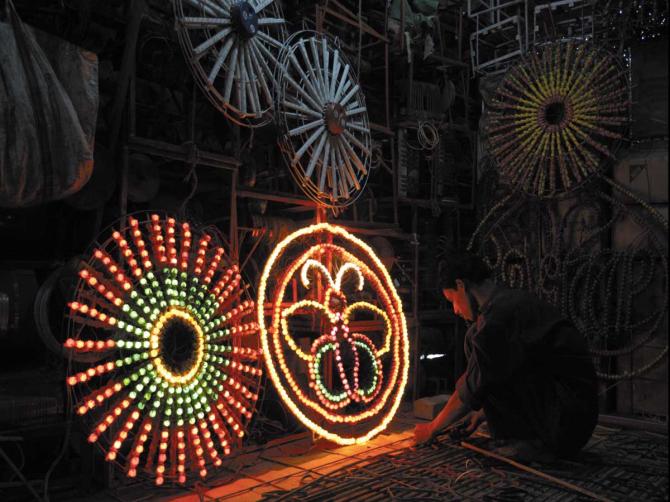 "Those were the days of indigenous raw material," Das reminisces.
He has hung up his boots now but, like a founding father, benignly watches over and guides those who learnt the skill from him and then embarked on their own entrepreneurial journey.
Das takes pride in the fact that they will carry forward his legacy.
This complete dependence on China had been a source of worry.
"If China can, why can't we? The government must help. We can't let this craft die," says the celebrated light-maker, who is saddened to see talented craftsmen selling fish and vegetables to keep their families going.
"We worked with indigenous raw material. We can do that again. We have the talent."
With quiet stoicism, the craftsmen grapple with this unprecedented situation.
Filled with a sense of nationalism, they stand by the government's decision to boycott China for its belligerence on the border.
India lacks the infrastructure to set up the ultra-modern automatic machines that China has to roll out LED bulbs.
With its economies of scale and cheap labour, China has the advantage no doubt.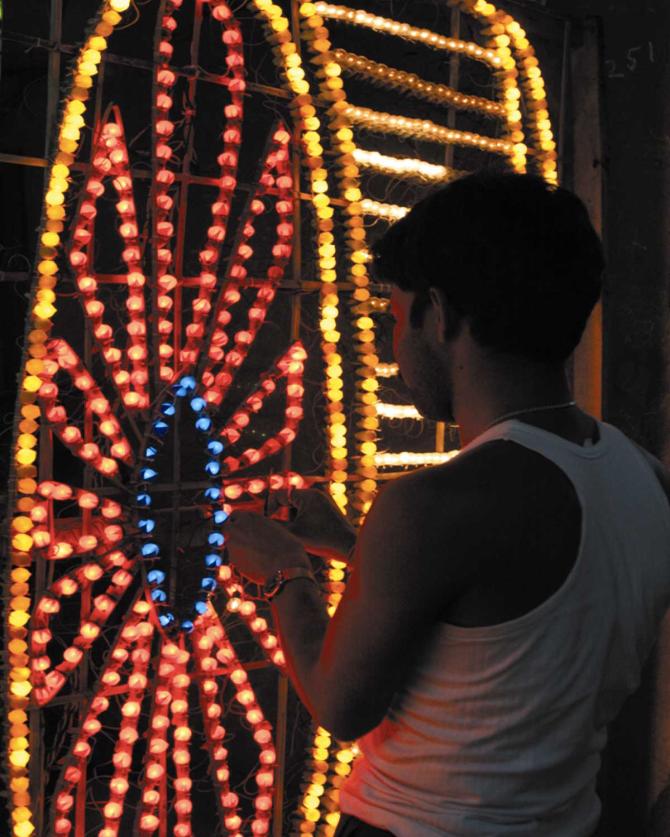 Today, Prime Minister Narendra Modi's call for an 'Atmanirbhar Bharat' or 'Self-Reliant India' needs to walk the talk.
The decimation of the local raw material industry and now a ban on imports from China could be devastating for the craftsmen, who would need to resurrect their business post the pandemic.
Stoically accepting the cards that they have been dealt, these craftsmen are determined to turn adversity into advantage.
There is no rancour but a quiet resolve to gradually change the equation with some much-needed help from the government.
Armed with native intelligence, home-spun skills and an inherent resilience, these craftsmen are determined to let the beaming light within see them through this crisis.
Neither Corona nor China can snuff out their indomitable spirit.
Feature Presentation: Ashish Narsale/Rediff.com