Meet Anand Kumar, a government clerk who transformed into a real estate and hospitality baron.
Amit Agnihotri and N Sundaresha Subramanian report.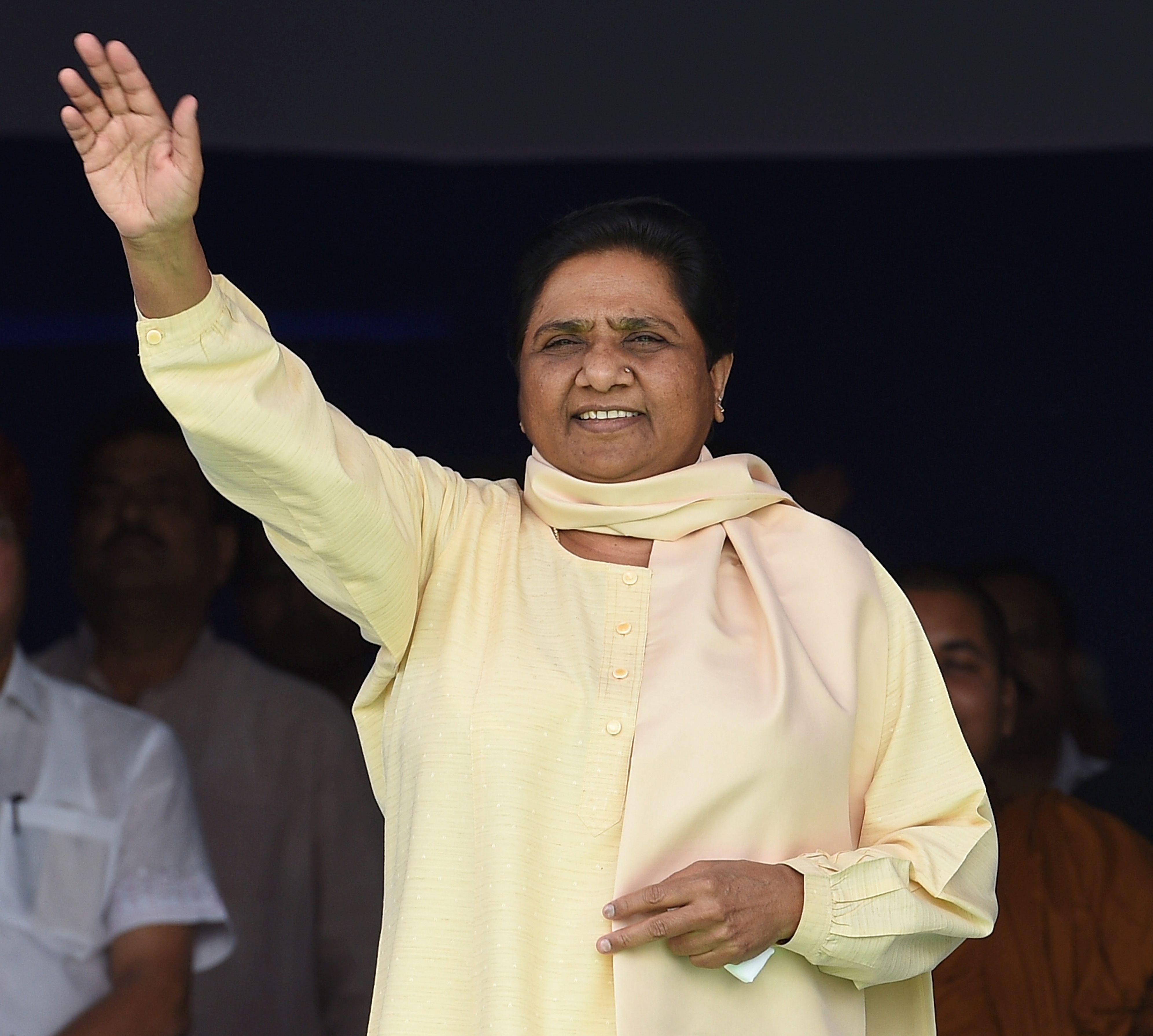 Bahujan Samaj Party chief Mayawati says she may join hands with like-minded parties in opposing the Bharatiya Janata Party's alleged tampering of electronic voting machines to win the 2017 assembly polls in Uttar Pradesh.
The BSP chief was the first to question the massive mandate for the BJP, which won 312 of the 403 assembly seats in UP, alleging EVM tampering.
After having refused to join a 2015 Bihar-like alliance in UP, where the Samajwadi Party and Congress came together to fight the BJP, the BSP could win only 19 seats in the state she ruled as chief minister between 2007 and 2012.
Congress and SP sources said the BSP joining them would be a welcome step whether guided by Mayawati's political compulsion or her desperation to stay relevant in the crucial state.
Mayawati also faces heat over a recent probe ordered by Uttar Pradesh Chief Minister Yogi Adityanath over her decision when in power to sell 21 sugar mills at allegedly throwaway prices and build memorials.
The decision to sell the mills was a collective decision of the state cabinet, she said in her defence, as Adityanath said he sniffed a Rs 1,100 crore (Rs 11 billion) scam in the decisions.
Amid rising concern over an uncertain future for the Mayawati-centric party, the BSP supremo also unveiled a succession plan by appointing her younger brother, Anand Kumar, as party vice-president, with a rider that he would not become an MLA, MP, minister or chief minister.
The decision, she explained, would allow her to spend more time in Lucknow, while Kumar would sign the official papers in Delhi.
Over the past decade, Kumar, who worked as a government clerk in Noida, has transformed into a real estate and hospitality sector baron, with properties in Mussoorie, Siliguri, Mumbai and Kolkata.
He had remained away from the limelight till recently when the Enforcement Directorate said it had detected that Rs 104 crore (Rs 1.04 billion) cash was deposited in two accounts, including one belonging to Kumar and another of the BSP.
Income tax authorities are probing the extraordinary profits his companies have made.
The BJP is using agencies like the ED, Central Bureau of Investigation and income tax department to harass her kin, to settle scores with her, Mayawati alleged.
Kumar will continue with his business interests as before, said Mayawati, adding that he need not depend on anyone financially.
Kumar and his wife Vichiter Lata have hogged the limelight for their corporate interests.
As on date, the couple are on the board of directors of 10 companies and a limited liabilities partnership called V&A Ventures LLP.
These companies own assets worth hundreds of crores and most of these are profit-making even as some have been the subject of investigation by central agencies.
A clerk with the Noida Authority, Kumar's fortunes turned during Mayawati's third stint as chief minister in 2002-2003, which lasted slightly longer than her earlier months-long stint in the 1990s.
According to corporate records, Lata was the first to enter the corporate world as a director of Hotel Library Club in April 2003. This hotel in Mussoorie was the family's first corporate asset. Kumar joined the board three years later.
Kumar consolidated his holdings following the BSP's massive victory in the 2007 elections. Several new ventures were floated, mostly in real estate.
In 2009, Kumar entered two new ventures -- Isha Properties and Sachi Properties. These companies now operate as investment firms and have made several significant investments.
Kumar and Lata are shareholders in both these companies. Kumar holds a 97.22 per cent stake in both firms and has taken over the board from 2014.
Sachi Properties' net profit stood at Rs 1.57 crore (Rs 15.7 million) and revenue at Rs 2.5 crore (Rs 25 million) in FY15. The company had accumulated reserves worth Rs 100 crore (Rs 1 billion).
Isha Properties reported a profit of Rs 91.9 lakh (Rs 9.19 million) in FY16 on a revenue of Rs 1.9 crore (Rs 19 million). It had reserves of Rs 69.8 crore (Rs 698 million).
Both companies had invested in debentures of Aakriti Hotels, which owns a high-end property in Greater Noida's Institutional Green Area. Sachi owns debentures worth Rs 55 crore (Rs 550 million) while Isha has an exposure of Rs 10 crore (Rs 100 million).
Besides, Sachi has investments of about Rs 2 crore (Rs 20 million) in the shares of Moran Plant and Machinery, Yogita Developers, Pawanputra Advertising and Facor Technologies.
It has debentures of Rs 20 crore (Rs 200 million) in Facor Technologies. It owns shares worth Rs 25 crore (Rs 250 million) in a listed company called Globus Constructor and Developers.
According to Isha's financial statements, the debenture holdings in Aakriti Hotels are 'optionally fully convertible,' suggesting the investors could take control of the company at their will since the equity base is Rs 3.6 crore (Rs 36 million).
Isha also holds equity shares worth Rs 25 crore (Rs 250 million) in Globus Power generation, which is into clean energy.
Kumar and Lata have entered Naveen Infra developers and Engineers last year.
The companies, however, did not respond to e-mails sent in March.
Naveen Infra owns an office space in the posh Sardar Patel Road, not far from Mayawati's residence.
Sachi and Isha Properties have moved their offices from Connaught Place to Naveen's property recently.
Kumar is also a proprietor of V&A trading, a sole proprietorship.
Mayawati, one of the richest politicians in the country, has assets worth over Rs 111 crore (Rs 1.11 billion), declared at the time of her nomination to the Rajya Sabha in 2012.
Much of her wealth is in real estate, with the residential building in Delhi's diplomatic enclave alone accounting for Rs 61 crore (Rs 610 million).
Her Mall Avenue residence in Lucknow is worth Rs 16 crore (Rs 160 million). Commercial spaces in Connaught Place are worth about Rs 19 crore (Rs 190 million) and the rest in banks and jewelleries. She did not own shares and other corporate assets according to her affidavit.
Companies in which Anand Kumar and Vicheter Lata are directors:
Isha Properties Private Limited
Sachi Properties Private Limited
DIA Realtors Private Limited
DLA Infrastructures Private Limited
Tamanna Developers Private Limited
Harmony Real Developers Private Limited
Om Projects Private Limited
Hotel Library Club Private Limited
Revolutionary Realtors Private Limited
Naveen Infradevelopers and Engineers Private Limited
V&A Ventures LLPIsha Properties Private Limited
Sachi Properties Private Limited
DIA Realtors Private Limited
DLA Infrastructures Private Limited
Tamanna Developers Private Limited
Harmony Real Developers Private Limited
Om Projects Private Limited
Hotel Library Club Private Limited
Revolutionary Realtors Private Limited
Naveen Infradevelopers and Engineers Private Limited
V&A Ventures LLP
IMAGE: BSP supremo Mayawati at a rally on the occasion of Ambedkar Jayanti at the Ambedkar Memorial in Lucknow. Photograph: Nand Kumar/PTI Photo