Mayawati has accused 'Ravan' of being a BJP agent who is dividing the scheduled castes.
Ritwik Sharma reports from Saharanpur.
Illustration: Dominic Xavier/Rediff.com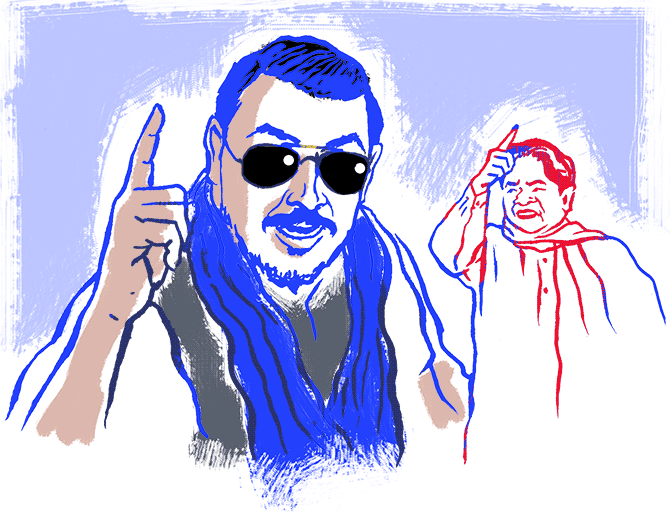 The home of Chandrashekhar Azad 'Ravan' at Chhutmalpur village in Uttar Pradesh's Saharanpur district is always buzzing with visitors.
For the past weeks, it has been busier still. Supporters and members of Azad's Bhim Army, a Bahujan-rights organisation that seeks to protect the interests of marginalised and backward castes, routinely meet at this house that is awash in blue, the colour associated with Dalit movements.
Since the Dalit activist was released from the district jail on September 14, over 15 months after he was arrested in a case of caste violence, the mood has been festive.
This, despite the fact that he has taken ill and left for hospital just before we were to meet him on the evening three days after his release.
Visitors, seated on the ground in front of the row of rooms on the right, are being served tahri, a yellow rice dish made with peas and potatoes.
In one of the rooms on the roof, a group of men that includes those batting for Other Backward Classes (OBCs) is discussing how to crystallise its ideas to defeat the Bharatiya Janata Party and the cultural agenda of its ideological parent, the Rashtriya Swayamsevak Sangh.
This is the ultimate goal, which Azad spelt out immediately after his release.
When I meet him the next morning -- he's back home after treatment the night before -- he is categorical that for the BJP "2014 (general election) was all about religion".
"People from the Bahujan movement, whether OBCs or Dalits, are very simple. Everyone fell for religion-based politics," Azad says.
The April 2, 2018 stir by Dalits, who feared dilution of the Scheduled Caste and Scheduled Tribe (Prevention of Atrocities) Act, 1989, and the restlessness over the BJP's failed promises on employment, corruption and price rise are signs of people feeling cheated, he adds.
Dressed in jeans and a light blue kurta, with the trademark blue scarf around his neck, Azad looks pale and haggard -- not like the man with a challenging personality, as a picture of his in one of the rooms depicts him.
In that picture, he is wearing black shades and staring into the camera, his tilted face resting on his right fist.
The prison hospital lacked facilities, he explains. He initially had tooth infection, and the strong dose of medicines they gave him for it affected his kidneys.
Rather than jail officials, he blames the system for the lack of treatment.
He was confined in a prison cell "meant for those facing security threats or those viewed as threats" and was allowed to meet his family only once every two to three weeks.
"The prison law is from the British era. There is no value for humans, who are treated like animals."
The 31 year old emerged as a star in the political firmament last year after he gave a clarion call to Dalits at New Delhi's Jantar Mantar to unite with OBCs and Muslims in the fight against 'saffron terror'.
A lawyer who practised in Dehradun, Azad became a figurehead of scheduled castes in western UP. In April 2017, in the Shabbirpur village of Saharanpur, the upper caste Thakurs had thwarted an attempt to install a statue of Dalit icon B R Ambedkar.
In retaliation, the Dalits, led by Azad, protested against a Thakur procession on the birth anniversary of Rajput king Maharana Pratap, triggering clashes that left one person dead.
Azad, who was charged with murder, inciting violence and spreading hatred, was arrested from Dalhousie in June 2017.
The state government booked him under the draconian National Security Act in November 2017, a day after he was granted bail by the Allahabad high court.
Its decision to free him, less than two months before the NSA was to lapse, was in response to a plea by his mother, Kamlesh Devi. His father, Govardhan Das, a retired school principal, died in 2013.
Azad's rise hasn't gone down well with the state's most powerful Dalit leader, Bahujan Samaj Party chief Mayawati who has snubbed his overtures and accused him of being a BJP agent who is dividing the scheduled castes.
Azad, who idolises Ambedkar, BSP founder Kanshi Ram, anti-caste social reformer Jyotiba Phule, Tamil rationalist icon E V Ramasamy Periyar, tribal hero Birsa Munda, social reformer Narayana Guru and freedom fighter Bhagat Singh, is unfazed.
His younger brother Kamal Kishore claims that before the Bhim Army was formed, the scheduled castes in Chhutmalpur -- a village of over 14,000 with a predominantly Muslim and Dalit population -- would stand humbly by the roadside when upper caste communities took out religious processions on Janmashtami or Shivratri.
"Now, our people are more aware of the historical oppression we faced, and we only celebrate Ravidas and Ambedkar Jayantis, or Guru Purnima."
The suffix 'Ravan' to Azad's name is a result of the time he compared himself to Ravan, the mythological character from the Ramayana who had abducted Sita to extract revenge on Rama and Lakshman for wounding his sister, Surpanakha.
A willingness to provoke and the ability to embrace the positives in what may be seen as egregious may explain Azad's open-armed support for various political parties even as he is avowedly anti-BJP.
Sanjeev Mathur, the Bhim Army's defence committee convener, reveals that during undergraduate studies in Dehradun, Azad had joined the Akhil Bharatiya Vidyarthi Parishad, the RSS-affiliated student body. But he quit after a fight when upper caste students tried to stop him from using a hand pump on campus, Mathur adds.
Azad feels that the media has carved a militant image of the Bhim Army, which came into being in 2014.
"The reform started by Azad was not radical but humanitarian such as pushing for Ambedkarite pedagogy in schools and carrying out blood donation camps," says Mathur.
The group runs 300-odd informal pathsalas where volunteers teach children after school in parts of western UP, Haryana and Himachal Pradesh.
Mathur adds that from talking about Chamars -- the Dalit sub-caste Azad belongs to -- the Bhim Army advocating "dignity of the Constitution and dignity of women" has expanded its scope to include all sections of the oppressed in the last 15 months.
"Upper castes aren't restricted from our schools. We have no caste hatred," he says.
"We will give representation and leadership to the OBCs too," says Azad. "Muslims are also a part of the Bahujan movement, and we will ensure they have an honest representation and voice."
Dalit politics today is viewed as largely fragmented.
According to Sudha Pai, former professor at Jawaharlal Nehru University and author of Dalit Assertion and the Unfinished Revolution: The BSP in Uttar Pradesh, there are broadly two sections of Dalit voters -- pro-BSP and pro-BJP -- as was reflected in the Saharanpur violence last year.
"In Saharanpur, there is Hindutva ideology on one side and social justice, or Ambedkarite thought, on the other," she says. "People like Azad, who are younger, feel electoral politics is not helping as they realise a section might vote for the BJP."
She views leaders like Azad and Gujarat legislator Jignesh Mevani, also a lawyer, as more educated than the older leadership.
"The rapid social changes and a desire for economic betterment rather than identity are giving support to them," she says, adding that although parties like the BSP and Samajwadi Party were prominent in the 1990s, they lacked economic vision and have been eclipsed by the BJP.
As a result, outfits like the Bhim Army have sprung up in a place where the impact of an organisation like the Republican Party of India (founded by Ambedkar) has dwindled.
But, she adds, the Ambedkarite tenets of 'educate, organise, agitate' continue to thrive. Azad and his Bhim Army represent precisely these tenets.