'Was he afraid that his answers during cross-examination would land him in trouble under the new ruling dispensation?'
Jyoti Punwani reports from the Bhima-Koregaon commission of inquiry.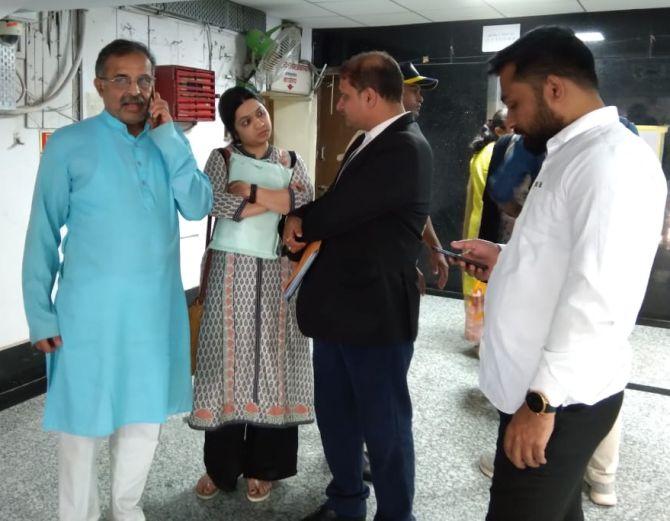 The change in government in the state had had an unforeseen fallout.
On Friday, January 10, the most eagerly awaited deposition before the Bhima-Koregaon commission of inquiry was to take place. But it didn't.
Milind Ekbote, one of the two leaders who were initially booked for the January 1, 2018 violence at Bhima-Koregaon, was to depose, but he submitted an application to the two-member commission expressing his unwillingness to do so.
Ekbote, 63, is the founder of the Samast Hindu Aghadi and a former Bharatiya Janata Party corporator from Pune.
A first information report was filed against Ekbote and Shiv Jagran Pratishthan leader Sambhaji Bhide on January 2, 2018, based on a complaint by activist Anita Savale, who accused them of having instigated the violence at Bhima-Koregaon on January 1, 2018.
Neither Ekbote nor Bhide were arrested by the then BJP government after the FIR was filed. It was only when the Supreme Court rejected any extension of Ekbote's interim bail that the police arrested him on March 14, 2018. He was granted bail on April 20, 2018.
Bhide was never arrested; then chief minister Devendra Fadnavis gave him a clean chit in the Maharashtra assembly.
Ekbote's application on Friday reveals that the chargesheet in the case has not yet been filed.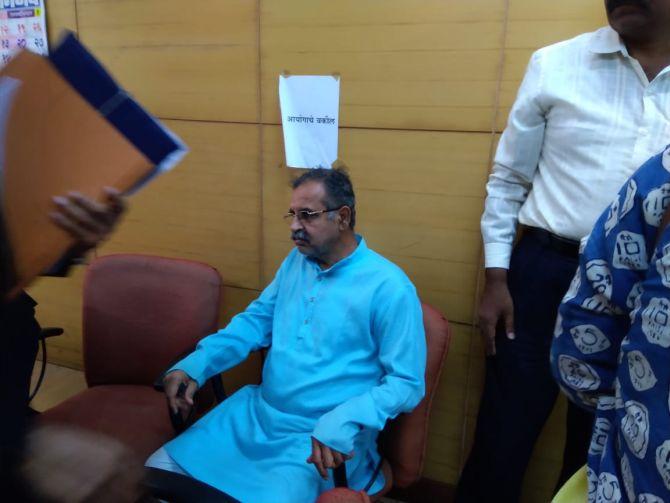 Interestingly, the application starts off with Ekbote claiming innocence of the charge of having instigated the violence at Bhima-Koregaon.
This act, says the application, was said to have been motivated by 'my alleged hatred against the Dalit community.... It is politically motivated and the police despite my arrest and prolonged interrogation, could not find any iota of evidence against me.'
This last claim was denied by Shishir Hiray, counsel for the police before the commission. Asked by Justice J N Patel for his comments on Ekbote's allegation, Hiray said: "We have ample evidence against him."
Ekbote's application is a strange mix of victimhood and rants against 'anti-nationals and Naxals'. But the main reason that comes through for not wanting to depose is the change in government in Maharashtra.
Blaming the organisers of the Elgar Parishad and Leftist organisations for the violence at Bhima-Koregaon and in the state from January 1-3, 2018, Ekbote's application states: 'These Leftists, pro-Naxals and anti-national forces have cornered me because of my accidental birth in Brahmin community and my personal nationalist political philosophy and opposing any form of Marxism such as hardcore Naxal philosophy, political Communist philosophy or NGOs with socialist hue, providing covert and overt support, to the anti-national Naxal movements, spread over in tribal areas with supporting pocket islands in Urban India.'
Ekbote cites Dr Ambedkar to support his opposition to 'Naxals'. 'Even Dr Ambedkar had also opposed the Marxist philosophy and political systems.'
Then comes the crux: 'The recent political developments in Maharashtra have indicated, that whatever the honest and impartial investigations carried out between 2017 (sic) and 2019 by police authorities are likely to be obliterated and/or revisited, in order to ensure the safe passage for the different hues of Marxists spread all over the political and social spectrum.'
'In the present scenario, I do not feel desirable to depose before this Honourable Commission, at this stage, to protect my interest in the court of law and in the society at large.'
'I am also of the personal opinion, that my case is likely to be hampered, particularly in view of investigation pending and political spectrum has totally changed, which may go overboard to implicate me falsely.'
Ekbote was summoned by the commission because he had filed an affidavit before it on June 9, 2018.
His affidavit blamed the violence at Bhima-Koregaon on a Leftist conspiracy, pointing to the fiery speeches made by speakers at the Elgar Parishad held in Pune on December 31, 2017 -- the line of investigation that was later pursued by the Pune police, which resulted in the arrests of nine activists from Maharashtra, Chhattisgarh and Delhi.
Ekbote had asked the Pune police not to allow the Elgar Parishad to be held at Shaniwarwada. In his affidavit, he said this was because the preparations and publicity for the Elgar Parishad had created tension in Pune.
His affidavit also questioned the celebration of the anniversary of the battle of Bhima-Koregaon by the Dalits. His study of Ambedkar's character had convinced him, says his affidavit, that Ambedkar would not have felt proud that his community helped the British fight against their own people.
In fact, it was Ambedkar who portrayed the battle of Bhima-Koregaon as a symbol of Mahar pride and valour. He visited the war memorial in 1927, and Dalits have since been visiting the site.
Ekbote's affidavit however, claims that it was alleged smuggler Haji Mastan who began this tradition of Dalits visiting Bhima-Koregaon in the 1980s, in order to sow the seeds of division between the Dalits and other Hindus.
Dalit leader Jogendra Kawade, who had aligned with Haji Mastan in the 1980s to form the Dalit Muslim Minorities Suraksha Mahasangh, in his deposition before the commission, explained that it was his organisation, the People's Republican Party, that was the first to make the Bhima-Koregaon celebration an organised affair. Haji Mastan had also visited Bhima-Koregaon along with him once.
In his affidavit, Ekbote claims he has been working for 30 years for under-privileged scheduled castes and other backward classes, and many members of these two castes have helped him in his work.
He professes deep respect for Dr Ambedkar. He has been celebrating the anniversary of Ambedkar's conversion to Buddhism as 'Rashtriya Ekatmata Din', he says in the affidavit.
He also enumerates his other achievements: Rescuing more than 25,000 cattle from being butchered and being appointed 'honorary animal welfare officer'; by the government; and seeing to it that 'encroachments' around Afzal Khan's grave in Pratapgarh and the Haji Makkesha Masjid, Pune, are removed. This has earned him many enemies, says his affidavit.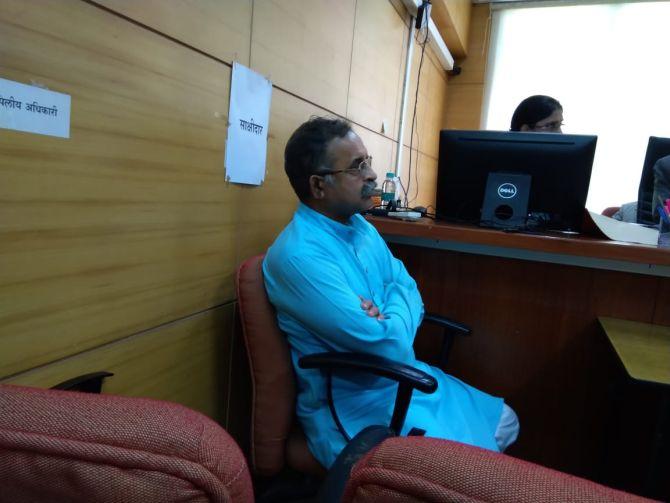 Incidentally, of the 12 cases of rioting, trespass, criminal intimidation and attempt to spread enmity between two communities against him, Ekbote has been convicted in five.
Now that Ekbote has shied away from deposing on his affidavit, it will no longer be used by thecCommission.
Ekbote used to attend the commission's hearings until two witnesses complained that unlike him, they were not allowed to sit inside the room during witness depositions.
Having observed the working of the commission, he must have known that he would be cross-examined at length during his deposition.
Even under a BJP government and a sympathetic CM, the counsel for the Dalit victims would not have spared Ekbote. He would have been questioned on his ideology.
Was he afraid that his answers during cross-examination would land him in trouble under the new ruling dispensation?