'Not for the first time during this festival I was struck by the atmosphere of friendly inclusion the organisers had managed in a city where you can smell menace in the air, thanks to Adityanath's revenge-driven politics, his denigration of Muslims and ruthless use of State power against critics,' notes Anjali Puri.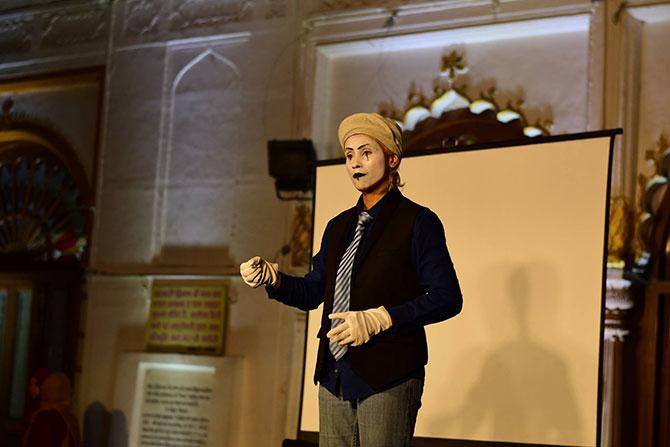 Folds of lacy pink hijab, and a pair of bespectacled eyes peeping above them, caught my attention.
I was wandering around the Safed Baradari, a 19th-century pavilion in Lucknow's Qaisarbagh neighbourhood, alive with the music and chatter of the Mahindra Sanatkada Lucknow festival.
A short while ago, I had watched the scarf's owner and her teammates from the Karamat Husain Girls College defeat five young men in a competition involving rhyming couplets called Baitbazi -- a scene straight out of the kind of Hindi film that hasn't been made for decades -- and garner much applause from the well-dressed crowd in a charming chabutra (terrace) ringed with food stalls.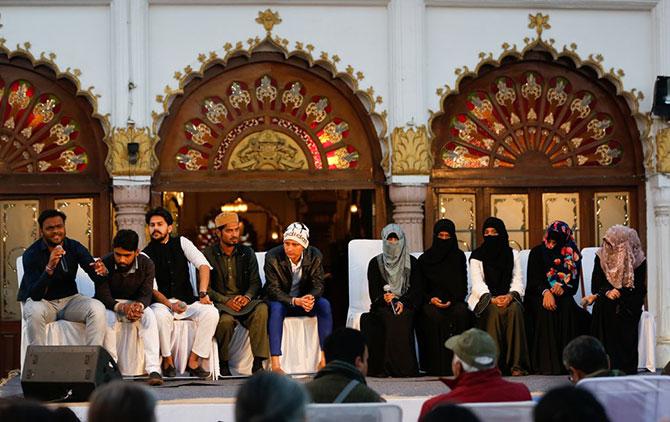 Their vivacity reminded me of other young women, wearing a riot of hijab colours, whom I had met that morning at the audacious Shaheen Bagh-inspired sit-in below the Hussainabad clock tower, or Ghantaghar, in the heart of Lucknow's tourist district against the Citizenship (Amendment) Act.
When I asked the budding poets if they had been to Ghantaghar, five heads nodded vigorously and five voices vied with each other to tell me why it was important to have gone there.
And this festival, how does it feel to be here?
"It feels good," replied 17-year-old Sadiya Sehr.
"Hame sher-o-shairi ka shauk hai, inhe hamari zuban pasand hai. They don't treat Urdu as just a Muslim language like they do everywhere else. Did you notice the judges weren't just from one community?"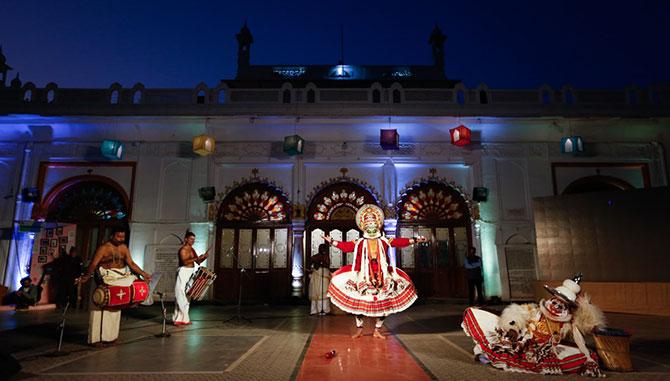 Not for the first time during this five-day festival I was struck by the atmosphere of friendly inclusion the organisers had managed in a city where you can smell menace in the air, thanks to Chief Minister Yogi Adityanath's revenge-driven politics, his denigration of Muslims and ruthless use of State power against critics.
"I am moving around at the marzi (will) of the police, they can arrest me whenever they want," Deepak Kabir, a theatre actor and social activist told me.
Jailed, as were many civil society stalwarts in the anti-CAA protests here in December, and by his account brutally beaten by police, Kabir was among those named in a fresh FIR for the 'offence' of leading a candlelight march on Gandhi Jayanti, in which the charges included 'rioting armed with a deadly weapon'.
The sheer mass of women keeping vigil at Ghantaghar has made it hard for police to stamp out this protest.
But the extended imposition of Section 144 of the Criminal Procedure Code, which forbids the assembly of more than four people, as well as continuing police harassment, is keeping many sympathisers away and making this poignant protest largely a Muslim women and children show.
Time and again, I heard that the "Section 144 problem" was even making people wary of congregating in small groups.
And in the middle of all that, a cultural festival?
"The timing has been difficult," agrees Madhavi Kuckreja, the indefatigable social worker and self-taught cultural impresario behind this celebration of Lucknow sponsored by industrialist Anand Mahindra in memory of his mother Indira who had ties to the city.
"My politics is no secret, I worked in Muzaffarnagar after the riots and was briefly detained during the December protests," says Kuckreja.
But, explaining why she and her team made the "difficult decision to celebrate while others were protesting," she adds, "The space that we have created in this festival for Hindus and Muslims -- and other communities -- to mingle, with all the walls coming up outside, is precious. We have to keep it going. If we had cancelled, we would have lost it."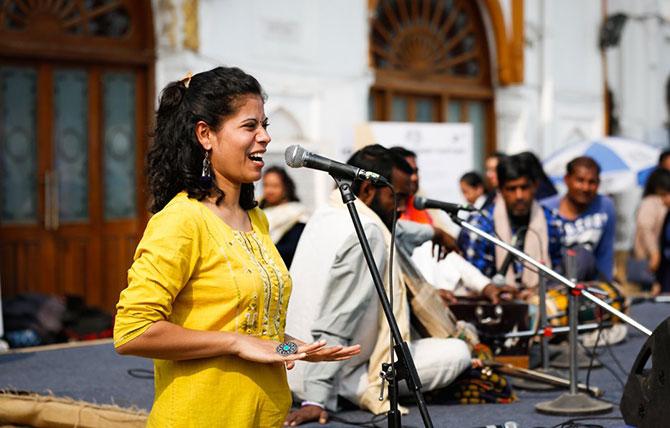 For the same reason, Kuckreja says, when permission to hold the festival was first withheld, she did not go to the media, preferring to work the system on the inside.
"We got permission the night before," she says, almost laconically.
And then adds, meaningly, "We are ending the festival with a performance by Alif, a Kashmiri band, as originally planned."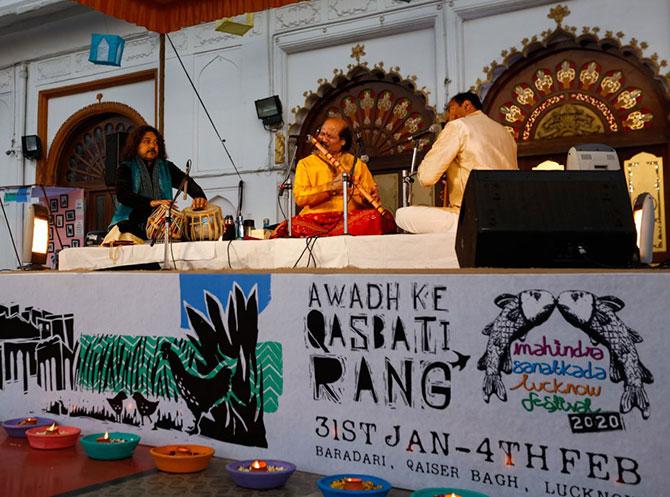 Apart from the scattered presence of uniformed cops there was no evidence of these tensions.
Lucknow-ites and out-of-towners watched flute recitals at dawn and qawwalis at dusk, went on guided walks through havelis and bungalows, shopped at a crafts mela, took in literary guftgus" on Malik Muhammad Jayasi's Padmavat and Qurratulain Hyder's Lucknow, and ate their way through it all, in particular at the Awadhi Home Cooked Food Festival, easily the blockbuster event.
At the mic was Kuckreja egging on the lunchers, interviewing the home cooks and making dramatic announcements ("Lal Mirch Keema is now over!").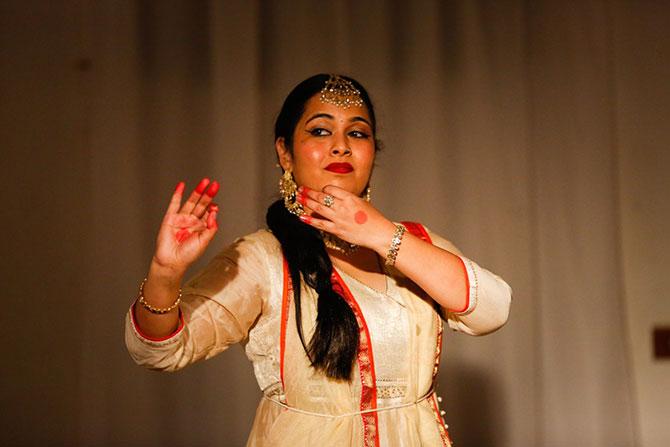 And that's the thing about this carefully choreographed dance of inclusion -- it's not preachy or moralistic, it's fun.
There is not a professional event manager in sight.
The show is run by a bunch of committed perfectionists rooted in the city, supported by women trained by Kuckreja through organisations she has set up in UP over 30 years and scores of fresh-faced volunteers.
This creates an intimate, authentic feel and the hiccups are mostly good ones, like missing part of a guftgu because a Kayasth family, apart from letting a bunch of strangers into their home (without a fee), had also decided to lay on a surprise treat of jalebis and dahi.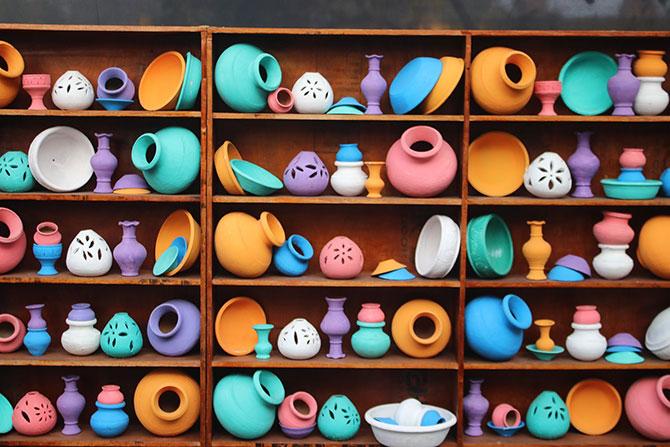 Every year, the festival picks a theme, looking at the city through its crafts and artisans, its clothes, its homes and ways of life, its influence on Indian cinema and so on.
While some of the titles sound simplistic, the exploration is not.
This year the spotlight was on qasbahs, small towns in the Awadhi hinterland that predated cities, embraced Sufi and Bhakti traditions, and influenced Lucknow -- places with names like Kakori, Rudauli, Khairabad, Sandila and Balrampur, which you might drive past on your way to somewhere else.
There were, as you might expect, talks, films, exhibitions, and evocative stories by those who had grown up in qasbahs of their traditions, values, monuments, music and dance, food and folklore, and the intertwined lives of Hindus and Muslims.
Where this festival takes things to the next level in quite a remarkable way is -- a walk to Kakori, a vendor from Rudauli selling its distinctive mithai, a troupe of Jogi singers from Balrampur, a qawwal from Khairabad...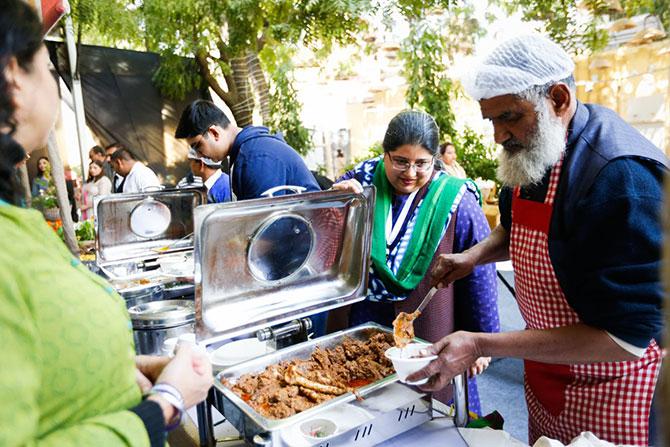 For some, the refrain of Hindus and Muslims getting on in qasbahs only raised more questions.
"Nostalgia has its place, but what is its use?" academic Purushottam Agarwal interjects at one session.
"Despite this syncretic culture, UP became the biggest laboratory of Hindutva after Gujarat. How did we get there?"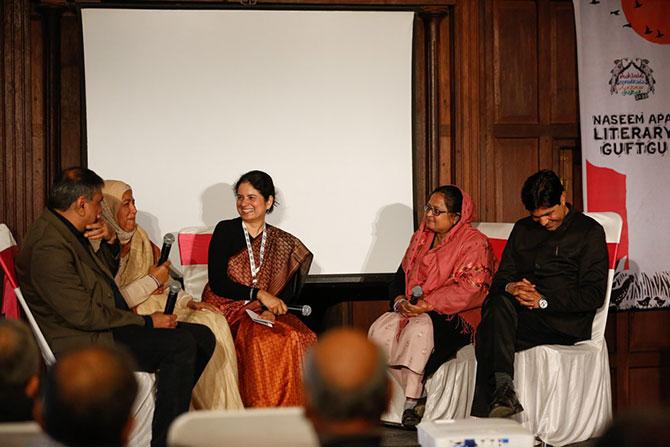 Saman Habib, a Lucknow-based scientist who is part of the festival's core team, wasn't thrown.
Agarwal had a point, she agreed in a conversation with me later, but it did not invalidate the effort to document the distinctive culture of these forgotten towns, some with a 50-50 Hindu and Muslim population, where, she emphasises, "We did find remnants of a good relationship".
Her larger point was: "When there is contention everywhere, what we are trying to do here is step back a little, and explore a better way of living, not perfect, but accommodating."