'Prince' Yakub Habeebuddin Tucy likes to introduce himself as a great-great grandson of Bahadur Shah Zafar.
Dasarath Reddy reports.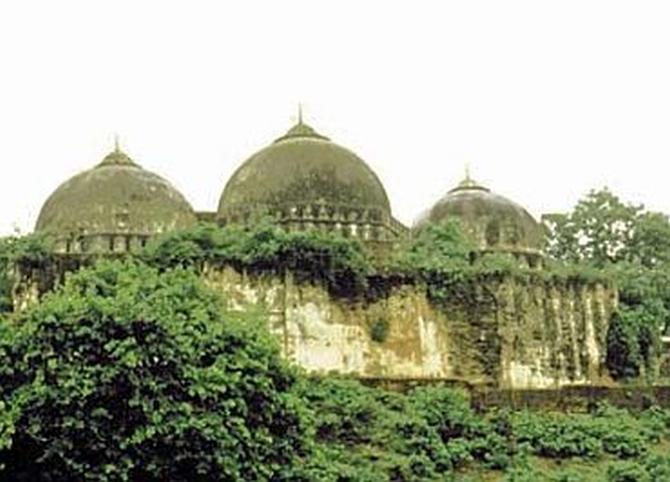 Last month, 'Prince' Yakub Habeebuddin Tucy, a self-proclaimed descendant of Mughal emperor Bahadur Shah Zafar, told reporters in Lucknow that he had asked the Uttar Pradesh Sunni Waqf Board to appoint him mutawalli (caretaker) of the Babri Masjid in Ayodhya.
This is not the first time Tucy has staked claim to a historical site.
In 2005, he had asserted 'ownership' over the Taj Mahal as the last living descendant of the Mughals. This time, however, his demands are somewhat different.
Tucy wants to be made caretaker of the Babri Masjid so that he can ensure an amicable out-of-court settlement to the decades-old temple-mosque dispute.
According to Tucy, he is talking to all three petitioners in the case. He has also been meeting representatives from both communities in Ayodhya.
"We will submit a proposal to the Supreme Court once we finalise our plan. I cannot share the details right now," he says over the phone.
Tucy entered the fray after Art of Living founder Sri Sri Ravi Shankar volunteered to mediate between the involved parties to persuade them for an out-of-court solution.
The matter is next up for hearing on December 5.
Being a 'Mughal Prince', Tucy does not want 'his people' to fight among themselves on religious issues.
In April, Tucy told The Times of India that he was visiting Jammu and Kashmir to lend a healing touch to the region with the apparent knowledge of the Prime Minister's Office.
"I have a court decree that declares me a descendant of Bahadur Shah Zafar. I have a DNA test report that establishes my lineage. You can find all these details and documents on the 'Prince of Moghals' page on Facebook," says Tucy.
He likes to introduce himself as a great-great grandson of Bahadur Shah Zafar.
He says his father is Yaqub Arifuddin who was the son of Laila Ummani, a great-granddaughter of the last Mughal emperor, who had 49 sons and daughters.
Despite Tucy's lofty claims, the 42 year old is relatively unknown in Hyderabad, the city he hails from.
Moreover, Tucy's self-bestowed title is not taken seriously by Hyderabadis for another reason.
For several years, rulers of the Nizam state followed a system of family hierarchy where some of the heirs were accorded titles such as 'Prince'; the remaining cousins and other members of the royal family were given the rank of 'Sahebzada' or 'Sahebzadee'.
Specific trusts were created to look after their financial needs. However, that wasn't the case with Bahadur Shah Zafar -- he was exiled much before he could draw up a succession plan.
When a photojournalist visited his now vacant house in Malakpet, Tucy's neighbours said he had migrated to New Delhi six to seven years ago.
The man himself says he moved his family to a 'palace' in Shamshabad on the city outskirts some eight years. He adds that he continues to reside there.
Tucy, though, admits that he barely spends any time at home -- he keeps himself busy by touring the country.
But beyond his rich lineage, there is very little known about Tucy.
According to one account, after he completed his studies from Hyderabad's New Science College, Tucy left home for Saudi Arabia and worked with Saudi Arabian Airlines for almost a decade.
The current state of his financial health remains unclear.
People who know the family remember its modest living. Some say the family was involved in the craft of wood carving for home furniture several years ago.
Tucy states that he gave out franchises of his business in Hyderabad; he says he even has businesses back in Saudi Arabia.
Whatever the outcome of the case, Tucy, for now, finds himself in the spotlight, the kind that has eluded him in Hyderabad all these years.