'The Indian and Israeli rabbis were singing a small departure song for brave little Moshe, who had spent many, likely, heartbreaking but bittersweet hours at this home of his babyhood, looking at the drawings his mother had made for him, that were still up in his room.'
Rediff.com's Vaihayasi Pande Daniel -- who reported extensively on the 26/11 attacks and traveled to Israel to meet Sandra Samuel, the nanny who saved Moshe from the terrorists -- reports on the little boy's return to the home he left nine years ago.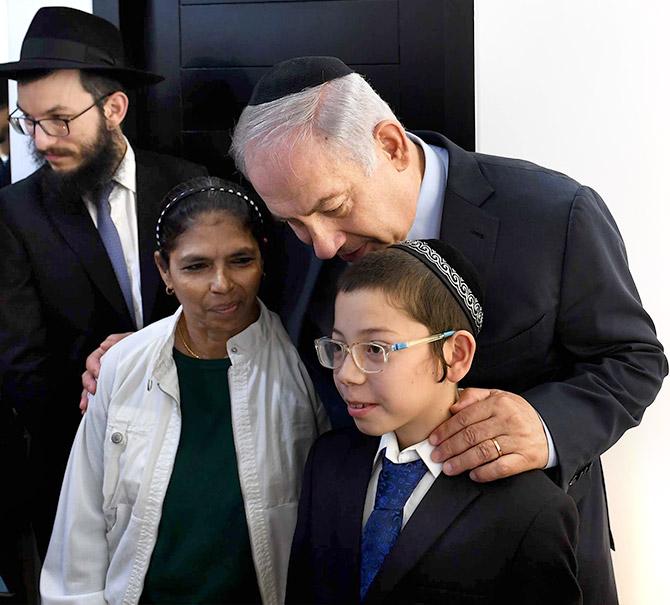 IMAGE: Israeli Prime Minister Benjamin Netanyahu flanked by Moshe Holtzberg and Sandra Samuel, the nanny who saved the then two year old from the 26/11 terrorists, at Chabad House, Mumbai, January 18, 2018. Photograph: Kind courtesy: Chabad House
A group of television reporters were conferring.
"Yeh kaun sa road hai? (Which road is this?)"
"Pasta Lane?"
"Third Pasta Lane?"
This discussion was taking place outside the Chabad House Mumbai, which is located in a narrow gully of Colaba, south Mumbai, a few days before the special commemoration service that took place at this location on Thursday, January 18, 2018.
Its rabbi Israel Kozlovsky had just given a short, staccato, press conference, in the lane in front, Hormusji Street, on the plans for the day when Israeli Prime Minister Benjamin Netanyahu and Moshe Holtzberg, 10, would visit Chabad House along with both sets of Moshe's grandparents.
After the rabbi returned to the armed fortress that is Chabad House, there was a quick exchange of facts surrounding the horrific attack on 26/11 in 2008 -- how many died, who, how and so on -- amongst the assembled journalists.
Given their youth, most of these reporters would have probably been in school or college when 26/11 and the Chabad House terror strike occurred, nine years ago, killing Moshe's parents Rivka and Gavriel Holtzberg, their unborn child, and four other Israelis.
They won't remember those bleak days of 2008 that are forever chillingly etched onto my mind.
Or what these narrow lanes were like on the final days of November of that year.
Its sounds and sights.
Grim memories came tumbling back to assail me.
Mumbai was under a state of siege for 72 hours that November.
Hardly a vehicle moved on Colaba's streets during the day. Police jeeps and ambulances prowled the streets at night.
While Colaba Causeway -- Shaheed Bhagat Singh Road, the main road -- still had people coming and going, with eggs, milk, fruit and vegetables being delivered on foot, by day, the cramped, usually bursting gullies around Chabad House were as deserted and solemn as a graveyard.
The only sounds were of gun shots, and grenades going off -- and pigeons fluttering into the skies.
All the buildings in the vicinity of Chabad House had been emptied of its residents after the first night -- the night two Pakistani terrorists walked into Chabad House, wielding AK47s, and took possession of it.
That night, in the initial crossfire, Harish Gohel, a young man, and Salim and Maria Harawala, a middle-aged couple, died tragically nearby.
By the evening of November 27 -- after several middle-of-the-night visits by National Security Guard commanders, with strategies being chalked out in meetings held right on the lonely roads by streetlight -- the whole area had been evacuated, leaving it occupied only by the terrorists and the security forces.
The battle at Chabad House raged for two horrifying days as parallel conflicts seethed hardly a kilometre away at the Taj Mahal hotel and about three kilometres away at the Trident hotel.
When you looked out the window and saw troopers patrolling the streets and snipers posted on rooftops, their guns in readiness, and watched the fire licking the sky at Apollo Bunder, Mumbai felt as it had become dropped into the Middle East.
My daughters -- then 14 and 9 -- still remember the flames that lit up the night. I remember the terrible uncertainty and the terrifying sounds.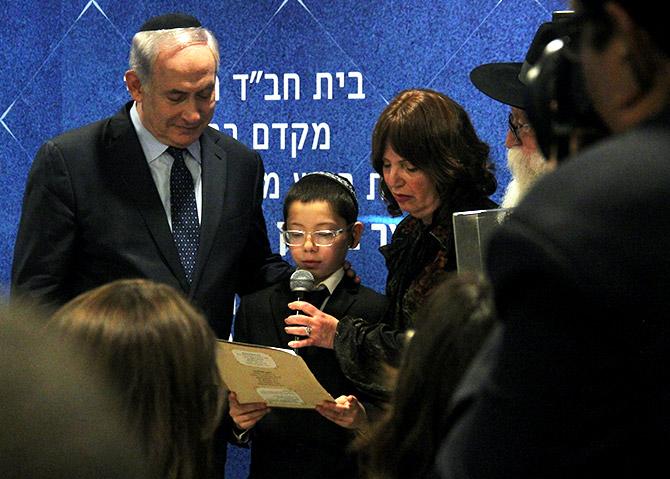 IMAGE: Netanyahu with Moshe and his maternal grandmother Yehudit Rosenberg at a memorial ceremony at Chabad House, January 18, 2018. Photograph: Kind courtesy: Chabad House
On the morning of November 28, Colaba's uneasy peace was disrupted, sometime after 6 am, by the rumble of multiple Mi-17 helicopters.
Unbelievably, 22 NSG commandoes dropped from the sky, rappelling down ropes, landing on the roof of Chabad House.
For a group of us -- reporters, photographers and cameramen -- camped on the terrace of a much taller building nearby -- our eyes and lenses trained on the five-storey, mildly ugly building -- the battle to free Chabad House was unforgettable.
For long, long, silent hours, right from dawn to nightfall, the now 21 commandoes -- Havaldar Gajendra Singh Bisht had died early on -- painstakingly inched their way down those five floors in their tremendously courageous campaign to win the building back from the terrorists.
Of the terrorists we could see nothing.
Of the Chabad House residents/visitors we could see nothing.
Only curtains and pigeons fluttered about in the breeze.
One reporter had Rabbi Holtzberg's cell number and we were wondering whether to call him. But we didn't.
The deafening silence was punctuated by bullets flying, one of them hitting the terrace of the building where we were perched, and the roar of grenades the commandoes used to blast their path downwards.
Finally, just after nightfall on November 28, Chabad House was freed of terrorists.
Ambulances and Israeli medics crept up the lane to deal with casualties.
Grief cloaked the area.
Sorrow for 10 lives lost. And hope for the blonde 2 year old who had lived.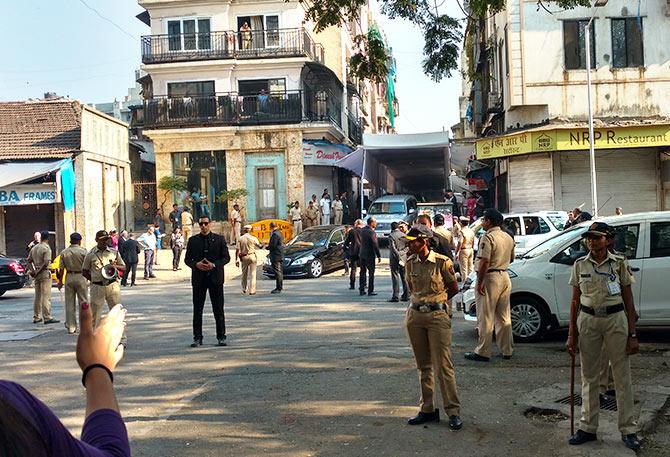 IMAGE: Security arrangements at Chabad House. Netanyahu's Mercedes Benz can be seen. Photograph: Vaihayasi Pande Daniel/Rediff.com
As I stood, January 18, 2018, on another bright sunny, winter day, nine years and 51 days later, once again keeping vigil on Hormusji Street, I was still sorting out those indelible dark memories.
Thursday, Colaba Causeway was quieter than it was on 26/11 (or the two days that followed), as residents, reporters and the police awaited Benjamin Netanyahu's arrival.
It was a more ordered stillness this Thursday unlike that Thursday all those years ago.
Equally changed are the streets of Colaba that the late Gavriel Holtzberg had often apparently walked on Sabbath.
I had on one occasion bumped into him, believing him to be an Orthodox Jew tourist, never once realising he ran a Chabad House in Mumbai. Colaba's streets are today packed with four times as many vehicles, many more people and shiny new shops. I doubt if the rabbi who died that senseless night would recognise Colaba, a neighbourhood he made his home happily for five years.
In the run-up to Netanyahu's visit the police and Israeli security had secured the area from days before.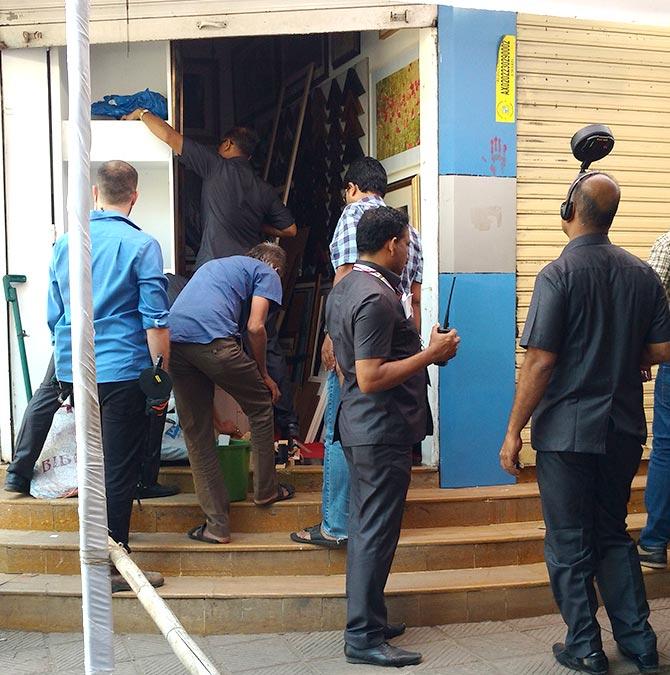 IMAGE: Indian and Israeli security personnel rummage through the shops on Hormusji Street for any suspicious material ahead of Netanyahu's visit. Photograph: Vaihayasi Pande Daniel/Rediff.com
At about 11 am on Thursday, Israeli security, commandos, bombs squads with metal detectors and Labradors moved in.
That Netanyahu -- for whom the threat perception must be one of the highest in the world -- should want to visit this narrow, choked, lane was unbelievable though it is fair to say that the streets of Jerusalem are almost equally congested.
Indian and Israeli security were leaving no stone unturned to ensure that the prime minister was safe.
Manholes were peered into. Tiny mom-and-pop shops lining the narrow street leading up to Chabad House were first sealed, then re-opened up by the security teams.
First, the dogs and the bomb detectors went in.
Then the Israelis strode in, donning a fresh pair of either bright blue or vermilion gloves at each shop.
Like modern-day alchemists they prodded every surface with paper tester strips and snooped, whiffed and sniffed.
The temple hardly two doors down from Chabad House was given a fine tooth comb too.
Policemen were stationed on the roof of every tall building in the area. Each flat of the new lofty building at the corner of Hormusji Street had a policeman stationed in it.
Senior police officers turned up every half an hour -- assistant police commissioners, deputy police commissioners, additional police commissioners, joint police commissioner -- to inspect the security arrangements.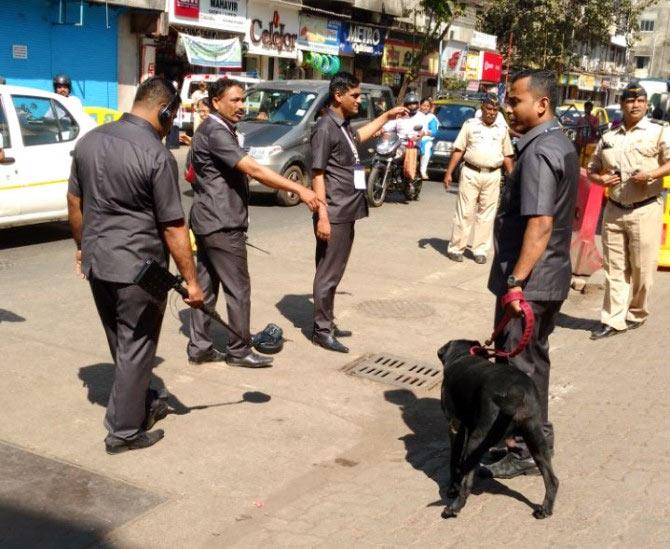 IMAGE: Bomb detection squad and the Labradors scour Hormusji Street. Photograph: Vaihayasi Pande Daniel/Rediff.com
A senior woman police officer, assisted by her senior, an affable assistant commissioner, was in charge of the area. She marched about smartly firing orders in Marathi, getting everyone cracking.
The entire neighbourhood was cleared of the public and vehicles. Quite a feat given that it is one of the busiest areas in the city.
The police went about holding giant white megaphones asking Mumbaikars to leave the area if they had no urgent reason to be there. The tow trucks ruthlessly uprooted stray motorcycles and cars and dragged them away.
Anyone entering Hormusji Street was frisked, their IDs checked.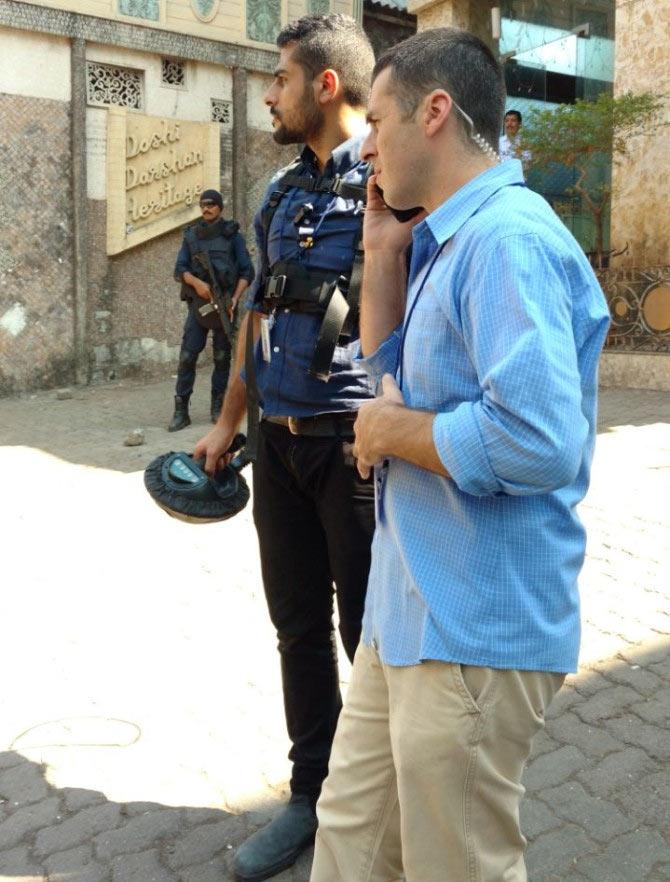 IMAGE: Tense Israeli security personnel survey Hormusji Street, anxious that the location was secure for their leader's visit. Photograph: Vaihayasi Pande Daniel/Rediff.com
The journalists who had set up their equipment at the mouth of Hormusji Street were given a long rope as they bounced about grabbing soundbytes and shots of rabbis, bomb squad dogs, police officers and fork lifts delivering supplies to Chabad House.
One unsmiling, sharp-eyed, Israeli security officers summoned the affable assistant commissioner over and asked when the media would shut their equipment and depart. He was cheerfully assured the media would soon be long gone.
By 2 pm the press corps had been told to shut shop and were banished to the other side of the road, effectively locating them more than 100 metres from Chabad House, with no hope of capturing even a telescopic shot of the back of portly Netanyahu's blue suit.
The journalists travelling with Netanyahu and the Israeli media had full access to Chabad House, along with reporters from a couple of Indian news agencies. Quite unfair, on the face of it. That opinion was easy to revise a few hours later.
Netanyahu raced down Colaba Causeway in a cavalcade of 50 cars, the Israeli leader was spotted in a shiny black Mercedes Benz flying both the Indian and Israeli flags. Ambulances and a special surveillance vehicle, from which poked out cell phone jammers and other terrorist-hobbling gizmos, trailed him.
The ceremony at Chabad House took nearly an hour and in another blur of whizzing cars Netanyahu departed for his next engagement, a dinner with Bollywood.

IMAGE: Netanyahu's Mercedes makes its way down Colaba Causeway. Photograph: Vaihayasi Pande Daniel/Rediff.com
Behind the police barriers for the media, 50 live broadcasts unspooled as television reporters, using the Chabad House lane as their backdrop, began to all speak into their mics simultaneously.
"Historic trip of Israeli prime minister..."
"This is the most emotional part of Benjamin Netanyahu's visit..."
"Sensitive moment..."
"Hum idhar khade hai..."
"Where Baby Moshe last hugged his mother..."
"A day, nine years later, that has proved to the world that terrorism has not won..."
The babble grew into a din, as the broadcasts merged into each other, like a giant sound cloud hanging above.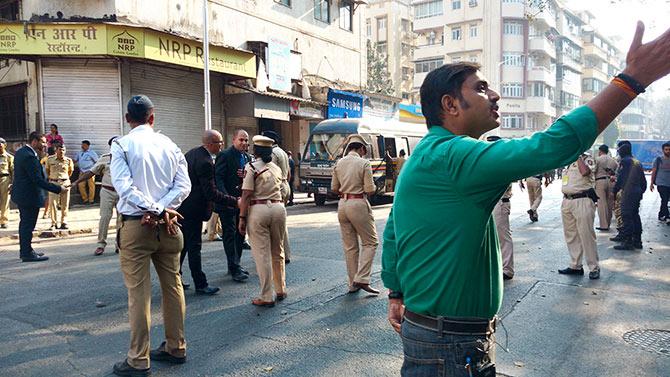 IMAGE: Israeli security personnel congratulate the Mumbai lady police officer who was in charge of security arrangements at the area after the Netanyahu visit had passed without incident. Photograph: Vaihayasi Pande Daniel/Rediff.com
The police barricades came down and the public impatiently surged onto the still vehicle-less streets in that typical Mumbai-ish rush to get on with their daily business.
Commandos, whose colleagues had so daringly rescued this neigbourhood nine years ago from further bloodshed and mayhem, packed up and stole away as quietly as they came, always the quiet, unobtrusive, heroes of a situation.
There was much bonhomie as the Israeli security congratulated the puff-chested Mumbai police for a visit that had gone off smoothly.
The press corps rushed off down the now unsealed Hormusji Street to Chabad House, hoping to catch a glimpse of Baby Moshe. And for a fresh soundbyte from the rabbi.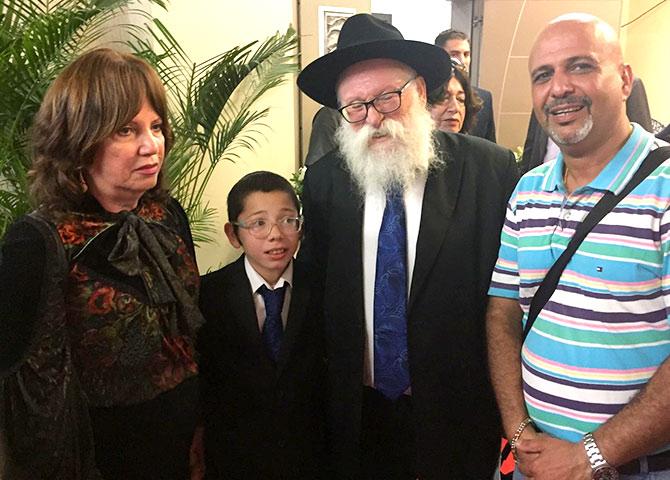 IMAGE: Moshe with his maternal grandparents Yehudit Rosenberg, Rabbi Shimon Rosenberg and Dr Kuresh Zorabi.
Dr Zorabi attended the memorial service held for Moshe's parents Rabbi Rivka and Gavriel Holtzberg.
He ran an eye clinic around the corner from Chabad House. His family owns the 24x7 Rex Bakery, exactly opposite Chabad House.
The bakery was peppered by terrorist bullets and the staff barely escaped with their lives by hiding in the backrooms.
The bullet marks are still evident on the wall of the bakery.
Photograph: Kind courtesy Dr Kuresh Zorabi
Our own Mumbaikar Moshe -- who stands about four feet high, and was wearing blue and clear spectacles, a black yarmulke with white embroidery, a black suit, a blue tie and a white sash -- unknowingly opened the heavy, bullet-proof door of Chabad House, perhaps looking for the long, steel-grey van that would take him and his maternal/paternal grandparents back to the Taj Mahal Towers and Palace, where they were staying.
Instead he found himself face to face with the overenthusiastic Mumbai media, holding out mics. His maternal grandmother Yehudit Rosenberg, with whom he lives with in Afula, north Israel, quickly swooped in and hustled him away.
For that brief second one had a view of the courageous 10 year old, with a bright, intelligent face and shining eyes, who had grown a man's shoulders in the eight years he had been away from 5, Hormusji Street.
The van finally did arrive and pulled up in front of the enormous seven feet tall Chabad House gates that shield the Jewish outreach centre from public view. The media buzzed in anticipation of Moshe's departure.
That buzz quickly died down to a hush and then pin-drop silence when poignant singing started up in the courtyard of Chabad House.
The Indian and Israeli rabbis were singing a small departure song for brave little Moshe, who had spent many, likely, heartbreaking but bittersweet hours at this home of his babyhood, looking at the drawings his mother had made for him, that were still up in his room.
Looking too at his toys, books and the wall where his mom Rivka had recorded his height, his last reading being when he was 13 months.
He would have spent time contemplating the view of bustling Colaba from the top floors of Chabad House, a view his parents must have looked at many times a day during their long stay in the area, working to make hordes of visiting Jews feel at home, feeding them, housing them, praying with them and even marrying one visiting couple.
Moshe may have wept too when he recalled that the day he turned two, on November 28, 2008, his parents were already dead in this incongruous building home.
The courtyard singing gained crescendo and the rabbis clapped and probably danced exuberantly (as they have before).
"Sabse badi baat, sabse badi baat" went the song asking the child to never be afraid.
The little Holtzberg had invited the Israeli prime minister to come for his Bar Mitzvah and announced he would have it right there in Bombay in 2020 in his parents' home.
After the song ended, Moshe was rushed out of Chabad House and into the waiting van with his grandparents as cameras and microphones closed in alarmingly around him, nearly imprisoning him.
The van drew away and the media rushed inside Chabad House seeking a few words from Rabbi Israel Kozlovsky.
He not too reluctantly obliged.
"This place is a place of disaster and darkness. But it will be turned into a beacon of light. The world will see it shine. The terrorists have caused so much disaster and darkness, but we will turn it into goodness and kindness."
Kozlovsky spoke for five minutes and then took off for dinner with the Israeli delegation at the Taj, with his family in a grey Maruti Wagon R, as the television crews uninvited pushed their way further into Chabad House, hoping to film other parts of its interior and the foundation plaque that was unveiled by Moshe and Netanyahu, Thursday, for a memorial museum that will be built at this spot by November 26, 2018, in the memory of all the 164 victims of the Mumbai terrorist assault.
The open gates of Chabad House began to attract the curiosity of locals on Hormusji Street. Young school children and women walking down the lane came to a halt in front of the building, stopping to stare inside.
"Bachcha aaya tha?! (Did The Child come?!)" I was asked excitedly by a group of girls and their mom of this area's most famous former resident.
"Photo dikhao (Show us a picture)" and their faces drooped in disappointment when I said I had nothing to show.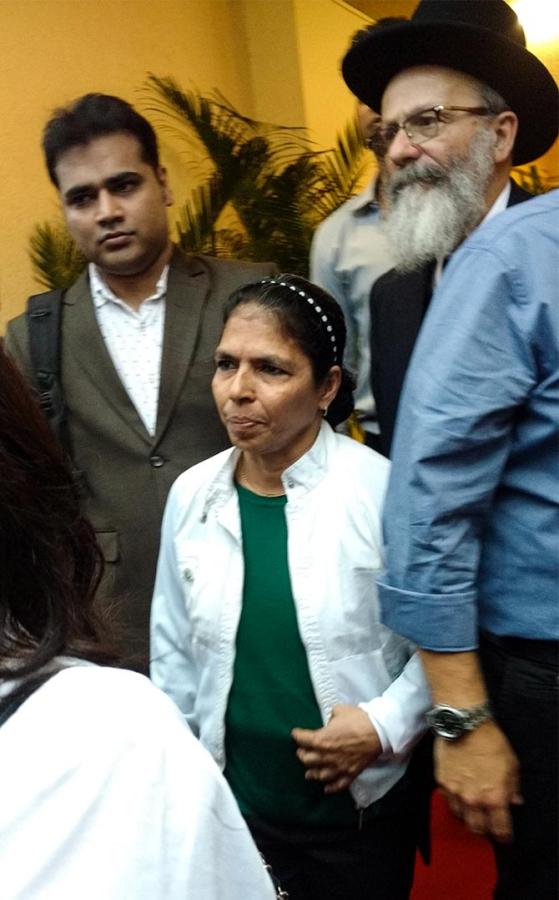 IMAGE: Nine years ago, Sandra Samuel rescued Baby Moshe from Chabad House, saving him from certain death.
The State of Israel honoured her courage by making her an Israeli citizen. Photograph: Vaihayasi Pande Daniel/Rediff.com
Sandra Samuel, 53, Moshe's erstwhile nanny, a hero of 26/11 and a citizen of Israel, dressed in a white jacket, green t-shirt and slacks, was standing on the sidelines inside.
Her face was more lined than the one I had seen in Israel in 2009 when I interviewed her in the Rosenbergs' Afula home. But it still had that same special soft, motherly, gentleness that had protected and mothered Moshe all these years after he was brutally and suddenly orphaned that fateful November.
She didn't depart for the Taj with the Holtzberg-Rosenberg family. No, she could not be interviewed I was told by an impolite Israeli woman unless I paid her one million dollars.
Samuel, soon after, also left Chabad House, but on foot, probably bound for the suburbs to see her now adult sons.
It took just a few minutes for the television crews to recognise her. Then they sprinted after her.
She took off in a sprint herself, running out of Hormusji Street, probably frightened, for the second time in nine years.