'Dr Kalam had tears in his eyes when he saw the girls perform and, during the reception, insisted on serving everyone.'
'The waiter would come with the tray and he would stand beside him and ask the girls, "What would you like?" and serve it himself.'
'He has done so much for India, but I feel India didn't value him enough.'
Dancer-choreographer Astad Deboo continues our special series on India's Treasures, listing his favourite Indians to Swarupa Dutt/Rediff.com
Illustration: Dominic Xavier/Rediff.com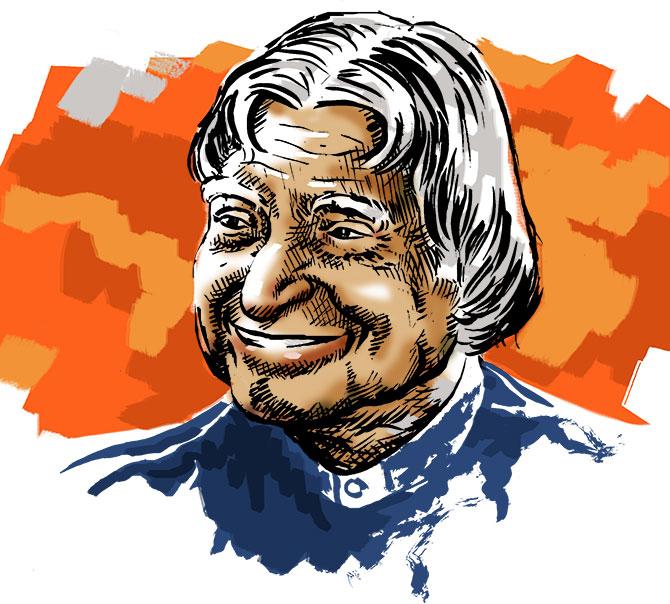 I am a people person, so for me people are India's treasures, more than monuments.
India's treasure No 1 for me is President Abdul Kalam.
I met him when he conferred the Padma Shri on me in 2007 and again a couple of weeks later when I was invited to perform with my group of deaf dancers.
I stayed at Rashtrapati Bhavan for four days. What really touched me about the man was his simplicity, despite being the person he was.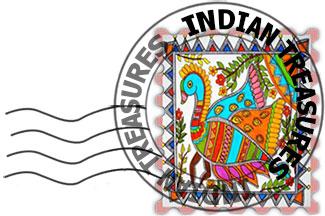 He had tears in his eyes when he saw my girls perform and, during the reception afterwards, he insisted on serving everyone.
The waiter would come with the tray and he would stand beside the waiter and ask my girls, "What would you like?" and serve it himself.
There are so many receptions thrown where my artistes have attended, but never have they been given the kind of personal attention Dr Kalam gave.
I went to see him in the office after my performance to talk about my work and for funding. He got up to greet me and he was barefoot!
What a simple man. He was special. It was his persona, he was so warm.
He was a great scientist; I couldn't talk to him about his subject, but he could talk to me about dance. He understood what I was trying to do.
You don't get very many people like that. I have danced in front of other presidents and heads of State, but I have never encountered that kind of warmth.
He was such a genuine person. He has done so much for India.
But I feel India didn't value him enough after he returned to civilian life.
Maybe because he was his own person and did not bow to political diktats.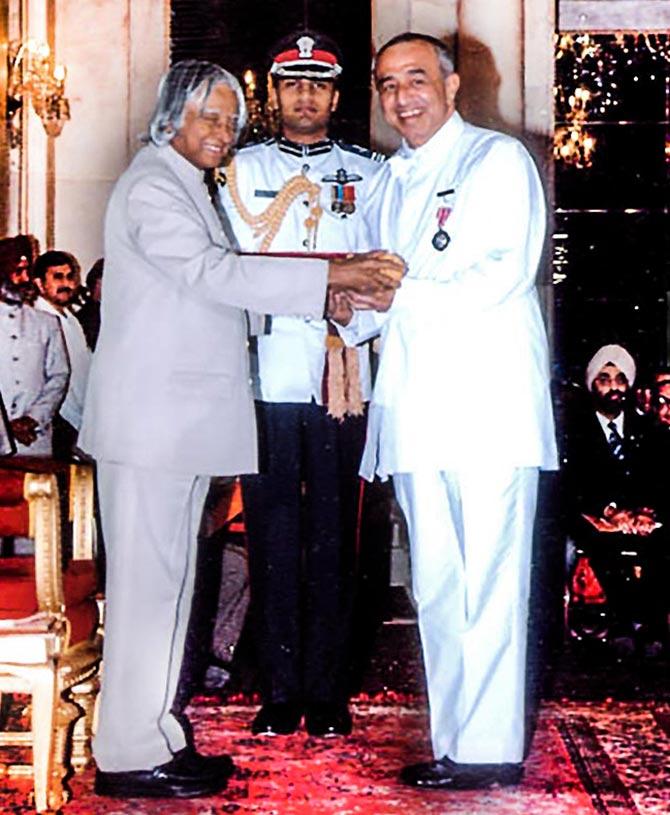 IMAGE: Astad Deboo receives the Padma Shri from President A P J Abdul Kalam.
I treasure the Dalai Lama as well.
I met him over a two-hour session with a small group of 20 people in Dharamsala. We were sitting a few feet apart and, when the photo-op happened, he held my hand and didn't let go.
I felt an aura emanating from him. He blessed me, hand on head, and we exchanged scarves. I still have the scarf.
Though he is a religious head, he endears himself to you.
There is a lot of truth in what he says.
There was this energy which emanated from him and I felt a sense of calm.
There is something pure, something spiritual, in his presence.
M F Husain, of course.
I worked with him during the making of the film Meenaxi: A Tale of Three Cities (which Mr Husain directed), which I choreographed. I encountered him many times before Meenaxi.
I met him in Berlin with Madhuri Dixit when Gajagamini premiered (also written and directed by Mr Husain); I've been to his house for Eid.
He was always very warm, always asked me, "Kya ho raha hai?"
With Meenaxi, I saw him in a work environment. He was extremely observant, and again I was stuck by his simplicity.
He sat in when I was choreographing and after the shot was done he told me how happy he was that I was a part of the film. He would sketch each scene of the set.
This was a man who was never arrogant, never talked down to people.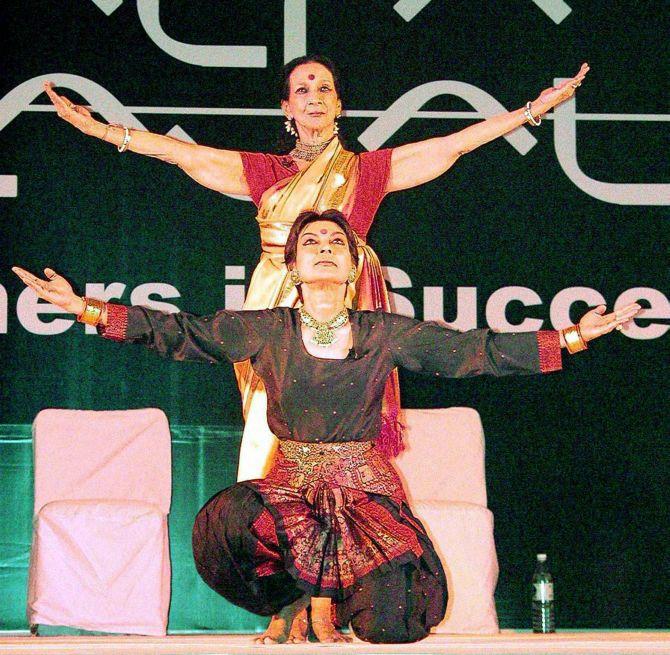 IMAGE: Mrinalini Sarabhai performs with her daughter Mallika in New Delhi in 2004. Photograph: PTI Photo
And there was Mrinalini Sarabhai.
She is directly a part of my world as she was also a dancer.
She did a lot to bring art and dance alive in this country and took it places where it had not gone before.
She was a part of social causes and look at her lineage! (Her sister is Colonel Lakshmi Sehgal of Netaji Subhas Chandra Bose's Indian National Army. The dancer was married to Dr Vikram Sarabhai, father of India's space programme).
The last time I went to see Mrinalini, she had written her autobiography. We met several times. She would be curious about what I was working on.
She would want to know why I was working on a particular theme... You know you breathed culture with her.
She was all about aesthetics, yet cloaked in simplicity. She was always very well dressed.
She respected me for what I have pursued and the respect is, of course, mutual.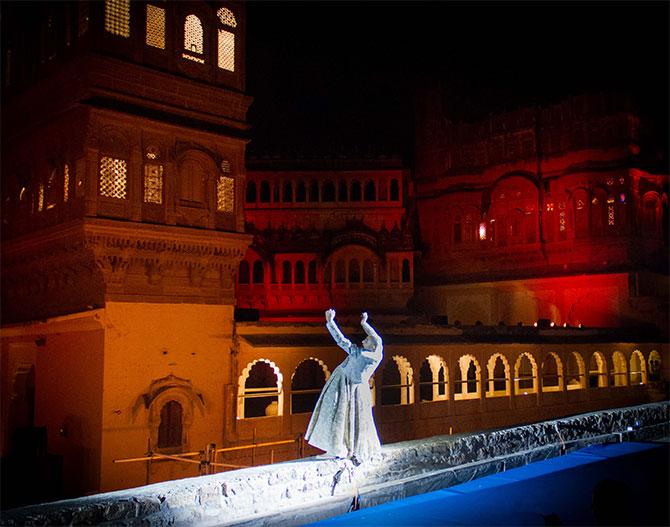 IMAGE: Astad Deboo performs at the Mehrangarh Fort in Jodhpur. Photograph: Courtesy, Amit Kumar.
As for monuments, for me our biggest treasure is the Meherangarh Fort in Jodhpur.
It was a site-specific performance, which means I didn't just use it as a backdrop, but incorporated the space into the performance. I danced on the ramparts.
I have been to other forts, but Meherangarh is special.
It has a magnificent history to it and it is certainly more imposing then other forts.
I was performing to a small crowd of 250 and I had been told not to use the rampart.
The rampart is just 4 feet wide and there is a 50 feet drop on the other side!
Everybody freaked out when I suggested dancing there. So I said OK, I won't, but just before I went on, I said I am using the rampart.
It is so ironic that I had gone to raise money for the head injury foundation and if I had fallen down... it would have been quite something.
I didn't do a twirl, so my movements were controlled, not careless.
I have gone to Meherangarh twice, once as a tourist and the other as a performer. The fort is so majestic!
Finally, Ladakh!
If you have the army with you, you get to see much more.
In the late eighties, I had performed solo for the troops in Leh. It was a week's visit and I went as a tourist and a dancer.
I have driven from Leh to Kargil to Srinagar. The monasteries, the thankas... are so beautiful.
When you go to these religious places, there is a certain blessing you receive.
Ladakh is actually more a pilgrimage of sorts.
The second time I went back to Ladakh, I went as a tourist. I saw a performance at the Tosh palace. I think the natural beauty is outstanding.
I feel very sorry when I see our monuments with graffiti. Yes, they are being taken better care of now, and at least they are better lit.
In the West, heritage sites are interactive for the performing arts, which is lacking here because of the Archaeological Survey of India, the bureaucracy and the concern over vandalism.
I think people at large have no respect or concern for their heritage. Maybe because there is so much around? They grab their photoop and they move on.
We don't value what we have.
Astad Deboo, pioneer of contemporary dance in India, met Queen Elizabeth II of Great Britain on February 27, 2017. You can read an account of his encounter here.