Navya Singh was protecting her sovereign right to play, says Aditi Phadnis.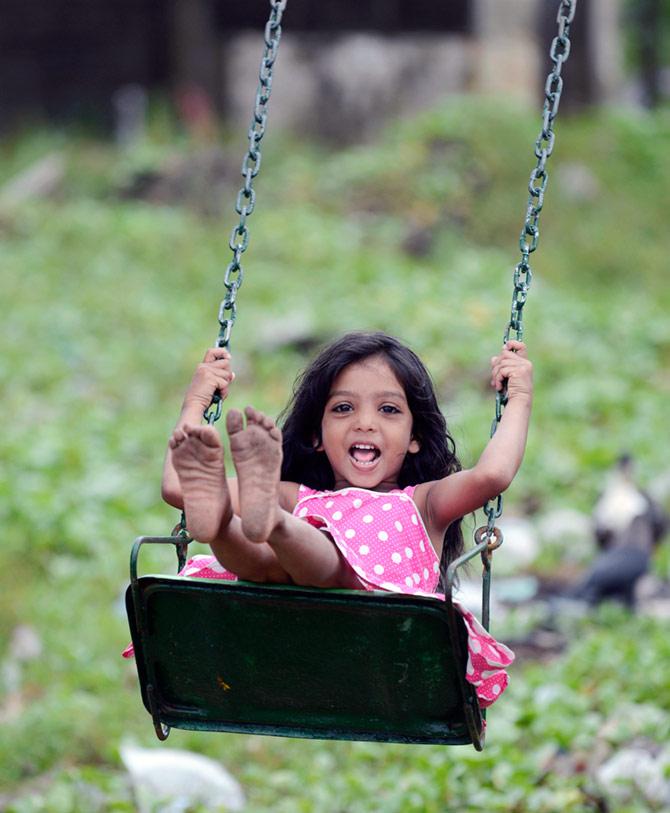 *Photograph: Philip Brown/Reuters
When Navya Singh heard she'd won the case in the high court, she reacted as only a seven year old would. She let out a long squeal and leapt up to punch the air.
It came to litigation because she and her friends wanted the play in the community park -- and the government wouldn't let them.
This is the story of her rebellion.
Navya lives in Sector 8, Rohini, a residential colony developed by the Delhi Development Authority.
Every day after finishing their homework, she and her friends would go out to play in the park, which residents believe is the biggest blessing of the colony, a set of lungs in a jungle of concrete.
It keeps the children off the roads.
There is a see-saw and there were a couple of swings -- until the government stepped in and announced that the park would be redeveloped as a community centre.
The residents were perplexed and angry.
First, a temple that had come up in the park had steadily encroached on playing space.
Then the government gave permission to a mobile company to erect a mobile tower -- right in the middle of children's play area.
And now, a community centre that would raze the park altogether... although a community centre already existed just a few blocks away.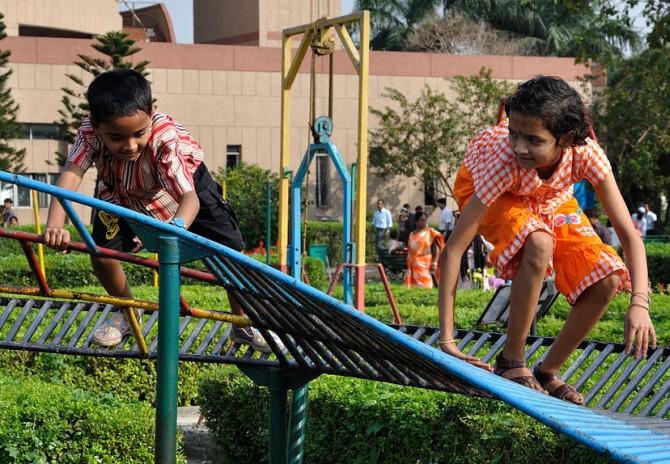 *Photograph: Kind courtesy Biswarup Ganguly/Wikimedia Commons
Navya called her friends and her father, Dheeraj Kumar Singh, for a war conference.
Dheeraj adores his daughter, but treats her like an adult.
The decision was: We have to save the park.
Instead of processions and petitions, Dheeraj suggested a twin-pronged action plan: Write to the prime minister and file a case in court. He is a lawyer himself but he sought help from friends to draft a petition.
Meanwhile, Navya was hard at work, writing a letter that would befit the prime minister.
Embellished with crayon-drawn flowers, a rising sun and butterflies, the letter said: 'Everyone says you will not read it because you receive 1,000 such letters. But I think you'll listen to me. This park is our lifeline.'
She concluded by appealing to 'Modi uncle' to help her 'save her park' because 'everyone says you're very intelligent', ending with 'now I have to go to finish HW (home work)'.
The court not only admitted the petition but also heard it in express time.
It issued a notice to the DDA to explain why it was considering a community centre in a space where the elderly walk every morning, taekwondo classes are held for children and cricket is played on weekends, and stayed any further construction.
Navya says she and her friends even planted some trees to make the park greener, but the DDA trucks destroyed those saplings.
Shamed by a seven year old, the DDA announced it was scrapping the community centre plan. Although the case would continue, Navya and her friends have got their park back.
It is also a lesson in parenting: Should you encourage a precocious child to become an activist?
Dheeraj is clear: "I encourage parents to promote activism but with a disclaimer. They should do so only for issues that directly affect the children."
"In this case, the rights of my daughter and children of the locality were being infringed."
"But involving them in issues they don't understand is not something I recommend."
*Images published only for representational purposes.