A senior politician Naidu respected once tried to convince the firebrand student leader to quit the Jana Sangh, seen as a party that derided non-vegetarianism. Archis Mohan reports.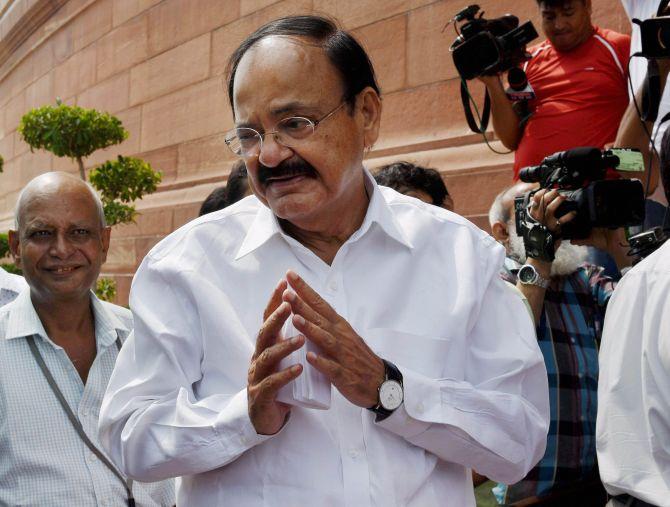 IMAGE: NDA's vice-presidential nominee Venkaiah Naidu on his way to attend nomination filing procession at Parliament in New Delhi on Tuesday.
Photograph: Subhav Shukla/PTI Photo
In the 1970s, Muppavarapu Venkaiah Naidu -- who was on Monday declared the National Democratic Alliance's vice-presidential candidate -- was a rare personality in Andhra Pradesh politics.
In South India, Naidu was a member of the Bharatiya Jana Sangh, the earlier avatar of the Bharatiya Janata Party, which was perceived as primarily being a north India-based, a Brahmin-Baniya party with no rural roots and one that talked of Hindi's superiority over other regional languages.
But most of all, the Jana Sangh was seen as a party that derided non-vegetarianism.
When a senior politician he respected tried to convince the firebrand student leader to quit the Jana Sangh, Naidu checked with his Sangh Parivar mentor. He was told vegetarianism, as practised in the Rashtriya Swayamsevak Sangh and its affiliates, was primarily utilitarian, as it was cheaper.
The Sangh Parivar then had shoestring budgets and preparing for non-vegetarians meant cooking additional dishes for vegetarians.
With his doubts allayed, Naidu stuck with the Jana Sangh.
He had been a swayamsevak in his younger days. He was a student leader of the Akhil Bharatiya Vidyarthi Parishad, the RSS' student wing, and was imprisoned during the Emergency years.
In 1978, Naidu was elected a Janata Party legislator. He joined the BJP when it was founded in April 1980; and become its youngest national president in 2002, at 52.
"I couldn't believe when I sat on the dais between Atal Bihari Vajpayee and L K Advani. I had grown up idolising the two and there was a time when I would put up their posters on walls," Naidu had recently said.
He never got tired of pointing out that he, son of a humble farmer, could rise to such a level only in the BJP, a party that practised internal democracy.
Naidu, a four-term Rajya Sabha member, was the rural development minister in the Vajpayee government. He became the parliamentary affairs minister in the first two years of the Modi government, before being moved to the information and broadcasting portfolio, continuing to keep the urban development portfolio.
Nearly 40 years of legislative experience, and friendships with leaders of all hues, should help Naidu, when elected as vice-president, conduct Rajya Sabha proceedings smoothly.
The BJP-led NDA is in a minority in the Upper House and unlikely to cross the halfway mark until 2022.
Naidu considers the loyalty to his party the leitmotif of his political career.
He was raised by relatives because a buffalo had gored his mother to death when he was barely 18 months old. He says he considered his party his mother and devoted his waking hours to party work. He has a son and a daughter and several grandchildren.
But neither of his children is in politics because they made a pact that the children would stay away from politics as long as he was active in it. So rare were his visits to home as party president that one of his grandchildren would refer to him as 'TV dada'; she got to see him more often on television.
Naidu's organisational skills were noticed when he came to New Delhi in the early-1990s as its general secretary.
There was a time when Naidu and others would campaign against technology and machines. 'Automation, anti-nation' was the slogan.
"But political parties and ideologies have to be dynamic and respond to the times," Naidu would often say later, pointing to how his Marxist friends have failed to adapt.