The wedding date had been fixed, as was the venue.
But what this young couple from Dehradun didn't plan for was the lockdown that prevented them from going back home to get married.
Not to worry, the Pune police went out of their way to arrange for a venue, pandit, even for someone to do the kanyadan.
A Ganesh Nadar/Rediff.com describes a most unusual wedding.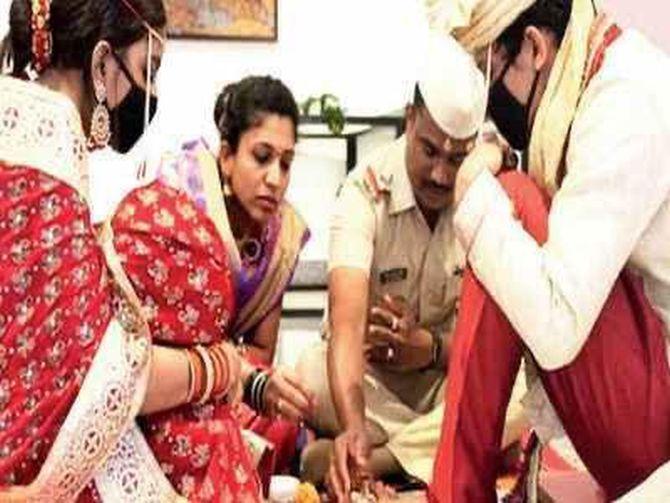 Aditya Bisht, a marketing professional, and Neha Kushwaha, a doctor, were married in Pune on May 2, 2020.
There was a pandit who solemnised their marriage.
What was unusual about this marriage was that there were no relatives or friends attending the marriage.
The only attendees were the Pune police.
But the young couple had no occasion to miss their near and dear ones, as the men in khaki stepped in for them, and even arranged for live-streaming the ceremony so the families back home could see it all.
Assistant Police Inspector Prasad Lonare of the Hadapsar police station in Pune, whose idea it was, tells Rediff.com about how this marriage happened.
"Last month, the groom's father, Devendra Bisht, called me to ask if the couple who were to be married in Dehradun on May 2 could travel there. I told them it was not possible because of the lockdown. Then he asked if I could help.
"He told me that he was a retired colonel from the Indian army. The girl's father is also a colonel, he is a retired doctor from the Armed Forces Medical College and is currently working at AIIMS-Nagpur.
"As both families were from the defence forces, I thought it was my duty to help them.
"As both the groom and bride were in Pune, I thought I could do something. I consulted with my superiors and my DCP, and they all agreed.
"So we found a pandit, made arrangements for clothes and flowers. It took eight days to arrange all this.
"You must keep in mind that besides this we were also attending to our daily duties during the lockdown.
"We arranged the marriage in the hall of a club house. We asked them for the hall for two hours and they agreed.
"A colleague, Manoj Patil, and his wife did the kanyadan as per marriage rituals. Eight to 10 officers attended the function and we all maintained social distance."
Aditya Bisht, the groom, was very happy when he spoke to Rediff.com. "We cannot believe that our marriage has become national news," he says.
Dr Neha Kushwaha, the bride, says, "We were engaged on February 14 at my in-laws's place. Both our parents were there and a few relatives. My elder brother, who is a major in the army, was also there. On that day we decided that the marriage would be held on May 2, 2020."
Aditya explains the sequence of events. "Because of the lockdown we could not travel to Dehradun. We then thought we would have the marriage in Nagpur but that too involved travelling, which was not possible."
Everything changed after that one phone call Aditya's father made to API Prasad Lonare.
"We came to the hall expecting that we would have to sign the register and come back home. But everything was done as per our custom," recalls Aditya.
"They had bought a sari for Neha, they had arranged for flowers and also for a pandit who conducted the marriage very well. A police officer and his wife did the kanyadan. We were very touched."
"Deputy Commissioner of Police Suhas Bawche, who attended our marriage, gifted us with a sanitiser and face masks which I think was very appropriate at this time.
"We feel lucky that our marriage took place on the day it was supposed to be. Our parents were also happy that they could see all the proceedings that were live-streamed.
"We are happy to know that our marriage is an inspiration to other young couples. We will be eternally grateful to the Pune police."