'The minister is not concerned about our daughters' well-being.'
'Just when the sex ratio for girls is showing an improvement across every district, the minister wants the onus to be on the women knowing very well that decision making in India is in the hands of the male.'
Rashme Sehgal reports on Woman and Child Development Minister Maneka Gandhi's call for mandatory tests to determine the sex of an unborn child.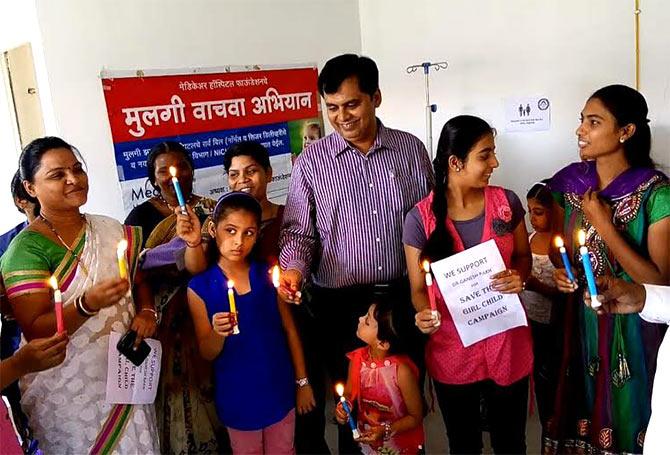 IMAGE: Volunteers at a campaign to save the girl child. Dr Ganesh Rakh, a Pune doctor who delivers firl children free of charge, says every doctor should deliver one girl free of charge at least once a month.
In the last 25 years, India has lost over 15 million girls to female foeticide. The United Nations Children's Emergency Fund has dubbed it the biggest genocide in history.
Female sex ratios in Haryana, Punjab and Maharashtra declined to unprecedented lows. In some districts of Haryana, female sex ratios dipped to 780 girls against 1,000 boys.
It took two decades of struggle to get the Pre-Conception Pre-Natal Diagnostic Treatment Act of 2000 passed and to end the horrifying practice by doctors in Hisar, Haryana, of exhibiting female foetuses in glass jars to encourage female foeticide.
All this stands to be reversed with Woman and Child Development Minister Maneka Gandhi's statement calling for mandatory tests to be held to determine the sex of an unborn child.
Instead of prosecuting doctors indulging in sex selection, the onus of responsibility of ensuring the birth of a female child must be placed on the woman.
Gandhi believes it would be more effective if the sex of a foetus is recorded and then monitor its progress till the time of the pregnancy.
'How long are we going to keep making criminals out of people? How long are we going to put the onus on sonographers?' Gandhi stated last month. 'My view is, why not change the present policy?'
'Every pregnant woman should be compulsorily told whether it is a boy or girl, the minister said. 'When a woman becomes pregnant it should be registered and in that way you will be able to monitor right until the end whether she gave birth or no and what happened.'
Her remark evoked widespread criticism from women activists.
In the last two decades, only 3,000 cases have been filed against sonographers and doctors out of which there have been 50 convictions.
Varsha Deshpande, who runs the Lek Ladki Abhiyan in Maharashtra and has spearheaded a campaign against sex determination of the unborn child for almost three decades, believes Gandhi's statement was made under pressure from the doctors' lobby.
"The minister is not concerned about our daughters' well-being, but is more concerned about the doctors' well-being. The reason for this is obvious. Each test in western Maharashtra costs Rs 30,000. Doctors stand to earn a lot of money."
"In 2011, Beed district had a girl child ratio of 807 which has increased today to 905. This has happened because we have been regularly conducting sting operations against both diagnostic centres and maternity homes. We have succeeded in getting 18 doctors convicted in the lower court while another five are behind bars," says Deshpande.
"Our biggest breakthrough came when we got Dr Sudam Munde of Beed arrested in 2012. Dr Munde was carrying out around 35 abortions every day," Deshpande says, attributing the success of the decoy operations to the inclusion of Section 24 of the PCPNDT Act which allowed them to use pregnant women as decoys as Section 34 ensured these women would not get arrested.
"In all, over 600 cases were filed in Rajasthan and another 600 in Maharashtra. Just when the sex ratio for girls is showing an improvement across every district, the minister wants the onus to be on the women knowing very well that decision making in India is in the hands of the male," adds Deshpande.
"Instead of prosecuting the doctor committing the crime, you catch the woman who is already under pressure from her family," Sabu George, a member of the National Inspection and Monitoring Committee of the PCPNDT Act, points out. "She will now be under pressure both from her family and also from the State."
George, who has toured the country extensively to keep a tab on female sex ratios, cites the example of how sex selection tests have dropped 30 points in Pilibhit constituency, from where Maneka Gandhi won the 2014 general election in the last decade.
"Gandhi has done little to reverse the existing female sex ratio of 910 girls to 1,000 boys in Pilibhit despite having represented this constituency for several terms," says George.
He fears that if the example of sex selection in Punjab and Haryana were to be emulated by larger states like Uttar Pradesh and Bihar where one in three Indian girls is born, "We are set to lose millions of girls in the coming years."
Professor Mohan Rao of the Centre of Social Medicine and Community Health asks why the government is giving a thrust to the use of ultrasound technology in pregnancies.
"Around the globe, the medical fraternity is emphasising that ultrasounds are not warranted in normal pregnancy," says Professor Rao. "In India, if the government makes it mandatory for three ultrasounds in every pregnancy, under the pretext of tracking the sex of the child, this work out to over 42 million ultrasounds being conducted every year."
"They will see an exponential increase in the earnings of doctors," he adds. "India has the largest and least regulated medical sector in the world."
Supreme Court advocate Kirti Singh finds the minister's suggestion "outrageous and biased."
"Her statement will have a tremendous backlash. It is obvious that doctors do not want to be regulated. The most frightening aspect of this suggestion is that a change of the Act will see an unprecedented increase of violence against women."
"At present, India has 55,000 pre-natal diagnostic clinics," Singh points out, "but these are expected to see a substantive increase with the pressure from the doctors."
Dr Puneet Bedi, a gynaecologist at the Indraprastha Apollo Hospital in New Delhi, believes the "minister is being an apologist for the medical fraternity."
Dr Bedi feels the minister could well have made this statement under pressure from some of her ministerial colleagues, who are doctors.
Agreeing with this viewpoint, Dr Jashodhra Dasgupta, who heads the NGO Sahayog, believes Gandhi is expressing the viewpoint of one of the BJP's core constituencies.
"The medical providers and diagnostic facilities are a prime constituency of the BJP. This is a very right-wing party which is uncomfortable with abortion. So changing the PCPNDT will see a control of abortions," says Dr Dasgupta.
Thirty organisations have sent Gandhi a letter expressing 'astonishment at such a proposal emerging from the women and child development ministry which will severely curtail women's rights to bodily autonomy and ability to access essential maternal healthcare, such as safe and legal abortion services or post-abortion care.'
'Many women who need an ultrasound or a safe abortion apart from sex selection would find themselves being denied these services. The minister must be aware that unsafe abortions significantly contribute to the very high maternal deaths in India, and such rules will contribute to further maternal deaths,' the letter said.
A 2011 Lancet study found that 12 million girls had been highlighted in the last three decades in India. The 1991 Census showed 941 girls to 1,000 boys. The 2011 Census shows the figure has come down to 933, vindicating the findings of the PCPNDT Act.
Instead of ensuring more stringent implementation of the present Act, the government seems to be moving in the opposite direction without understanding the adverse consequences of such a move.