'Their air force is no match to ours!'
IAF veterans discuss India's aerial options.
Air Commodore Nitin Sathe (retd) joins in..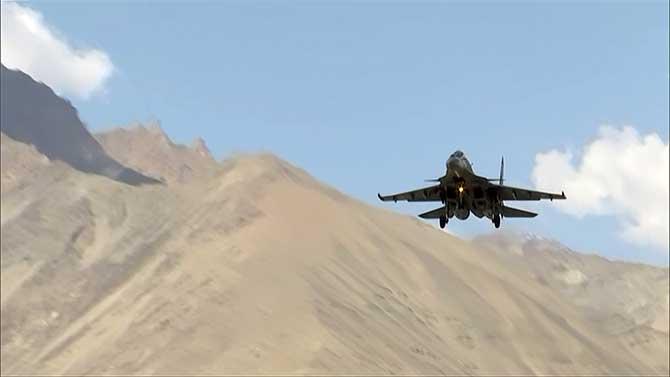 In today's scenario of social abstinence due to the fear of being infected with the mother of all viruses, the COVID-19, we, the military veterans of our residential complex in Pune have decided to meet every evening after our walk for what we call an 'Ops Conference' (something that we miss attending now being out of uniform!).
The discussions are mostly military, without letting out national secrets of course! Our civilian friends join in and ask us a lot of questions and clear their doubts about many such matters which have been in the news for days and also understand things from a military perspective.
The discussions are energetic and it is almost as if we are still in uniform, taking decisions for enhancing our national security.
Today's discussion is regarding the emergency purchase of aeroplanes for the IAF.
Defence Minister Rajnath Singh was in Russia with a big shopping list for the armed forces to cater to their requirements of hardware and spares to keep our forces ready to take on the Chinese if things go from bad to worse.
It is a Rs 38,000 crore (Rs 380 billion) deal and the Defence Acquisition Council met on July 2 to give its nod to the purchase.
So things are moving swiftly and the armed forces are happy for sure. And so are we, the veteran fighters.
We will get 21 new MiG-29s and 12 SU-30s soon.
The present inventory of 59 MiG-29s will also be upgraded as per this contract which will cost us Rs 7,800 crores (Rs 78 billion).
The SU-30s, like before, will be built under license at HAL, giving it a business of Rs 10,800 crores (Rs 108 billion).
"Is this a good decision or a waste of money? Why is the IAF going in for such old technology? What is the requirement for buying these obsolete machines? Will it bolster our combat power? Why not go in for Western technology as we have done in the case of the Rafale? Or, buy more Rafales instead?" one energetic corporate honcho asked during our evening discussions.
All of us veterans are self-styled experts on various issues and topics concerning the military, having been there and done that; but to give everyone a chance, we have distributed areas of discussion amongst ourselves.
"It is not at all a waste of money," explains a retired IAF technical officer. "We have lost quite a few aircraft over the years and our squadron strengths need to be made good. These aeroplanes will come on the flight line at the earliest; we have the infrastructure and expertise to absorb these into the inventory straight away."
"And by the way, some spares will also come along with this purchase which will further bolster our serviceability," he adds, "that, by the way, needs to be maintained as high as 90% at this time."
"We have a good pool of trained pilots, so we will be able to absorb this accretion seamlessly," I join in.
Getting these 33 aircraft will surely give our combat power a fillip. The first batch of Rafales (of the total 36) will land on Indian airfields this month. The Rafales will take some time to get absorbed into the system as any new technology would.
If we need to keep our skies secure in the future, we will need 40 to 42 squadrons as compared to the 28 to 30 squadrons we have now.
"Towards this end," I pointed out, "in the IAF's long term perspective plan, we have plans to buy 80 Light Combat Aircraft manufactured at HAL. In addition we will need to go in for medium multi-role class of fighters which can be chosen from the Rafale, the Su-30, the Saab Gripen, the F-16, the upgraded MiG-29, SU-35 and the like in the near future."
"So by 2025-2030, we will have the numbers in our inventory to fight a two front war."
One freshly minted veteran, a gung-ho Su-30 pilot, joined the discussion.
Freshly retired from the IAF and the SU-30 cockpit, he adds zing and colour to our discussions.
"Who says that these aircraft are obsolete?" the highly experienced Su-30 pilot asks.
"Compare it with what the adversary has. We are better off with the machines, the training and the infrastructure on this side," he adds.
"I have flown along the hills and trained many a pilot on this superior machine and we can take on any Chinese threat without a problem," the Su-30 veteran asserts.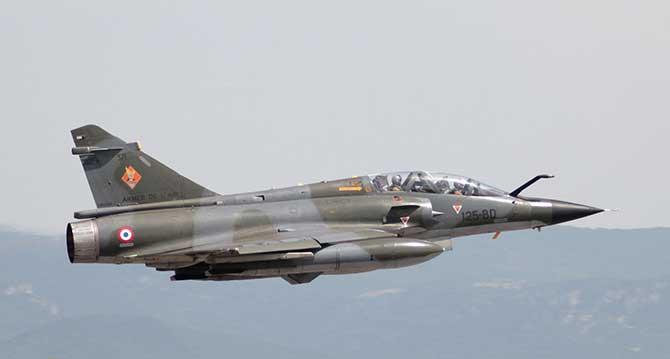 "But while operating at the high altitudes of Ladakh, don't our aircraft have a problem? What about weapon carriage issues? Do the SU-30s have serious limitations in the hills? And if you say that the SU-30 is a superior aircraft, why did you use the 40-year-old Mirage 2000 to sort out the Pakis in February 2019?" asks a physics professor, long retired.
"You see, gentlemen, no aircraft in the world can maintain its performance at all altitudes," says the Su-30 pilot. "This dip is similar, be it a Western or a Russian aircraft; airfields like Leh are only at 10,000 odd feet whilst those in the TAR (China's Tibet Autonomous Region) are much higher, therefore if we speak of deterioration in performance, the Chinese aircraft will be worst hit."
"ut if they operate from Gilgit-Baltistan or Skardu, the dynamics will change. That aside, our aircraft at Leh are there to cater to emergent requirements and for immediate reaction should a contingency arise," he adds.
"The rest of our forces will operate from the many airfields in the plains and would be capable to carry full loads."
"The aircraft at Leh are, in my opinion, the first line of defence and carry out a 'show of strength' or intimidation role. This will boost the morale of our foot soldiers and send a clear message to the Chinese."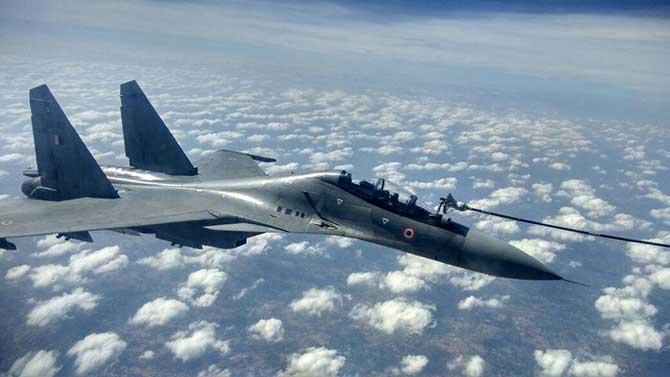 "With the availability of AAR (Air to Air Refuelling) the Su-30 pilot continues, "Aircraft from high altitude airfields can get airborne with all its ballistic load and less fuel; refuel in air before setting course for their mission."
"We have adequate AAR capacity as compared to the Chinese, and therefore, we will be able to swing forces from one theatre of ops to another and do long range missions deep into enemy territory," he adds.
"Today's air to air engagements will be BVR (Beyond Visual Range)," explains the young retiree, enjoying the attention.
"Gone are the days of close combat when each pilot tried to out-manoeuvre the other and shoot him down. Combat today will be aided by radar on ground and in the air like AWACS/AEW&C (the Airborne Early Warning and Control System ) along with the help of the integral radar of the aircraft itself," he points out.
"So, he who 'sees' first and has a better 'OODA' loop shoots first! The game therefore is all about decision making!"
"Ask any Chinese pilot if he is comfortable to fly in combat even at BVR with the Indian SU-30, and you will hear a vehement NO!" he adds cheerfully.
"I have been there and seen it for myself, so do believe me gentlemen. Last, but not the least, we must look at total combat power between two enemies rather than comparing individual aircraft performance."
"Their air force is no match to ours!" the Su-30 pilot exclaims.
---
Air Commodore Nitin Sathe retired from the Indian Air Force in February 2020 after 35 distinguished years of service in the IAF.
Feature Production: Ashish Narsale/Rediff.com