They've both been scarred by the henious act of rape.
Meet bravehearts Asha Singh Nirbhaya's mother, and rape survivor Seeta Prajapat who continue their fight against this terrible crime.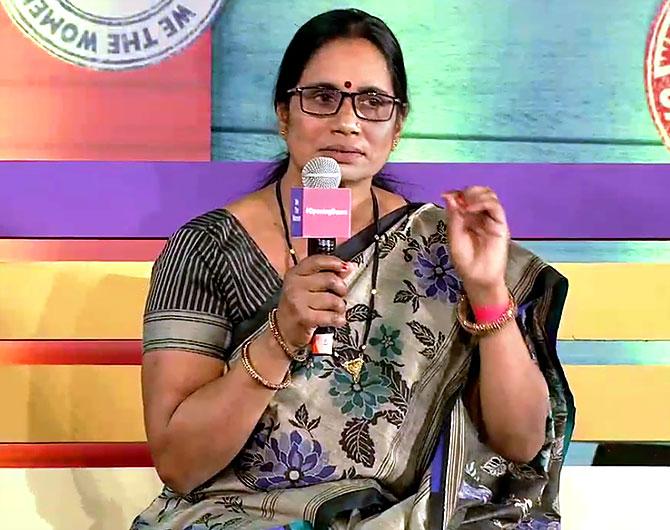 Seeta Prajapat never thought of herself as a hero.
She led a simple, normal life in her village in Rajasthan's Chittorgarh district.
But within her was a spark that would not tolerate blatant injustice.
And, for that spark, for her strong sense of what was right, she paid a heart-wrenching price.
If your soul is not fauladi (strong), don't watch this video.
But if you want to know what true bravery is, please do click the play button.
Watch her tell her story at the recently held We The Women, curated by Barkha Dutt.
Seeta's story left many in the audience in tears.
But she continued to smile. And through that smile shined her determination to fight for justice, not just for herself but for all women.
Looking at the teary-eyed audience was another strong woman, Nirbhaya's mother Asha Singh, whose world was once limited to her home and family.
Today, it encompasses every woman who has faced sexual abuse and/or harassment and their families.
Asha's organisation, which she has named after her daughter, the Nirbhaya Jyoti Trust, helps such women.
"I try my best to help them because I truly believe that those who commit such heinous crimes should be kept behind bars. They are not fit to live in civil society," she says.
Now, she exhorted the audience, giving them strength. "Yeh rone ka samay nahi hai... Aap log roiye mat. Recognise your strength. Apne aap ko itna majboot kariye ki aapko koi aank na dikhaye. (This is not the time to cry. Make yourself so strong that no one can harm you)."
The recent gangrape and murder of the young Hyderabad veterinary doctor brought back memories of her daughter and she called the family to let them know she was there for them.
At the same time, her personal struggle continues.
Seven years after her daughter was brutalised and thrown out of a moving bus, a brutality her damaged body could not survive, Asha is still fighting for justice.
Rape is an act of such unconscionable brutality that it makes you wonder if the perpetrators actually belong to the human race.
It devastates the female against whom the crime is perpetrated, her family and her friends.
"Jo bhi hamari ladayi hai, jo bhi hamara sangarsh hai, aap ko bhi pata hai, muhjhe bhi pata hai ki chahe main dharti aur akash ek kar loon, meri Nirbhaya mujhe nahi milegi. Mari jo bhi ladayi hai aap ke liye hai (My fight for justice will not bring my daughter back. My fight today is for all of you)."
"I don't want anything wrong to happen to any child."
A mother can be strong, but certain memories still bring tears to her eyes.
And Asha's voice, which has been strong and firm till now, wavers for the first time.
"Women are not weak," says Asha. "We are strong from birth because we are discriminated against since birth. Yeh beti hai, doosron ke ghar jaana hai (She's a girl, she will marry and go to someone else's house). Woh beta hai, hamara raj chalayega (He's a boy, he will continue our lineage)."
"This is where it begins. This is the thought we have to change."
Protests have erupted across the country after the horrific crime in Hyderabad.
Her sister and her friend have spoken up, demanding justice.
The anger witnessed across the nation has forced the Telangana government to announce a fast-track court.
Parliament has been rocked by the issue.
Jaya Bachchan wants rapists to be publicly lynched and their families shamed.
Hema Malini wants them kept permanently in jail.
Swati Maliwal, the Delhi Commission of Women chairperson, is on a hunger strike in the national capital.
Anu Dubey, a teenager who was protesting the gruesome crime outside Parliament, was arrested and allegedly tortured for taking a stand.
The wheels of justice don't seem to be moving.
Yet Asha and her husband Badrinath Singh and Seeta Prajapati have hope.
"There will come a day," says Badrinath, "when this male-centric nation will become a female-centric one."
TEXT: SAVERA R SOMESHWAR/REDIFF.COM