His family found an old man on a bed soaked through with urine at the J J Hospital.
The man whose name drew thousands to public meetings was requesting anyone who cared to listen to change his bedsheets. But there was no one to do so.
Jyoti Punwani reports.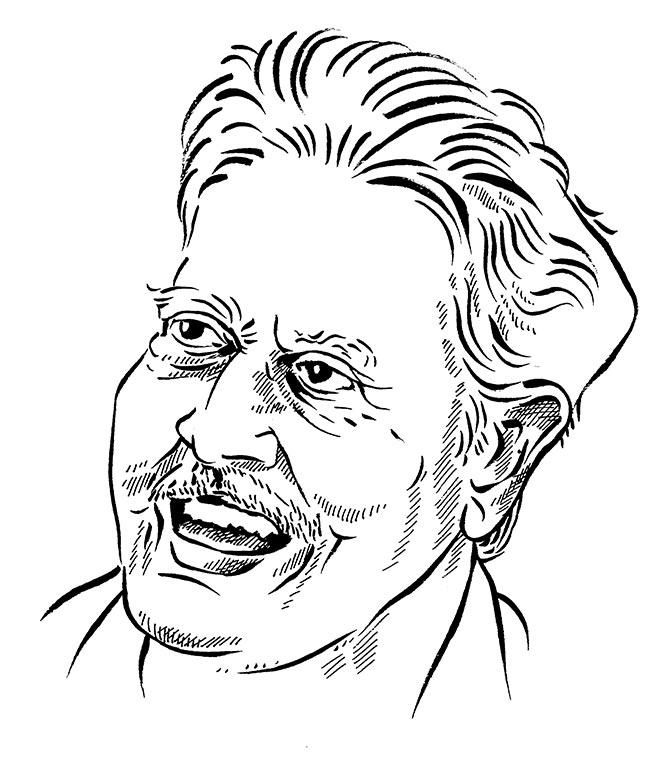 The worst fears of the family members of the 10 human rights activists arrested for the January 1, 2018 Bhima Koregaon violence, have come true. The eldest among them, 79-year-old poet Varavara Rao, has tested positive for COVID-19.
"It was in their hands to protect him from the virus," said a relative bitterly, "but they didn't."
On May 28, when he was admitted to the J J Hospital after having fainted in the Taloja jail, near Mumbai, Professor Rao didn't have Covid.
"We pleaded in court that he be released on bail, given his health and the danger of getting infected in jail," said the relative. "But the NIA (National Investigation Agency) accused us of using Covid as an excuse to get him out."
"The court sent him back to jail and now he is infected."
That's not the only shocking news about the professor of Telugu literature, editor of the path-breaking literary journal Srujana and co-founder of Virasam, the progressive writers's movement in erstwhile Andhra Pradesh.
On July 13, a day after his family held a press conference asking that he be given immediate medical treatment, Taloja jail authorities shifted Professor Rao to the J J Hospital in south central Mumbai.
At the press conference, his family told the media that during a phone call made by him on July 11, they had found Professor Rao to be incoherent. His co-accused had told them he could not even brush his teeth on his own.
Like on May 28, this time too, the jail authorities moved him to the J J Hospital without informing his family.
When they finally met him at the J J Hospital on Wednesday, July 15, they found an old man left by himself on a bed soaked through with urine in the transit ward of the J J Hospital. His clothes too were soaked.
The man whose name drew thousands to public meetings was requesting anyone who cared to listen to change his bedsheets. But there was no one to do so.
Luckily, the family had carried some clothes for him. However, they proved insufficient thanks to his prostate problem.
They were told that no treatment or equipment was available in the transit ward.
What was worse than his physical condition was the fact that he could not immediately recognise his wife. It was only after she repeatedly told him her name that it registered.
Professor Rao's coaccused had told the family that he kept hallucinating that he had been granted bail and his family was waiting outside the jail to take him home.
At the J J Hospital too, he was overjoyed that they had come to take him home.
Even after being told that he had not yet got bail, Professor Rao could not contain his happiness at seeing his family. Alas, their joy was shortlived as the nurse on duty threw them out.
When they returned on Thursday, they were told he had tested positive for COVID-19 and they could not meet him.
Professor Rao was shifted to the government-run St George hospital in south Mumbai on Thursday evening.
Now, his family will not be able to meet him till he recovers.
"Had he been his old self, he would have fought Covid even at his age," said the relative. "But now, in this state, totally isolated, not even in his senses some of the time, how will he fight the infection? Will there be someone to help him?"
The worst thing would be Professor Rao's total isolation. Family support, even through phone calls, has been proven to be invaluable in helping Covid patients recover.
As a prisoner, will Professor Rao be allowed to have a phone with him?
These and other questions torment his family.
On July 13, in response to an SOS issued by the Human Rights Defenders Alert, the National Human Rights Commission directed that notices be issued to the chief secretary, Maharashtra, and the director general of prisons calling for a detailed report on Professor Rao, and asked that a medical board be constituted to examine him.
On learning about his condition at the J J Hospital, Henry Tiphagne of the Human Rights Defenders has sent another letter to the NHRC asking it to direct Maharashtra's DG prisons to ensure that Professor Rao is immediately shifted to a super speciality hospital, and that he be treated at government cost.
In 1986, Varavara Rao had written this poem, describing the agony of a prisoner and his beloved:
Distraught
Even as you agitate in agony,
Even as you look on
I am shackled...
Time and I have only two limbs
Day and night
The enemy has four legs
Tele-ear, tele-gaze, radio-mouth
and armed palms...
In what discourse
Can we converse
With the heartless?
His words could well describe the scene that took place 34 years later when he met his family at the J J Hospital.
But in prison, he also wrote this:
My poetry was born
From the pangs of struggle.
Cover it if you must
You will see it escape through
The spaces of your fingers,
Its vibrant, anguished notes
Snapping in anger,
Setting tears on fire
And flowing forth
A river of blood-red syllables.
For his family and his many admirers, these words could give hope.