It's difficult to say who suffered more these 28 years: The men who survived the PAC shooting and the assaults in jail; or the women who lost their men in these custodial killings.
Jyoti Punwani and photographer Uttam Ghosh report from Hashimpura, Meerut, on how the families have coped with their loss all these years.
The second in the series. Don't miss the first part: In Meerut, no cry of justice for Hashimpura victims
Special to Rediff.com
It's 10 days since a Delhi court acquitted their PAC tormentors, but life is a long way from getting back to normal for the survivors of Hashimpura. The last of the media teams are still hounding them and, now, another breed of vultures has started descending on the spacious home of Zulfikar Nasir, who survived after being shot and left for dead by the Provincial Armed Constabulary on the night of May 22, 1987.
These new visitors are political party workers, lawyers, NGO researchers, all of whom stayed away through the 28 years the victims struggled to get a judgment. "Nobody helped then," says Nasir, "so we have no expectations from anyone now."
Invited to a meeting on the judgment by the Congress's Minority Front, the victims find themselves ignored as speaker after speaker holds forth. The chief guest is V N Rai, who as superintendent of police, Ghaziabad, on May 22, 1987, was informed by a policeman that the PAC had shot Muslims and dumped their bodies into a canal. Rai went to the spot, hunted for survivors, and convinced the one he found, Babudin, to file a First Information Report against the PAC.
Now retired, Rai is writing a book on Hashimpura.
Walking out halfway through the meeting with the other victims, Riyazuddin, brother of Qamruddin, who survived the PAC's bullets but died on the way to hospital, wonders why Rai as SP did not ensure seizure of crucial evidence that could have nailed the culprits: The truck in which the victims were brought to the canal and the rifles and ammunition used; and why he didn't get the identity of the PAC men in the truck established, and nab them that very night.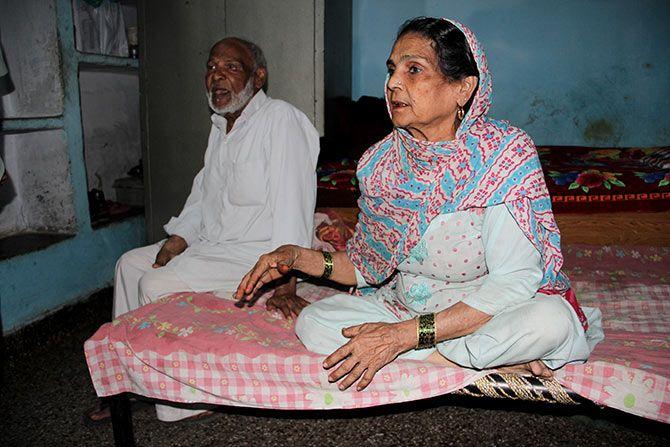 "After 20 years, they wanted our men to identify those who shot them in the dark. You have the register, you find them," says an angry Hazara, who lost her son and nephew.
Hazara's husband was also taken away that afternoon by the PAC, but he was sent to jail. On his skull are deep welts left by the assaults he suffered in custody. Six persons died in jail; no jail official was punished.
It's difficult to say who suffered more these 28 years: The men who survived the PAC shooting and the assaults in jail; or the women who lost their men in these custodial killings.
The men picked up were young and fit, but came back from their near-brush with death wounded, incapable of carrying on as befit their age in their previous occupations of powerloom weavers, scissor makers, carpenters. Usman, who survived the PAC shooting, was left with a permanent limp, and works as a thelewala. Babudin, another such survivor, seems fit, but rues that he could do nothing with his life.
"I ran away to my village in Darbhanga for a year, but had to return to earn. I continued working on the power loom," he says. "The frequent court dates, first in Ghaziabad, then in Delhi, left me with no means of trying to make a career."
"I still feel bad -- all around me that night, people were dying slowly and painfully, and I could do nothing to help them. Some 16, 18 corpses lay there, with only one left alive -- and that was me," recalls Babudin, who was just 17 when the PAC shot him.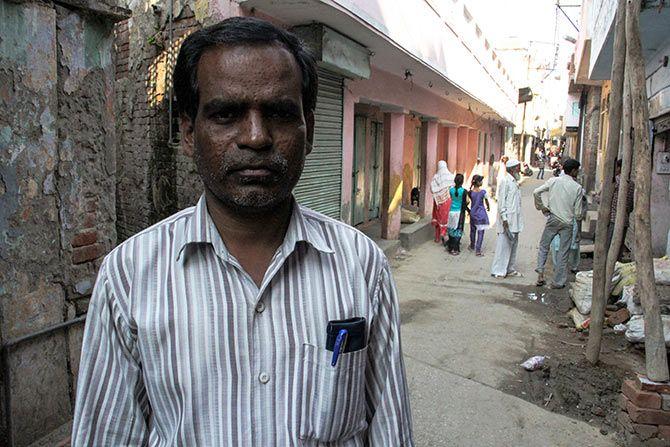 This feeling of guilt at having survived a massacre which claimed the lives of their friends is expressed by many. Sher Ali was spared during the raid. His tailoring shop had been burnt down, and he wonders whether that made the army pity him and prevent the PAC from taking him.
"These were my jigri dost (close friends) -- Qamru, Siraj. I was with them throughout that month, but on the 22nd, we were torn apart. Death wasn't written in my fate," he sighs.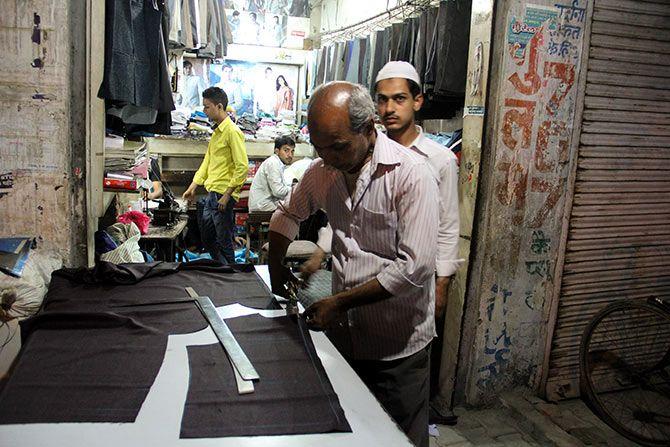 Ali was called to identify the clothes of those killed. Only 16 of 37 bodies were retrieved from the fast-flowing waters of the canal where they were dumped after being shot by the PAC on its banks. The families could never perform their last rites.
"For 28 years, we've waited," says Hanifa, whose husband was killed, "only to draw a blank."
With children to support, the widows of Hashimpura started working in neighbours' homes, or took up piecework stitching that could be done at home. The children gave up education; family businesses died out and, in the words of Anjum, whose father-in-law was killed in jail and brother-in-law by the PAC: "Karobarwale thela chalane lage (those who ran businesses became street vendors)."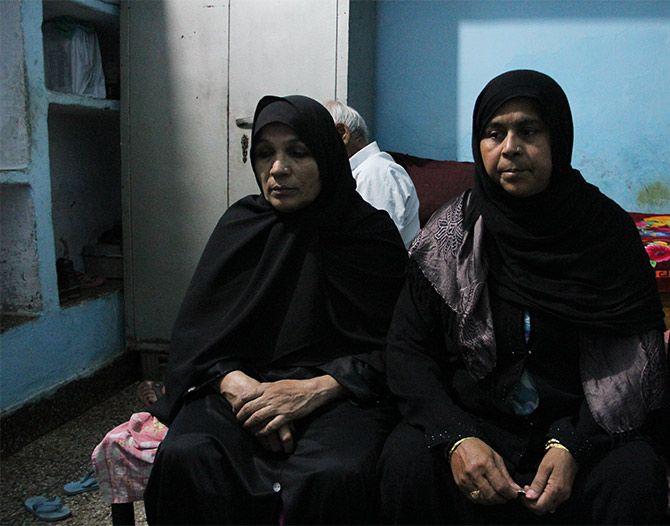 Image: Hasina and Zaibunissa, whose husbands were shot dead by the PAC. Zaibunissa's third daughter was born the day her husband was taken away by the PAC. Photograph: Uttam Ghosh/Rediff.com
Zaibunissa is one of the rare widows who educated her three daughters up to Class 12 and got them married. "Mehnat mazdoori kiya (I struggled)," is all she says when asked how she managed this.
The impact of the Hashimpura massacre on the families of those killed is evident from the contrast between them and Sher Ali's sons. Though his tailoring shop was burnt down, Ali managed to restart, and his sons today are studying chartered accountancy and homeopathy.

It's not as if these families received no compensation. First they got Rs 20,000; three years later, another Rs 20,000, courtesy a Supreme Court order. And 20 years after the massacre, the victims marched to Lucknow demanding justice. The resultant media attention made then Uttar Pradesh chief minister Mulayam Singh Yadav grant them compensation of Rs 5 lakh (Rs 500,000) each.
From this amount was deducted the Rs 40,000 they had already received. The remainder Rs 460,000 would have been enough to start anew. But the bureaucrats decided to follow the Kashmir pattern and distributed the amount as per Muslim Personal Law, with a share going to every relative. For instance, Zaibunissa's murdered husband's brother and his children became beneficiaries too, leaving her and her daughters with measly sums.
Ironically, the five who had survived the PAC's shooting got nothing; not even medical expenses for their treatment which went on for years.
Had the PAC accused been convicted, none of this would have mattered. "But to wait for 28 years, sure that we'd get justice because our children who were killed were innocent, and then see them walk away..." Hasina wipes her tears, then looks up with an angry flash: "If you are saying these PAC men didn't kill our menfolk, then give us back our men. Where are they? Who killed them?"
Though they talk about there being no justice for Muslims, the women are not bitter towards Hindus. "Our Hindu neighbours helped us during curfew, and have remained our friends throughout," says Hazara, while Naseem Bano, who lost her only brother, says she has no problems teaching in a Hindu-run school.
It is the police they both hate and fear, as do the men. Most of the men admit to having been initially scared to depose in court. Babudin had to be coaxed into it; what clinched the matter for Sher Ali was the fact that it is only in court that the police are afraid.
"We won't give up our legal fight," say the victims. But when the vultures stop circling, one can visualise them: Usman, who limps slowly behind the crowd of visitors, the self-effacing Mujib ur Rahman, the survivor who filed the second FIR, and the unnaturally quiet Zarina who lost her husband and son, melting silently into the bylanes of Hashimpura for another endless and lonely wait for court dates.
Survivor' tale: Shakila
Husband was picked up on May 22, 1987, killed in jail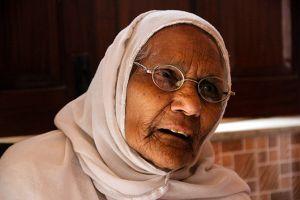 "They took away our innocent men bathed in blood, and brought back their dead bodies with the words: 'Here, this is your Eid gift.' Why are you talking like this, beta, I asked them, and they beat me with their rifle butt. Even today when I see a policeman, I feel a tight band around my stomach."
"We had to close down his tailoring shop. Somehow I brought up my nine children. The boys were grown up, but my girls were small."
"We often went hungry. Neighbours gave what they could, but I never begged. Even today I work -- I take part in the polio abhiyan, I am willing to do maalish if anyone wants."
"We stopped celebrating Eid from that year. Till today, we buy no new clothes. We put on freshly washed old ones; the children go for namaaz and come home and lie down. How can the young celebrate when all around we are mourning? Those who feel like, celebrate the next day, but not on Eid day. Eid was finished for us from that year."
"Come see my home -- you will have to bend to enter it. What could I do -- look at my house or my children?"
Survivor's tale: Riyazuddin
Picked up on May 22, 1987, sent to jail, brother Qamruddin shot by PAC
"We were five brothers and five sisters, now we are four brothers. The PAC took my father, my elder brother and me. They were going to take my younger brother, but the army stopped them, asking: 'Will you take such a child too?'"
"The army was separating us into groups -- the aged on one side, children on the other. I tried to get away saying I was ill, but they didn't listen."
"When I was put in an empty truck -- our names were not even taken down -- my brother waved to me. We thought we were all being taken to jail, so it didn't seem such a big thing."
"When we reached the police lines, we were abused, beaten with sticks which had nails on them, by people in banian and knickers, who seemed to be trained in this. I saw one man's eyes pop out because of the beating. Everyone had swollen faces. I was beaten on the head, my elbow was swollen, I had huge welts on my side."
"Then we were taken to the thana, and again beaten and kicked. If anyone complained, they would put their heavy boots on the man's foot and grind it. After the beating, people started looking for their family members. They were there, lying in front of them, but the beatings had made them unrecognisable."
"After 48 hours we were taken to jail. There we were beaten worse than sheep and goats, with the prisoners joining in. When the barrack chief came to see us, he asked us why our clothes were all red with blood. We told him. He told us to wash them, made his men give us fresh clothes. He would visit frequently to check up on us."
"I think the beatings stopped because they realised there were Muslim prisoners too in the jail, and there could be a mutiny."
"We spent Eid in jail. When we went home after 22 days, we found out what had happened. My brother had been shot and flung into the canal, but survived. But when the cops found him, they didn't take him straight to hospital. They looked for other survivors and he died in the vehicle on the way to hospital."
"We never got his body, only his clothes. The police wouldn't tell us where they had buried him."
"We had a scissor-making unit where he used to help. That didn't last; anyway the long curfew made it difficult to carry on. He was studying for his BA when this happened."
"It was because we are Muslim, that's all. We've been living here for ages, we fought for Independence too. The government feels just because they are Hindu it's their reign. They forget: Muslims ruled here for 100 years too, so did the British."
"If these PAC men didn't do it, then who killed my brother? Some ghost? (Movie star) Salman Khan is charged with killing a deer; he says he didn't do it, yet he is being hounded. These PAC men killed 37 human beings, the survivors testified against them, yet they are let free."