China may reacted angrily about his visit to Arunachal Pradesh, but the Tibetan spiritual leader has never been one to stand down.
Despite Beijing's loud protests, backed by New Delhi, His Holiness has traveled to the border state seven times since he sought refuge from Chinese aggression in India in 1959.
Monali Sarkar takes a look at the Dalai Lama in Arunachal Pradesh, then and now.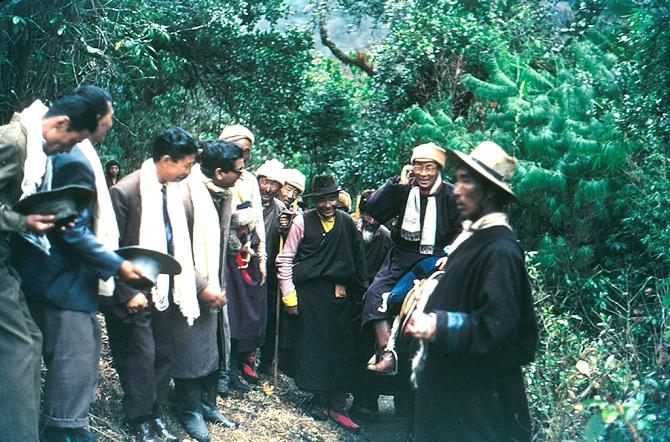 Photograph: Kind courtesy Claude Arpi
The Dalai Lama, second from right, arrived in India on a yak, March 31, 1959.
He had left Lhasa in the dead of the night on March 17, 1959, with four of his cabinet ministers, some attendants and bodyguards, and his family.
After a long and dangerous journey, they entered India through Khenzimane, near Tawang in Arunachal Pradesh.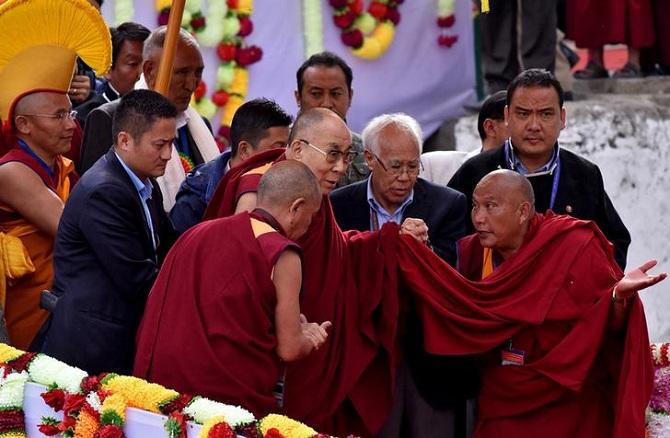 Photograph: Anuwar Hazarika/Reuters
The Dalai Lama in Tawang, April 7, 2017.
The Tibetan spiritual leader had visited the northeastern state six times before his current visit, starting in 1983.
His last visit was in 2009 to mark 50 years of his arrival in India.
---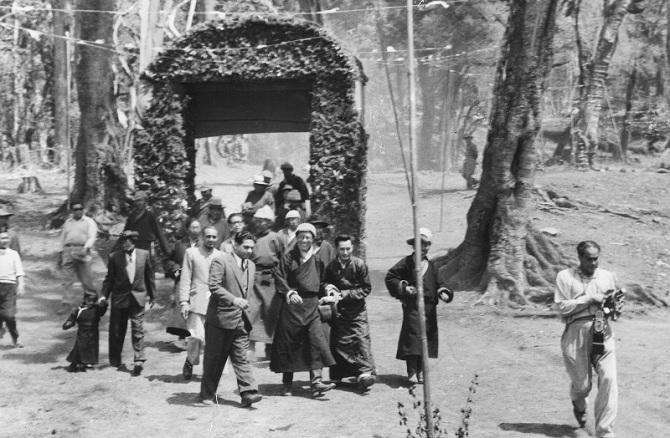 Photograph: Kind courtesy Claude Arpi
The Dalai Lama was received by Indian officials at the very first Indian post in Chuthangmu, north of Tawang, then part of the Kameng Frontier Division.
'My colleagues and I welcome you and send you greetings on your safe arrival in India,' then prime minister Jawaharlal Nehru had written to him, adding, 'We shall be happy to afford the necessary facilities for you, your family and entourage to reside in India.'
'The people of India who hold you in great veneration will no doubt accord their traditional respect to your person.'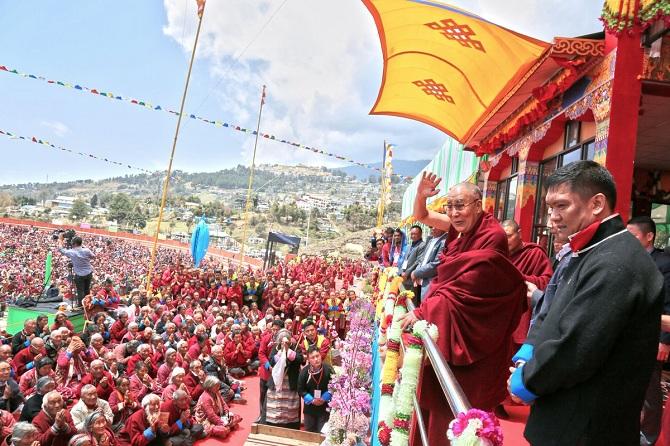 Photograph: Kind courtesy @PremaKhanduAP
On his latest visit to Tawang, Arunachal Pradesh Chief Minister Prema Khandu accompanied the Dalai Lama.
The respect and veneration Nehru spoke of was evident in the thousands of devotees who gathered to listen to the Dalai Lama.
---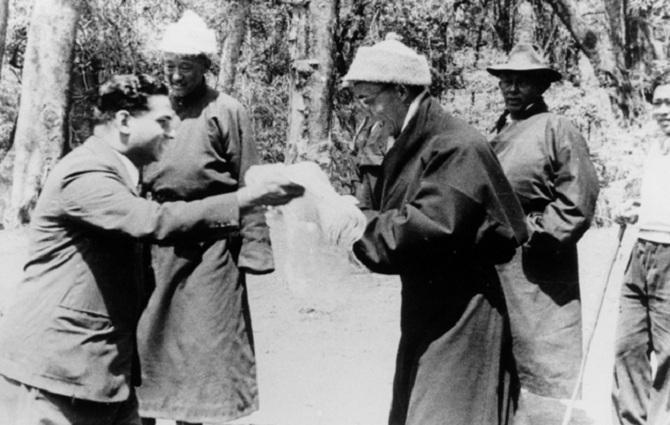 Photograph: Kind courtesy Claude Arpi
Upon the Dalai Lama's arrival in India, P N Menon, left, who served as India's consul general in Lhasa, and as intermediary to the Dalai Lama during the 1959 Tibetan uprising, greeted the spiritual leader with a traditional scarf.
Photograph: Anuwar Hazarika/Reuters
Young monks in Tawang welcome His Holiness.
China, which stakes a claim to Tawang, was exceedingly vocal about this trip to Arunachal Pradesh, warning it would seriously damage Sino-Indian ties.
New Delhi rejected Beijing's objections, asking it not to interfere in India's internal affairs.
---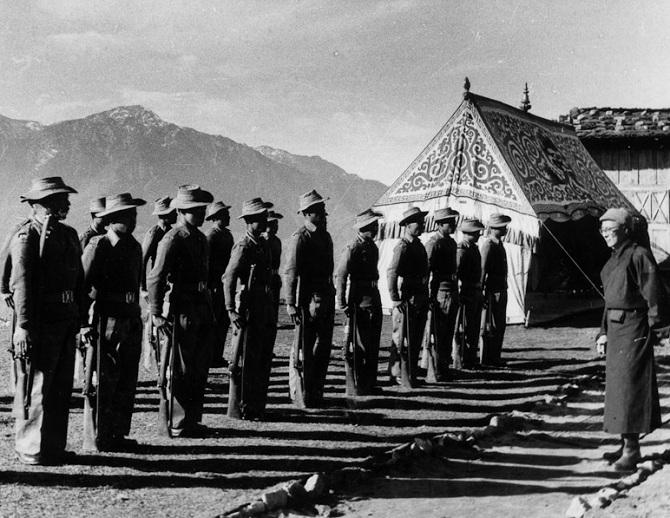 Photograph: Kind courtesy Claude Arpi
The Dalai Lama arrived at the Tawang monastery five days after he entered India in 1959, and was greeted with a guard of honour by the Assam Rifles.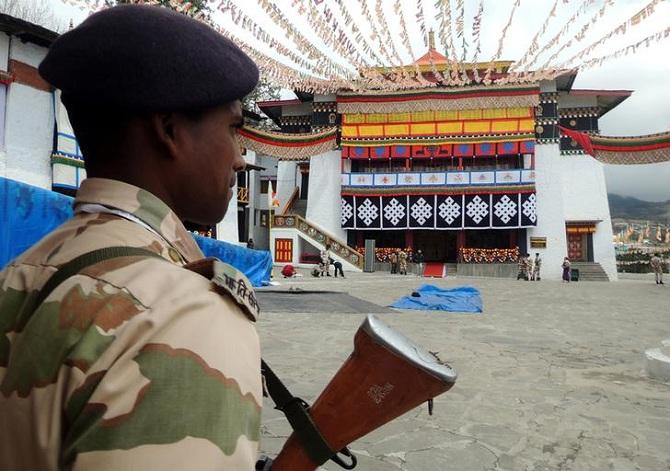 Photograph: Sunil Kataria/Reuters
Indian security personnel stands guard in the forecourt of the 17th century Tawang monastery ahead of the Dalai Lama's visit.
'It is normal for China to give political colour to my spiritual visits,' the Dalai Lama said in Tawang. 'I wish Chinese officials accompanied me during my visits to find out if I am doing or saying anything against them.'
---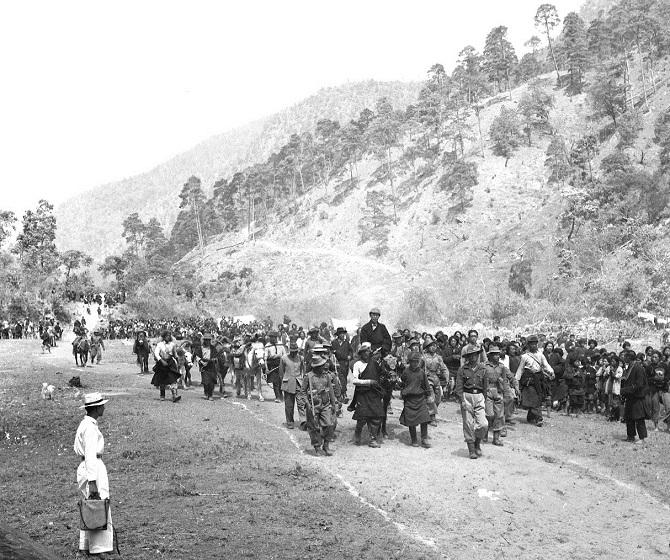 Photograph: Kind courtesy Claude Arpi
How the Dalai Lama travelled from Tawang to Bomdila in 1959.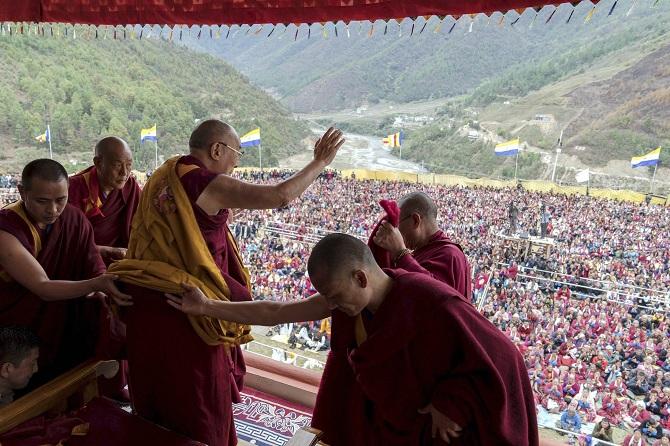 Photograph: PTI
On this trip, the Dalai Lama stopped between Tawang and Bomdila to consecrate the Thupsung Dhargyeling monastery in Dirang and and deliver teachings.
---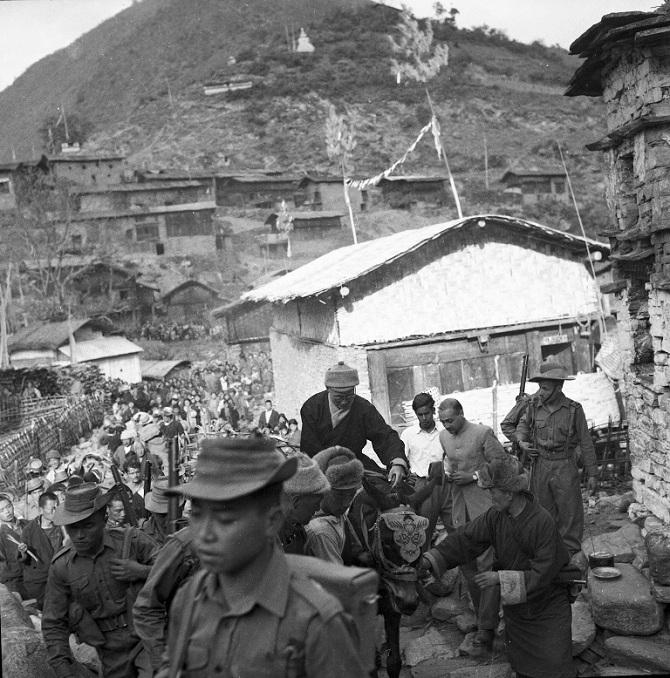 Photograph: Kind courtesy Claude Arpi
When the Dalai Lama first arrived in Bomdila, he spent several days there 'to recuperate from the strain of his journey before going down to the plains.'
The arrival in Bomdila this time.
'When I got freedom, when I first reached India,' the Dalai Lama said, 'I entered through Arunachal Pradesh. I have an emotional connect with the state. It is a special place for me.'
'I would like to thank the Government of India. I have been here since 1959. India has taken great care of me. I am their longest staying guest. I am thankful to them.'
---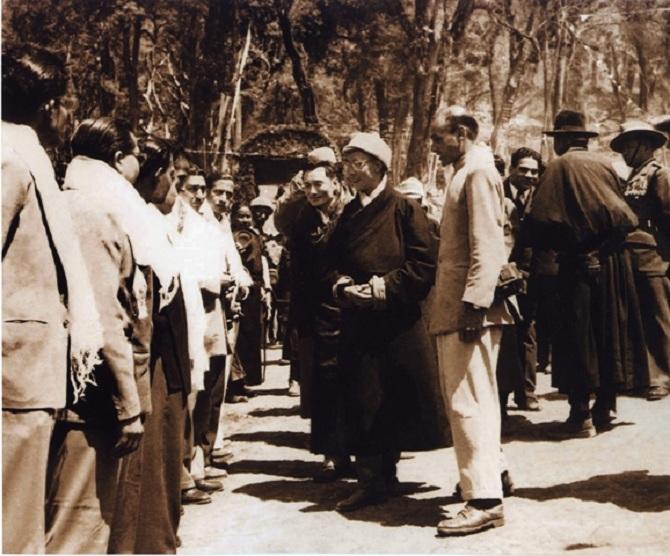 Photograph: Kind courtesy Claude Arpi
Apart from recuperating in Bomdila in 1959, the Dalai Lama also met local residents.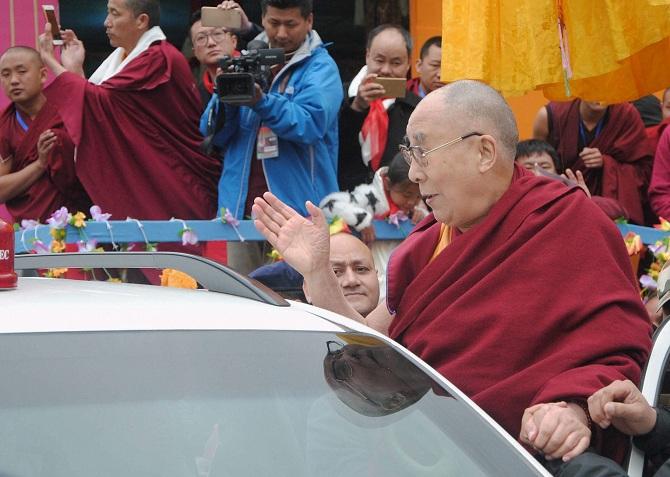 Photograph: PTI
'I am a messenger of ancient Indian thought and I talk about ahimsa, peace, harmony and secular ethics wherever I go,' he told devotees in Bomdila this time.
---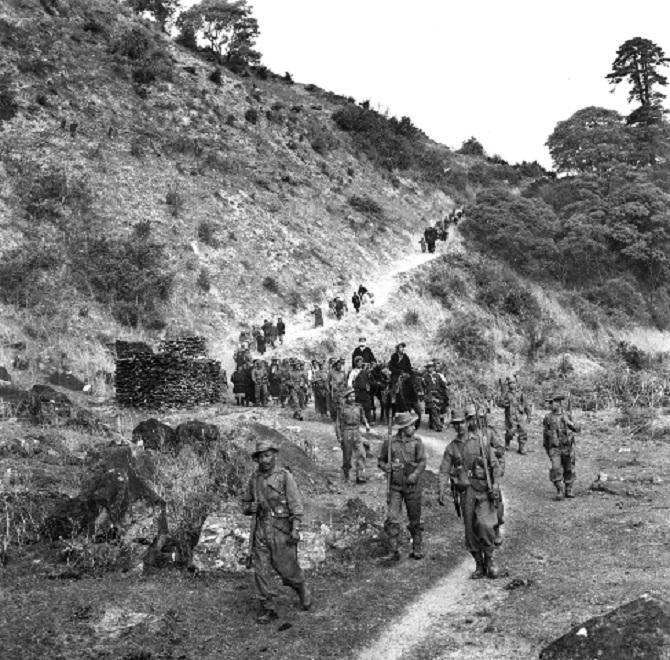 Photograph: Kind courtesy Claude Arpi
After recuperating in Bomdila, the Dalai Lama was escorted to Assam by the Assam Rifles.
A retired Assam Rifles soldier recalled, 'Guards of Assam Rifles Platoon no 9 had brought the Dalai Lama from Zuthangbo and handed him over to five of us at Shakti. We brought him to Lungla from where he was escorted on his onward journey to Tawang by another group of guards.'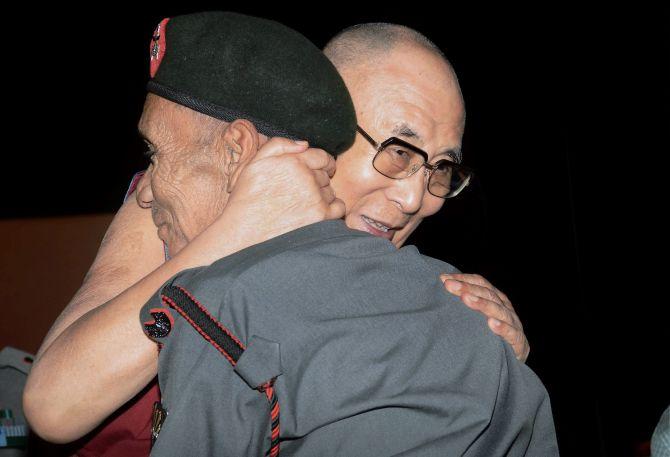 Photograph: PTI
The Dalai Lama met one of those soldiers, Naren Chandra Das, this time, and told him, 'I am very very happy to meet such an old member of the Assam Rifles who guarded and escorted me to India 58 years ago.'
'Looking at your face,' he added in jest, 'I now realise I must be very old too.'
---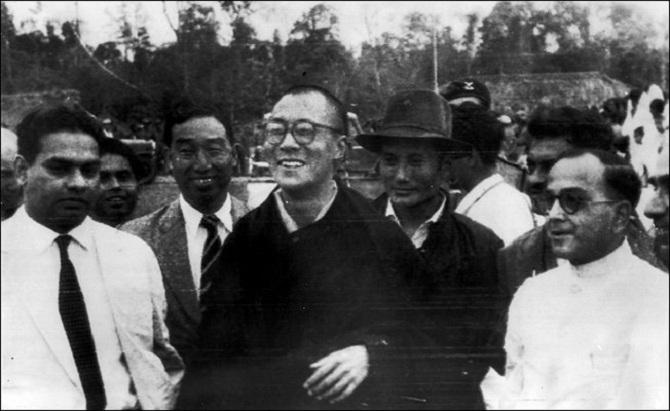 Photograph: Keystone/Hulton Archive/Getty Images
On April 18, 1959, almost exactly a month after he fled Lhasa, the Dalai Lama arrived in Tepzur, Assam.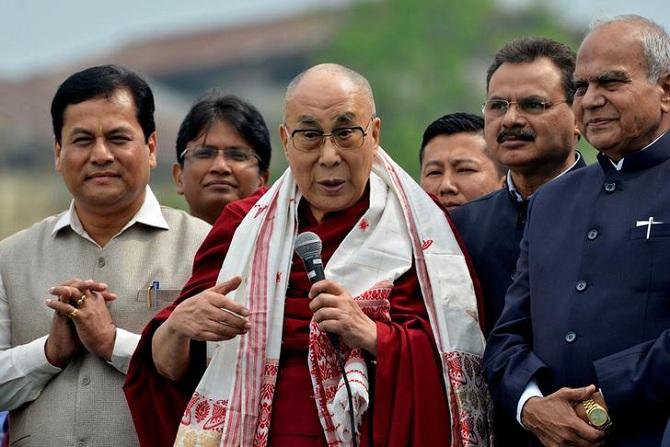 Photograph: Anuwar Hazarika/Reuters
This time around, his first stop was Assam, where he graced the state government's Namami Brahmaputra river festival in Guwahati.